Toe spacers/spreaders/stretchers/separators have recently become the item to have in the land of barefoot. They claim to realign feet by passively coaxing your feet back into their natural alignment with a full toe splay. I am here to investigate if they are game-changers for your feet or simply another gimmick. I will list the main brands on the market before giving my personal review of the most popular ones. I have scoured the internet for research on them so will include a section on this, before providing a section on opinions from reputable experts – from movement therapists to podiatrists.
I will conclude with my own thoughts on toe spacers (including a little experiment you can all try at home!) and hope that this balanced article can provide enough material for you to make an informed choice on them.
This is a huge post so feel free to skip to parts relevant for you using the table of contents! Let's get into it!
Brand List
$24.95 for a 2 pack plus shipping worldwide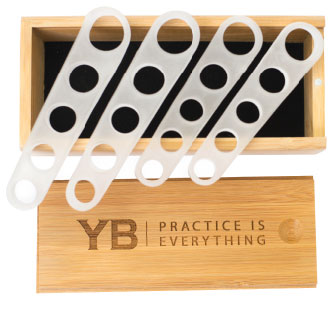 Website Information:
Finally, a safe and natural way to reverse years of damage to your feet caused by modern footwear. Awesome Toes' multiuse design allows you to stretch and restructure your feet without invasive surgery, medications, or awkward footwear. This yoga teacher-developed, podiatrist-approved device delivers immediate relief and lasting changes to your feet by lengthening your connective tissues with each use.
Benefits of Awesome Toes! corrective spacers:
Improve balance
Relieve foot pain, stress, and tension
Reverse lifelong imbalances
Reduce injury
Improve posture
Improve speed (running and walking)
Alleviate (and possibly reverse) conditions such as: plantar fasciitis, hammertoe, corns, bunions, blisters, and overlapping toes
When to wear Awesome Toes!:
After work and around the house
While sleeping
During yoga practice and stretching
With flip flops (anywhere)
While running, walking, or hiking (inside your wide-toed footwear)
More Details:
Includes two pairs (small and large size)
Made with latex-free, SEBS rubber
Soft, durable, and comfortable
Hand washable with warm water and soap
Beautiful, engraved wooden storage box
Versatile enough for around the house, while sleeping, during yoga, or inside wide-toed shoes
Buy on this European site for €69.90 plus shipping, on this UK site for £56 plus shipping or on their dedicated U.S. site for $65 plus shipping.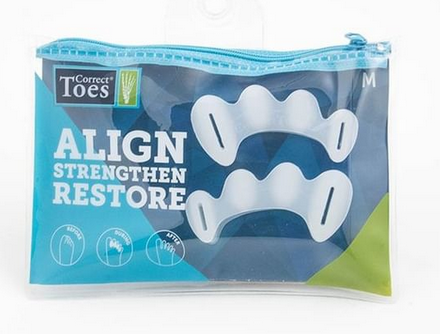 Website Information:
Designed by Dr. Ray McClanahan, DPM, Correct Toes help the foot rehabilitate from the negative effects of conventionally shaped footwear. The device, made of soft, flexible silicone, encourages the toes back into their natural alignment found at birth. With progressive and consistent use while active and weight bearing, toes align and feet strengthen, restoring your foot's original position and function.
Correct Toes work in a similar way to how braces work for teeth. Correct Toes place the toes into optimal alignment and slowly and progressively change the architecture of the foot. The muscles of the foot adapt and strengthen accordingly. Toe alignment and foot strength has numerous positive effects on biomechanics, gait and injury prevention. It is vital however to also wear shoes that are completely flat, lightweight, flexible in the sole and sufficiently wide in the toe box so that the foot can function like a barefoot inside the shoe. This type of footwear must be used on a regular basis. Unfortunately, such footwear can be difficult to find. For some suggested models, please see our shoe list.
What Makes Correct Toes Unique
• Designed to restore original toe splay and alignment
• Created by sports podiatrist Dr Ray McClanahan
• Made of durable and flexible medical-grade silicone
• Naturally antimicrobial and hypoallergenic
• Promotes balance and optimal foot and toe circulation • Can be used in foot-shaped footwear for maximum corrective effect
• Easily modifiable for unique feet and toes
• Can be used on bare feet, over toes socks or in healthy footwear
• Is a reasonably-priced alternative to orthotics or surgery
• Designed to prevent or address many foot and toe problems
How can Correct Toes help me?
With Correct Toes, you can:
Relieve foot pain while being active
Align toes back to their natural, anatomical position
Improve strength and flexibility of the toes and feet
Increase circulation to the ends of the toes
Enhance balance and stability
Buy on this European site for €22 plus shipping, on this UK site for £16.50 plus shipping or on their dedicated U.S. site for $25 plus shipping.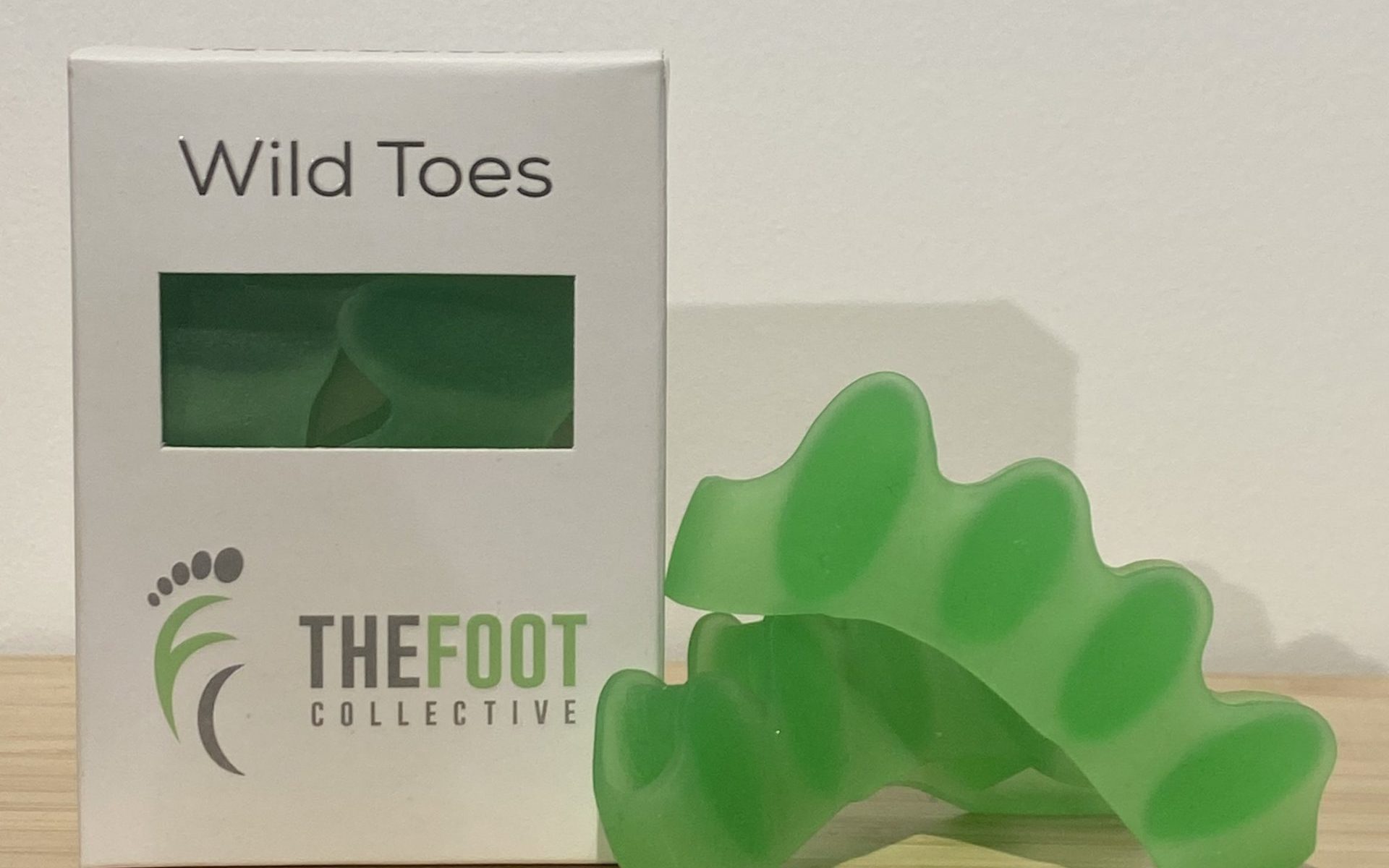 Website Information:
Natural, healthy human feet have toes that spread apart and don't touch each other – we call them "Wild Toes"
Footwear as it exists today is a big problem. Shoes are designed to taper into a point at the toes which is the opposite of how are feet are shaped. The widest part of a babies foot is the tip of their toes and this should also be the widest part of adult human feet. When you spend time in shoes that taper into a point, your feet start to adopt that shape and before you know it you have bunions that are getting out of control.
TFC Wild toes are a simple, affordable accessory that you can use to reclaim optimal toe alignment. Think of them like braces for your feet that help restore your toe alignment to its natural state.
TFC Wild Toes are made of 100% silicone and won't irritate anyone with a latex allergy.
$40 plus shipping worldwide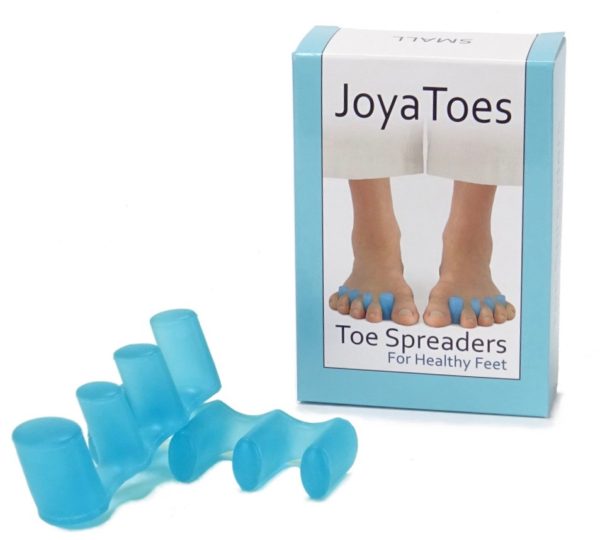 Website Information:
JoyaToes toe spreaders are made from a comfortable gel material (TPE) that can be worn throughout the day and also during your yoga practice. JoyaToes are BPA and Latex free.
JoyaToes toe spreaders help:
relax and rejuvenate tired, achy and swollen feet
realign the bones and soft tissue
stimulate circulation
increase flexibility and strength
open the energy channels and revitalizes the body
as a foot ailment and bunion corrector
JoyaToes as a bunion corrector will help alleviate symptoms caused by bunions such as:
• Pain or soreness
• Inflammation and redness
• A burning sensation
• Possible numbness
These symptoms occur most often wearing shoes that crowd the toes, such as shoes with a narrow toe box, like high heels. This may explain why women are more likely to experience these unpleasant conditions than men. In addition, spending long periods of time on your feet can aggravate the symptoms, especially wearing tight toe boxed shoes. Wearing your toe spreaders after a day in high heels will help alleviate discomfort and heal the bunions. Ideally, it would be better to only wear shoes with a wide toe box and forgo those with pointed toes or high heels, which aggravate the condition.
It is recommended to start with the small size and as your feet realign and strengthen you can use the larger size. Feet with wide spaces between the toes may initially require the large-sized JoyaToes.
$36.95 plus shipping worldwide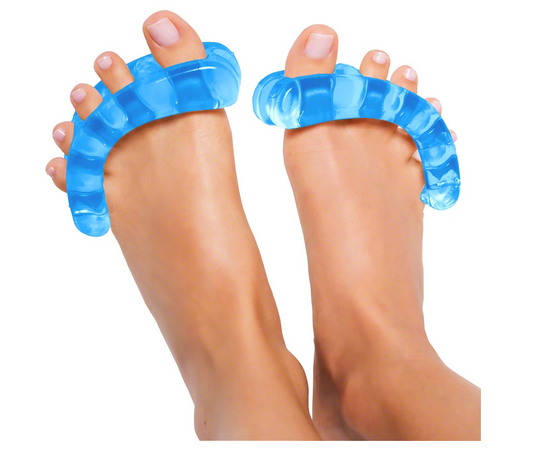 Website Information:
YogaToes® toe stretchers make feet feel great. They work, you relax. Yoga Toes stretch and align your toes – soothing and reconditioning the entire foot. They're amazing! Relax, While You Knock Out:
Chronic Foot Pain
Bunions (Hallux Valgus)
Bunionettes
Hammer Toes
Plantar Fasciitis (pain in arch of foot)
Overlapping Toes
10 – 15 minutes to start.
Patented Easy Fit™ feature makes putting them on super easy.
Make YogaToes® Toe Separators Your Choice for Healthy Feet
100% Premium Medical Gel!
Made in America BPA, Latex and Phthalate Free
3 pairs for £7.99 plus shipping worldwide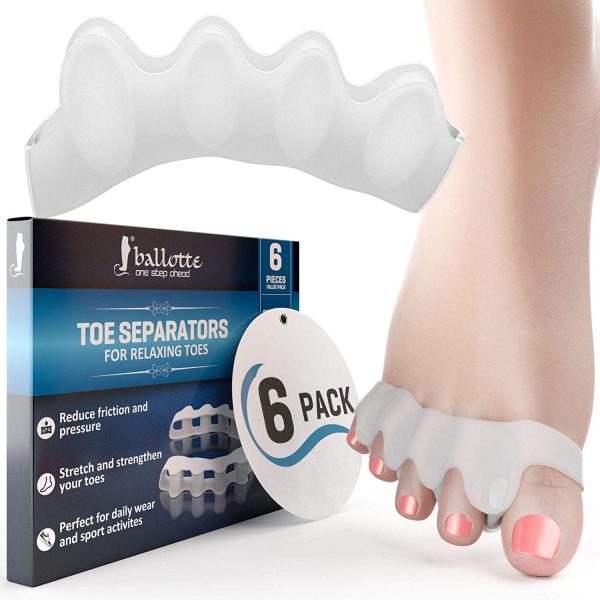 Website Information

REDUCE RUBBING AND PRESSURE: Ultra-soft toe spacers relieve and correct toes and foot pain with gentle stretching and cushioning each toe while walking, running, or practising yoga. Great pain relief from hammertoe, bunions, and overlapping toe.
STRETCH AND STRENGTHEN YOUR TOES: Provide gentle stretch to the tendons and ligaments in the toes and forefoot. Use our yoga toe spacers for toe exercises to ease pain and improve flexibility.
DAILY WEAR AND SPORTS ACTIVITIES: Use soft bunion correctors for men and women with wide-toed athletic shoes for running, hiking, walking, work boots, or standing jobs. Great for yoga practice, dance, ballet, athletics.
ONE SIZE TOE SPACERS: 6 pieces of unisex stretch gel toe spreaders. Gel toe straightener is easy to clean with warm soapy water and reuse. Perfect hammer toe straightener and toe spreader for bunions.
SOFT TOE SEPARATORS: Ballotte toe separators are backed with 100 happiness guarantee. Put a pair of gel toe separators and your feet will sigh with relief.
Ballotte toe separators pack includes: 3 pairs (standard size) and a e-book. Common uses for awesome toes Include: foot pain, plantar fasciitis, tendonitis, hammertoe, bunions, overlapping toes, generalized foot pain, lack of toe dexterity, and poor gate and balance problems.
$11.99 plus shipping worldwide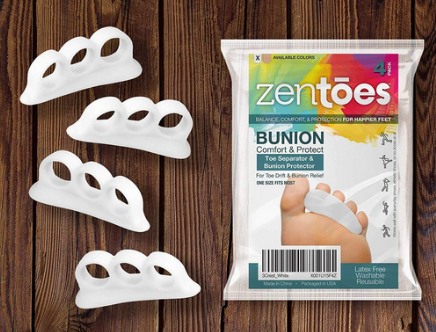 Website Information:
KEEP TOES STRAIGHT & HEALTHY – Our gel toe separators help reduce rubbing and pressure between toes by keeping them properly aligned while moving.
SOFT, FLEXIBLE COMFORT – Crafted with a silicone gel, these hammer toe straightener correctors are lightweight, stretchy and slip between digits with supportive comfort.
SUPPORTIVE, ALL-DAY RELIEF – ZenToes hammer toe splints can be worn at night or during the day while wearing tennis shoes, heels, boots, and other footwear.
UNIVERSAL UNISEX WEAR – Men and women alike can enjoy proper hammer toe treatment with these hammer toe crests that stretch to fit your personal foot size.
STAIN & ODOR RESISTANT – ZenToes gel cushions are made with medical-grade silicone that provides proper orthopaedic support while resisting stains, sweat and odour.
Reduce toe pain and walking discomfort by keeping toes properly aligned with ZenToes toe straighteners and correctors.
When your toes start to encroach on one another, overlapping and causing pinching or chafing, it can really affect your stability, comfort, and foot health. In fact, when left untreated for too long, it can begin to damage ligaments and joints in the feet.
That's why we developed ZenToes Toe Straighteners and Correctors made with soft, flexible silicone. They slip in between your toes to help keep them straight without causing irritation; and they can even be worn inside your favorite pair of shoes!
Designed to properly support both men and women, just put them on to get the proper support you need to walk, run, or move with improved comfort while reducing pain caused by overlapping toes, hallux valgus, and more.
£15 plus shipping worldwide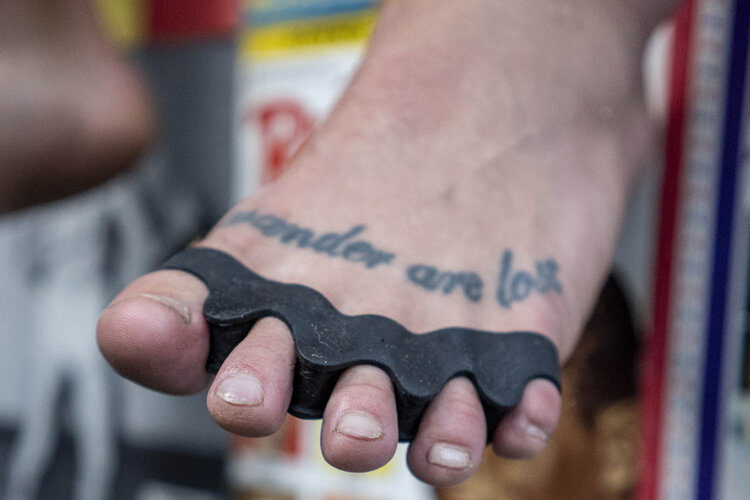 Website Information:
Neets Feet are silicone-based toe separators. Flexible and soft, they help to build muscle, increase mobility, agility, and the dexterity in our toes. This feedback links directly to our brain allowing us to feel more of what lies beneath us, reconnecting us with our sixth sense.
Whether walking, training or chilling at home, Neets Feet work in every setting.
One size fits all.
How can Neets feets help?
Realign your toes back to their natural position
Build strength and increase mobility of the toes and foot
Restore balance and proprioception
Assist with ankle and knee stability
Increased circulation
Increase dexterity to reconnect us with our sixth sense
Enable natural arch support
Assist with effective weight distribution
Can Neets feets cure me?
There is not a "one size fits all approach" to reversing foot and toe pain. Neets Feets can certainly help but are not a cure for long-term issues.
Let's take bunion as an example. The wearer might notice a slight movement of the big toe in 2-5 months. But significant changes can take months to years. It's all about commitment!
£12.95 plus shipping worldwide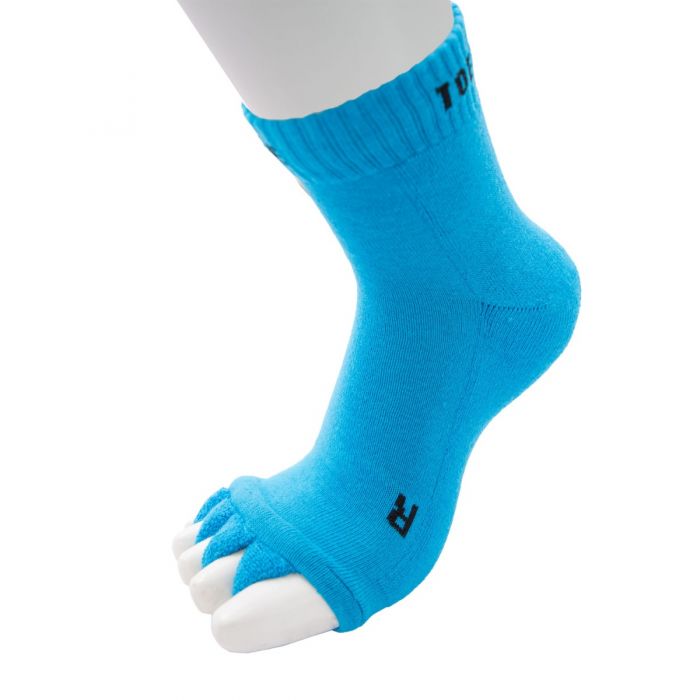 Website Information:
Toe movement is an important part of proprioception and toe separation aided by TOETOE® socks can help the foot and brain function efficiently and in conjunction with each other. The foot is a dexterous and sensitive creation meaning that conventional socks can limit feedback back to the brain causing the toes to act as one unit and not separately. This outcome can limit the body's balance, position and posture.

Made from 80% Cotton and 20% Elastane, these unisex style toe separator socks, suitable for men and women, are available in three different colours.

With TOETOE® Toe Separator socks, you will reap many benefits including, but not limited to:
Increase Awareness – Helps prevent blisters as there's no friction between the toes
Experience Self Foot Treatment – Gently massage areas to get the sensation first hand
Promotes Better Hygiene – By controlling the factors of bacterial growth (warmth, moisture, dirt), preventing bad smell, athlete's foot thus keeping the foot fresh
Continuous Toe Movement Pattern – Maintains constant blood circulation and provides optimum warmth
Helps exercise muscles, tendons and ligaments which relieves foot pain and helps balance
TOETOE®: The socks Mother Nature would design.
Buy on this European site (where they are called Foot Alignment socks) for €22.95 plus shipping or on their dedicated U.S. site for $19.95 plus shipping.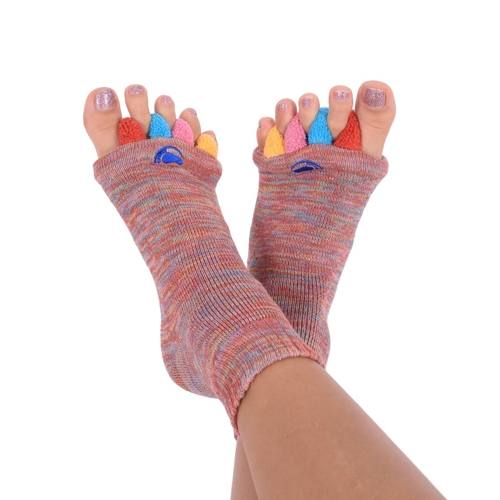 Website Information:
Relief from chronic foot pain caused by issues such as hammertoes, overlapping toes, bunions or plantar fasciitis is possible with the help of the Original Foot Alignment Socks.
The socks, available in a fun, multicolor style, address the cause of foot pain directly which can often be attributed to improper toe alignment. These foot alignment socks come in the form of crew socks with an open front and work to stop foot pain from crooked toes with their four toe separators. These comfortable spacers gently separate the toes to line up with the foot, stopping sore achy feet in their tracks.
Take care of your foot cramps, pain in your feet and help to improve your circulation all at once with a pair of these innovative socks. Foot pain relief can start with as little as 15 minutes a day with these multicolour socks.
Materials: 90% Cotton, 7% Polyester, 3% Elastane
---
Other generic brands can be found on Amazon and with these retailers:
Vivehealth for $8.99
Dr JK various from $14.99
Feet & Feet various from £9.99
Magical Separators for €8
---
My Reviews
I reviewed three of the most popular brands of spacers – from The Foot Collective, JoyaToes and Correct Toes. I also had the opportunity to review a pair of toe socks from My Happy Feet. These were all send to me for the review, however the opinions expressed as always, are my own.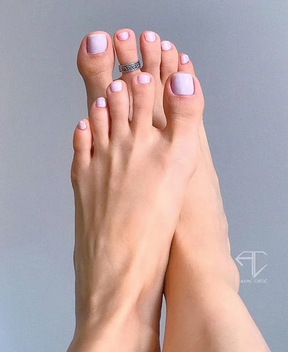 The image above shows what would be considered in barefoot circles an 'aligned' foot. It has a slight pizza shape as the toe-box is the widest part of the foot. Toes point straight ahead and there appear to be no deformities such as bunions, hammertoes, claw toes etc. They are a rare breed – ill-fitting shoes, high heels, rigid soles and life's adventures and challenges affect how typically aligned your feet (and body) look and feel.
So can toe spacers give you the sought after pizza feet you see above? Let's take a closer look.
You can see from the image below the differences with each brand reviewed.
It's clear to see that the blue Joyatoes in the centre overly push my baby toe laterally. The Correct Toes probably offer the best 'alignment', however, I really need to stuff the little space at the big toe to create that pizza shape in the foot. But it's not quite this simple. Please do the experiment further on in this article to test what's really happening!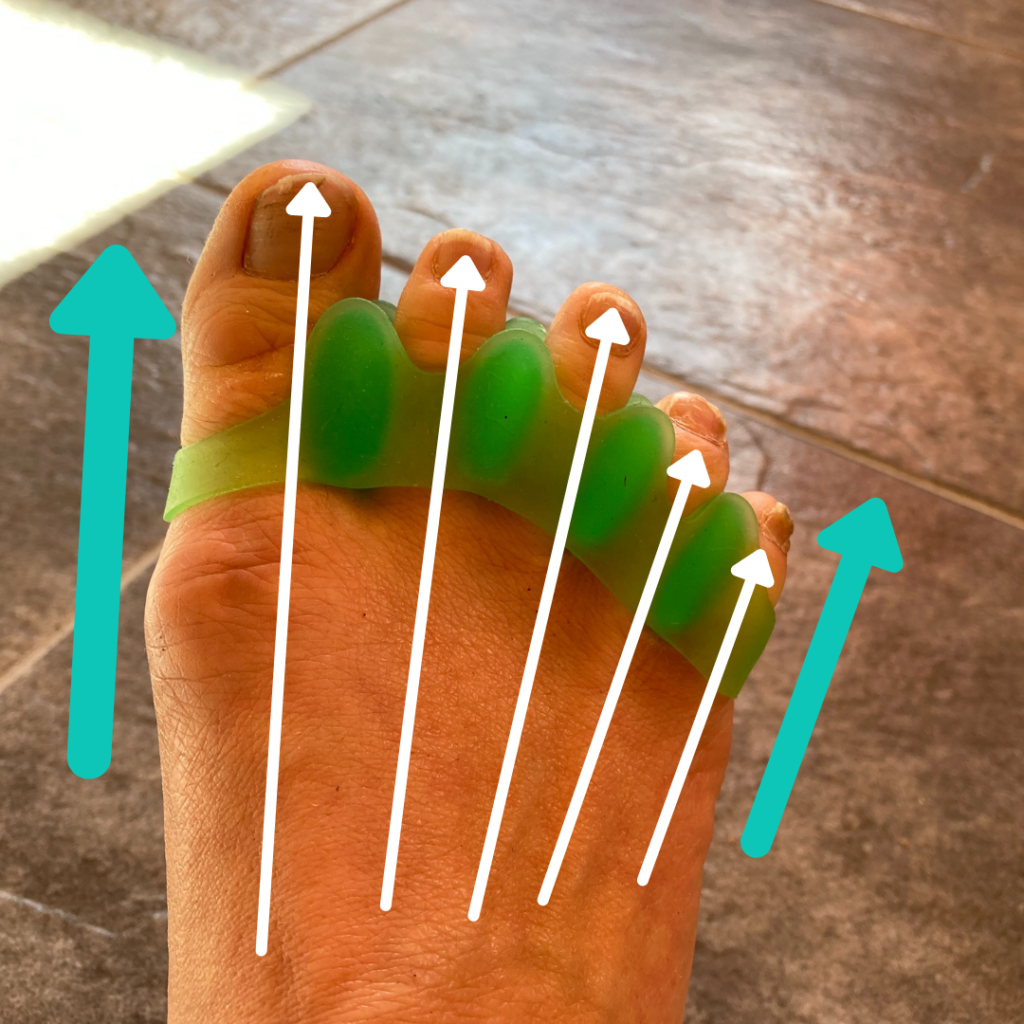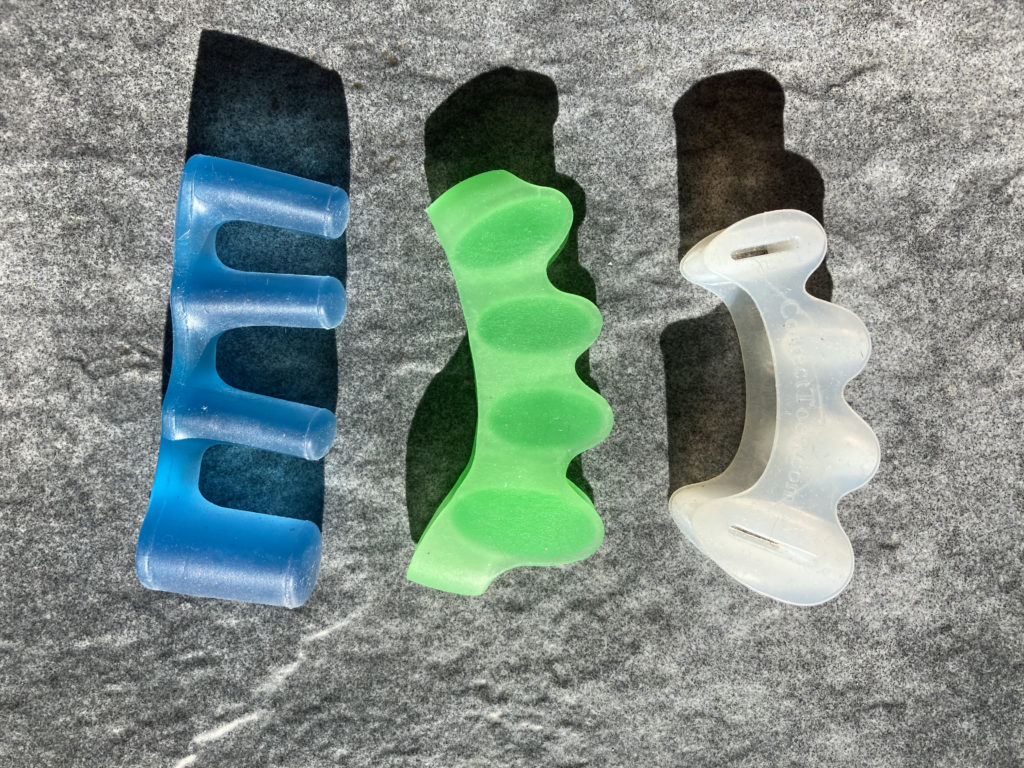 Correct Toes Review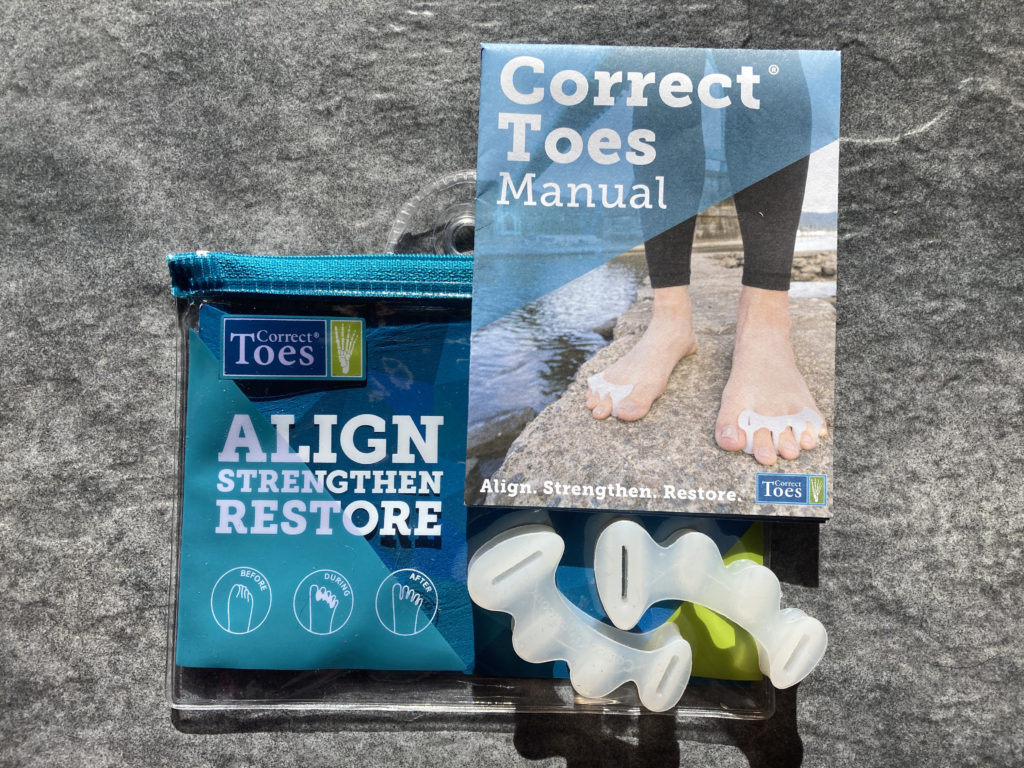 Podiatrist approved Correct Toes would be classed as the Rolls Royce of toe spacers. They are the most expensive of the lot and their website offers a wealth of information about their product. They offer an extensive list of shoes that their toe spacers are guaranteed to work with. Correct Toes are fully customizable, which I find super as everyone has different feet shapes and sizes. They have a handy modification chart (it is a section of the manual that comes with the spacers) showing you how to customize the spacers to suit your feet. They also come in a range of sizes.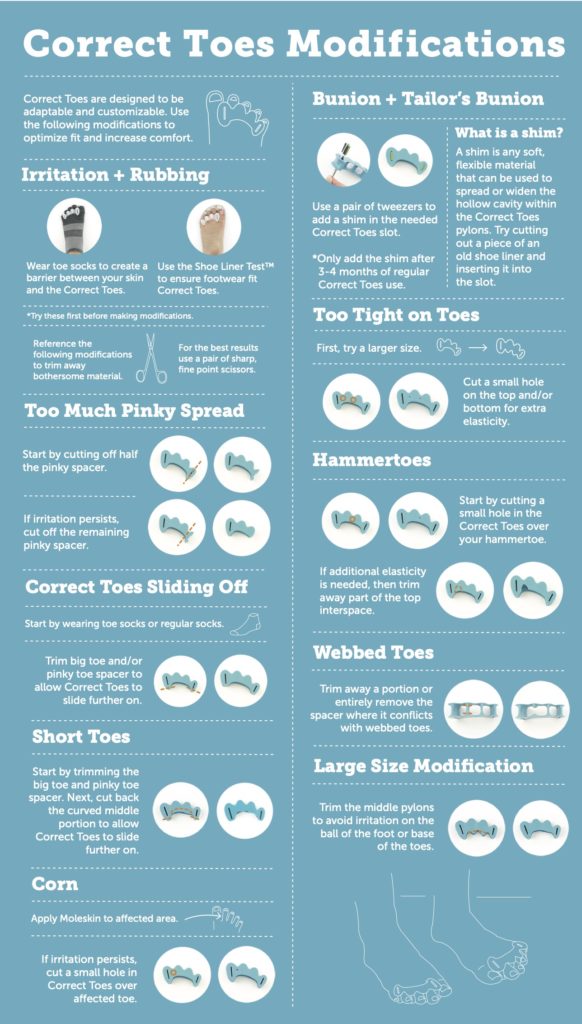 Surprisingly, they are not my favourite. They are comfortable, but I do find that without any attachment to the big toe, they tend to slide off a little. They come in a handy little zip plastic case (I don't like unnecessary plastic) with a large poster-style manual for usage. You can see a lot of thought and efforts went into the development of these spacers compared to others – and they even have conducted some studies to research their benefits. These can be read here and here.
The Foot Collective Wild Toes Review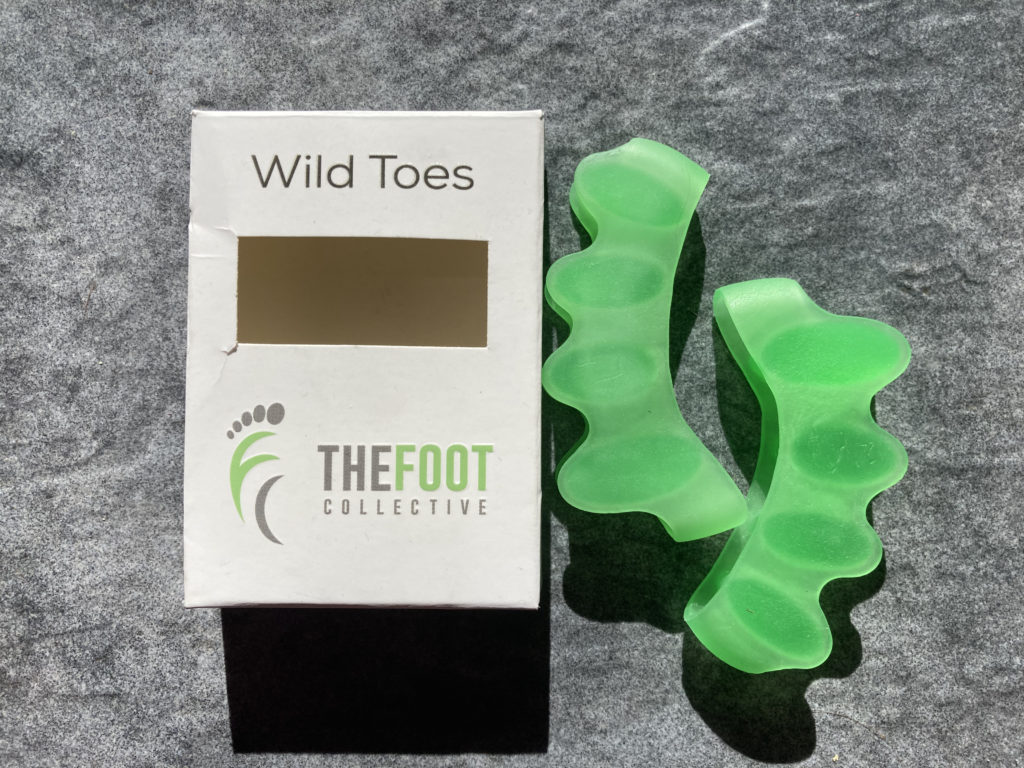 These are my favourites. They are super comfortable to the point that you hardly notice you're wearing them, attach around the big toe so feel secure on my feet and come with a decent price tag. The packaging is minimal which I like – just a little cardboard box, stating to watch their instruction video on their website.
They only come in one size, however they are very stretchy and as you can see fit my partners feet with ease. I haven't tried wearing them with shoes as I don't like wearing them whilst walking.
Joyatoes Review
JoyaToes come in two sizes, and as you can see there is a huge difference between small and large. I don't reach for these as much as my Foot Collective ones as they are not as comfortable when on the move – cooking, yoga etc. They also push my baby toe too lateral (as in the previous image) so for this reason, I don't wear them very often. I do think they will work well for a larger foot with a wider toe-box.
My Happy Feet Alignment Socks Review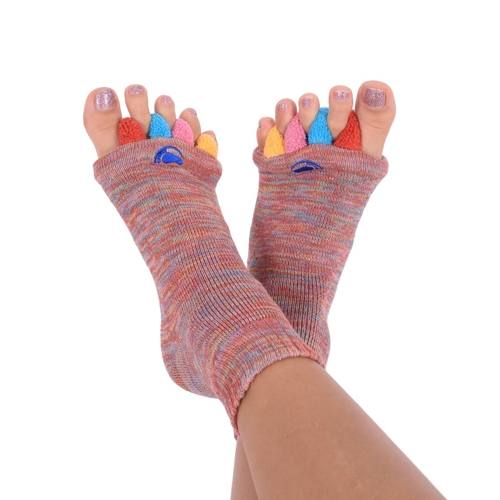 I really like these. They generally do feel really nice to wear, the fabric is soft cotton knit and they are quite cheerful with all their colours! I have even worn them to bed a few times, although I always kick them off at some point in the night. I see these more as a wellness product than a foot restoration product – they give a nice stretch to tired squashed toes whilst being soft and cozy.
---
The Scientific Studies
There has been limited research conducted using toe spacers, not using any of the actual spacers here, but here's what I dug up. They mainly relate to people who are recovering from a stroke. *Note that many of the studies use specially conducted spacers unlike what has been reviewed here. For example, in some of the studies, the spacer consisted of an insole with vulcanized plastic attached at certain points only spacing certain toes. If I am honest, the studies seem a little one-dimensional. For example in the hallux valgus (bunion) studies, the spacers seem to have improved bunion pain, but it is unknown whether other body parts were forced to compensate for this perceived improvement. The whole body would then need to be evaluated in my opinion, to ensure that limiting movement in the toe area wasn't causing movement limitation further upstream.
**Used Correct Toes: The Impact of a Foot-Toe Orthosis on Dynamic Balance: An Exploratory Randomized Control Trial:
A 4-week intervention with a foot-toe orthosis and laboratory-issued shoe (Primal Lems barefoot shoes were used) resulted in improved dynamic balance in a healthy young adult population. These findings suggest a novel intervention for increasing balance.
Immediate Effect of the Toe Spreader on Tibialis Anterior and Peroneus Longus Muscle Activities: a Pilot Study:
Increased tibialis anterior (muscle at front of lower leg) activity using soft toe spacer and decreased TA activity using hard one. Decreased peroneus longus (muscle at calf) activity by the soft toe spacer.
Relationship Between Onychocryptosis and Foot Type and Treatment with Toe Spacer: Onychocryptosis is the medical term for an ingrown toe-nail with one or both lateral margins pushing deeply into adjacent soft tissue, causing pain, inflammation, and possible infection. The condition occurs most frequently in the big toe, and is often caused by pressure from tight-fitting shoes. In this study, onychocryptosis was treated in a portion of the patients by placing a toe spacer between the first and second toes; all healed in about 3 weeks, suggesting that counterpressure of the second toe in tight shoes is a factor in the development of onychocryptosis.
Foot Mobilization and Exercise Program Combined with Toe Separator Improves Outcomes in Women with Moderate Hallux Valgus at 1-Year Follow-up:
Patients who were treated with 3 months of foot mobilization and exercise combined with a toe separator experienced greater improvement in pain, AOFAS scores, ankle range of motion, hallux plantarflexion and abduction strength, toe grip strength, and radiographic angular measurements than those who did not receive an intervention 3 months and 1 year postintervention
Effectiveness of the custom-mold room temperature vulcanizing silicone toe separator on hallux valgus: A prospective, randomized single-blinded controlled trial:
A custom-mold room temperature vulcanizing silicone toe separator can decrease hallux valgus angle and pain with no serious complications. Clinical relevance The custom-mold room temperature vulcanizing silicone toe separator for treatment of hallux valgus reduces deformity and hallux pain.
The effects of toe spreader in people with overactive toe flexors post-stroke: a randomized controlled pilot study:
The spacers used here didn't make any significant difference in patients with overactive toe flexors post-stroke. There were only nine participants in the study.
Immediate Effects of the Toe Spreader on the Tonic Toe Flexion Reflex:
The toe spreader may have been a useful treatment option for improving gait in 18 post stroke participants with tonic toe flexion reflex.
Effects of toe spreader on plantar pressure and gait in chronic stroke patients:
A toe spreader may improve overall gait and spatiotemporal gait parameters in chronic stroke patients.
Effects of insole with toe-separator and night splint on patients with painful hallux valgus: a comparative study:
According to the results of this study, using night splint seems to have no effect on painful hallux valgus deformity. On the other hand, although the insole with toe separator significantly decreased the pain intensity in these patients and was a good option for pain reduction, it was not effective in improvement of the great toe angles.
The effects of a new foot-toe orthosis in treating painful hallux valgus:
The foot-toe orthosis should be considered an effective treatment for patients with painful hallux valgus. Use of this orthosis can result in decreased pain, increased walking ability, and decreased hallux valgus angulation.
Forefoot disorders and conservative treatment:
The modification of shoes and application of insoles or orthoses can be beneficial for managing forefoot disorder. However, clinical data or evidence of these conservative treatment methods are insufficient. To clarify the utility of these treatments in forefoot disorders, further studies are needed.
---
Ask the Experts
I asked for some opinions from a variety of experts in various fields of movement and therapy. I simply asked if toe spacers are useful in feet regeneration and here are the replies I received.
Erwan le Corre, founder of Movnat
"I honestly do not know if those are useful or not, or for who and to what extent. Our philosophy is that functional rehab takes place naturally, progressively over time. Natural Movement practice is in itself restorative if it is done the MovNat way. Props may help but only if there's an underlying movement behavior otherwise the prop by itself won't do much to help with the issue. The prop didn't cause the foot issues and it doesn't really fix the issue.
Lack of Natural Movement behavior (in terms of frequency and variety over years or decades) always is the cause of such issues and frequent and progressive Natural Movement behavior can fix most things. Props, lifestyle changes, physiotherapy etc..all can play a part but only if the Natural Movement behavior has been restored in the first place, that's the FOUNDATION for health!"
Petra Fisher, Restorative Exercise Specialist at Petra Fisher Movement
"I love toe spacers and recommend them to all my Build Better Feet students. Here's why: first, your feet have been squashed by years and years of so-called 'normal' shoes. Although toe spreaders won't do all the work of restoring your toe splay, they help improve circulation and the health of the squashed tissues as soon as you put them on.
Second, if you pick the right spreaders, they help you walk with your toes in correct alignment. This is HUGE for three reasons. It builds your arch muscles and other foot muscles which is exactly what you need to permanently restore your toe splay, It also helps you use your big toe correctly as you walk which will improve your gait all the way up your body. And because it's helping you use your feet correctly, issues like bunions, plantar fasciitis and metatarsal pain can be improved or healed.
My fave spreaders for this are CorrectToes – expensive but in this case you get what you pay for. They're best used combined with a daily foot exercise program to help you build active control and range of motion in your toes, and will require that you purchase shoes that have large enough toe boxes to fit the spreaders. I personally also use Happy Feet toe spreading socks at night to encourage more spread, and Joy-A-Toes if I'm just hanging around and want a bit of extra passive movement input to my feet."
Toe spacers can play an important role in restoring natural foot alignment which includes long, straights toes with a wide toe splay.

Having said that all foot imbalances and toe contractures are not created equal.
Toe spacers are the most effective with feet that are flexible or presenting with functional imbalances. There are some feet with rigid hammertoes and structural imbalances that cannot be reversed with toe spacers.

This does not mean there is no benefit to someone with rigid hammertoes and structural imbalances to use toe spacers. The results will just vary.
Anyone who knows me and my work already know that I won't necessarily be promoting toe spacers with the following comment.
Primarily my goal in human movement is to create an environment for the body to choose it's own natural alignment through the experience of precise movements in the body. In this case the foot. For the brain to choose its optimal resting alignment it needs the experience of joints being able to move through their full range potential.
The foot is required to do two things. Pronate. Flattening of the arch. And supinate. Increasing in arch height. All while maintaining contact through three points on the sole of the foot. The big toe knuckle. The little toe knuckle. And the heel bone. Inside these movements, hopefully interestingly so, there is a narrowing and a widening of the forefoot structures that must occur in order to be able to access both movements.
Toe spacers however have the impact on the foot of widening the forefoot by splaying the toes. This is to promote one half of the foot's movement potential. We don't need half. We need both. So toe spacers actually deny us of the possibility of an equally important foot motion called supination.
Ironically, when the toes and forefoot widen or 'splay', the foot should be flattening or pronating. For the majority of people who need to use a toe spacer, it's because they have flatter arches or less than optimal foot function, all of which can contribute to the change in angle at the toe joints and altered pressure along the toe knuckles. To correct a flat foot we need to ultimately increase its arch height, but the toe spacer limits any opportunity to do that.
So on the one hand, you are being told to strengthen your foot and increase arch height (here the forefoot should narrow) and at the same time, you are wearing a toe spacer to create space between the toes and widen the forefoot. This is like pressing the accelerator and the brake at the same time. So personally I'm not a fan. I am a purist when it comes to anatomy and am super keen to promote correct movement in the joints of the foot (and indeed whole body), operating from the inside out rather than using devices that hope to operate from the outside in. The difference being shorter-term solutions for long-term gains rather than the opposite.
"I do recommend toe spacers to my clients. Mostly tfc wild toes because I have access to them in the clinic and they wear well compared to similar versions that are cheaper. For wearing in just about all shoes, correct toes work well.

Our feet are widest at the tips of the toes when we are born and should remain that way forever. Unfortunately, most shoes squish our toes and particularly in those people that are more mobile, the toes end up staying squished together.
Building up time wearing toe spacers can help realign the natural spread of the toes. However, it's unlikely that without changing footwear and actively mobilising and strengthening your feet that just wearing toe spacers is going to realign your feet. It needs to be more of a holistic approach where they are a part player in foot health."
Anthony Claffey, Physical Therapist, Personal Trainer & AIM Therapist
(Anthony preferred video format, see below)
Chloe-May Bennett, Travis McKenna Podiatrists at Two Barefoot Podiatrists
"As podiatrists we come across a lot of different devices for the feet and digits, each claiming to reduce pain and improve function. So, when we came across silicone toe spacers, naturally we were cautious at first. However, after playing with different types such as the single toe knuckles, foot straps, and looped devices, we finally settled on a spacer that goes between all the toes. We found spacers for single digits just cause the foot to compensate and the remaining toes just shifted laterally, resulting in no success and frustrated patients.

We now use a multi-toe spacer such as Correct Toes or Wild Toes to improve the alignment of the digits and overall muscle function when treating a number of conditions, the most common being hallux abducto valgus (bunions).

Bunions have been noted in 35% of older adults but can also be seen in younger populations. The underlying cause for the development of a bunion is multifactorial, but research has noted a 15-fold higher occurrence of the condition in those who wear high heels or shoes with a narrow toe box when compared with a regular shoe.

Toe spacers have been shown to help alter the position of the joint and muscles, allowing the big toe joint to work efficiently. Whilst the research is still limited in toe spacers, the current literature is promising. Clinically we have found a reduction in our patients' pain and symptoms following the introduction of toe spacers to their care.
So for us, toe spacers are a definite game-changer in improving and maintaining the overall function of the foot."
Dr. Michael Plude, Physical Therapist, Strength & Conditioning Specialist at Innovative Movement
"I don't think toe spacers can passively coax the foot back into its natural alignment. I think it takes neuromuscular changes to have a lasting impact on foot alignment and function. However, spacers are a great tool to help put the foot in a better position to properly use the muscles of the foot. They're simple and easy to use– you just have to put them on and move. For people seeking to improve how their feet feel and function, I think they can be an invaluable tool in their toolbox, but they must be used properly to have their full impact.
I recommend brands that allow you to be active in the spacers and that don't wrap around the big and fifth toes. Correct Toes are my favorite. In fact, I have a pair on right now. There are also some cheaper brands, like RelaxTony, that get the job done in a pinch if you are on a budget. I recommend that people start wearing them while they are barefoot around the house and to gradually increase the time they wear them and the intensity of the activities they perform while wearing them. This allows the intrinsic muscles to learn how to work, while the spacers help with alignment. I then recommend restarting the process with shoes and for longer durations of time.
When wearing them in shoes make sure the toe box is wide enough to accommodate the increased spread of the forefoot and toes – I made a mistake with a pair of baseball cleats a few years ago and had sore feet for days. Once your wear time increases and you get more comfortable with them, you can wear them pretty much any time. Sometimes I forget that I even have mine on."
Thanks to the ill-fitting toe box shapes of most modern footwear I am seeing more people with forefoot alignment problems. These Postural changes in the forefoot lead to dysfunction in the feet as well as in the hips. Ill-fitting shoes squash the feet and limit 'normal' movement of the foot which can lead to flat feet, arch pain, bunions, and biomechanical issues that can alter ankle, knee, and hip alignment. When the metatarsal joints in the ball of our feet become misaligned, we see a reduction in muscle activity in the stabilizing muscles in the feet.

I believe Toe spacers are an extremely useful tool in restoring the natural splay of the toes and help in maintaining the healthy function of the foot. Toe spacers aid in forefoot joint centration by placing the joints in the midfoot and forefoot in a more natural position, which allows for optimal load transfer, increased stability, and maximum muscle pull from surrounding muscles. Toe spacers lead to more stability and balance in the foot and encourage more range of motion in the metatarsal phalangeal joints ( toe joints).
When coupled with appropriate exercises toe spacers can lead to improved function in lower limb movement patterns and have a positive effect on foot posture due to increased muscle activation of the intrinsic muscles of the foot.

Not all toe spacers are made equal, however. My recommendation is to have toe spacers correctly fitted so that they optimally align the forefoot. The material is also important as some of the gels used can be too soft and squishy, which in my opinion does not give you as much correction when using the spacers as the gel can easily compress, allowing the toes to fall into misalignment again.
So in my opinion I do believe that well-fitting toe spacers are a very useful tool in restoring and maintaining foot function that can also have a positive impact on your entire posture and movement patterns.
---
My Thoughts
My intention with this article was to give you….the reader…. some clear information on toe spacers. Armed with that information, you can make your own mind up if you think toe spacers might be beneficial for you.
I am not here to try to sell you MORE STUFF. My personal opinion is that toe spacers are neither game-changing NOR a gimmick. Like everything in life, we would like to think that something external to our bodies can FIX us. It's what we are bombarded with on a daily basis in a culture of consumerism. All we really need to FIX our bodies… is ourselves, some awareness, and possibly a good mentor to direct us in the right way. Our brain is running the show folks – how we hold ourselves is a direct result of our lived experience since we were born. The bunions you have on your feet MAY be partly a result of the high heels you wore as a teenager or MAY be a result of something that happened to your shoulder or your neck years previous to that bunion forming. We need to stop treating body PARTS and begin to treat the body as a whole. Recognise that the 'alignment' you see in your body is a reaction to what you have been through in your life – every fall, every trauma, every injury.
In saying all that, toe spacers are a wonderful way to provide relief to sore tired feet. They improve blood flow to the feet and in a few studies have surely helped improve balance and proprioception. My question is…. like the upper back that must regularly be 're-cracked' (manipulated) in the therapist's room, will feet eventually go back to THEIR normal? I would like to see more long-term studies here. Also, Katy Bowman fans will be familiar with her idea of body casts – some external force that holds a body part in a certain position. Examples would be – shoes, mattresses, chairs, even underwear! If this is true, then aren't toe spacers also casts since they hold the toes in a certain position, albeit a good one?!
---
My Experiment
I took the information from Anthony Claffey's video above to experiment a little on my own feet. Here's what I did (I invite you all to do this too):
1. I took a moment to settle into my body. I placed my right foot forward (picture A) and SLOWLY leaned into it with a bent right knee and hip (and body weight) following the knee (picture B).
2. I felt where the pressures moved in my feet from heel to inner forefoot.
3. I placed each toe spacer on and repeated the movement.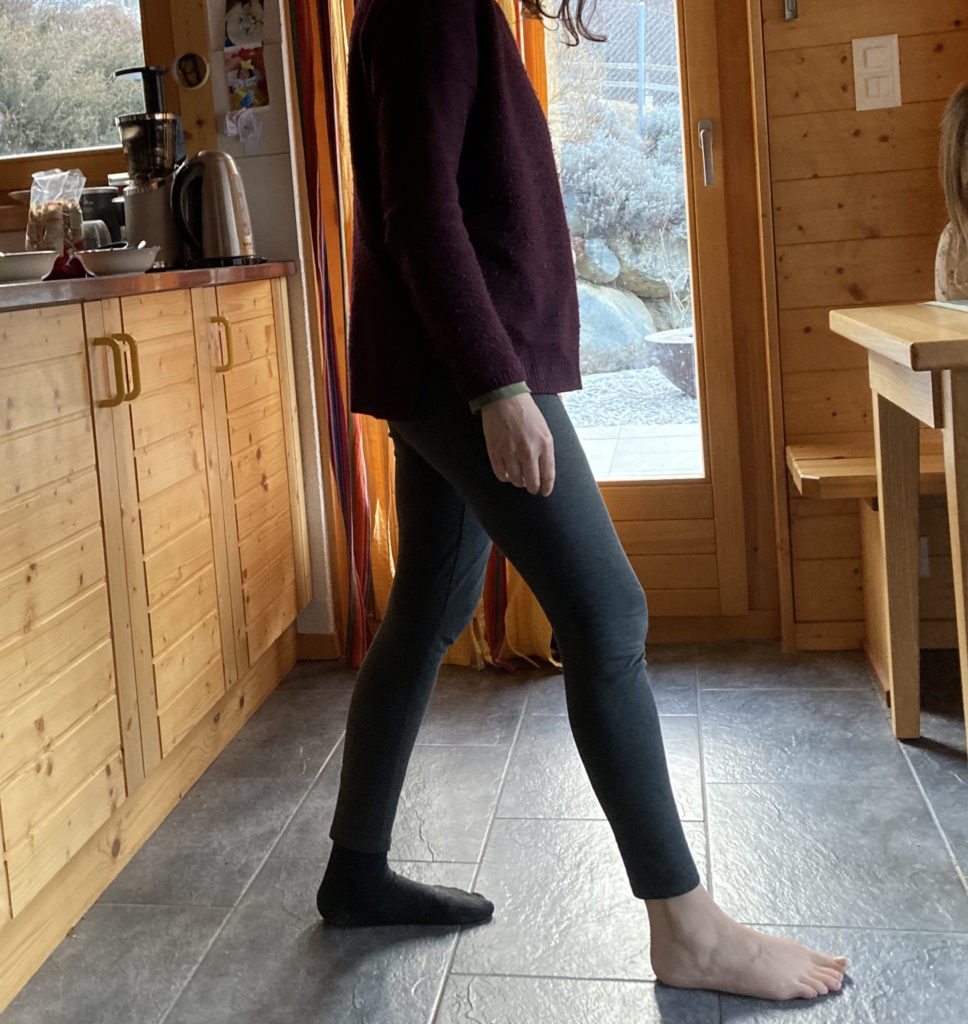 Results: The Correct Toes moved my foot pressure to the outer edge of my forefoot significantly with weight in the foot on a bent leg. Bunion owners will immediately shout Hooray!!!! HOWEVER, my knee bend was restricted and movement at my hip also felt different. The JoyaToes took the pressure out of the forefoot altogether, and I found it difficult to bend my knee at all! The Foot Collective spacers allowed the most freedom of movement (they are soft), however still inhibited my knee flexion a little. The image below from the Correct Toes Instagram page I believe is 100% genuine. I am sure the bunions in the person's feet did begin to resolve. However, from my little test above, there's a chance it came with a price. My experience was that it affected my hip and knee movement in the process. It, therefore, becomes a band-aid. Wouldn't it be great to take it back a step further (excuse the pun) and discover what in the body led to those bunions forming in the first place and correcting those?
Conclusion: I invite you all to try this for yourselves. Make sure to do it softly and slowly to feel how the bones move and how the pressure moves. It is really fascinating to see where the foot pressure goes without a spacer and then with a spacer. Armed with this information, you can make your own decision if you believe toe spacers are the right choice for you.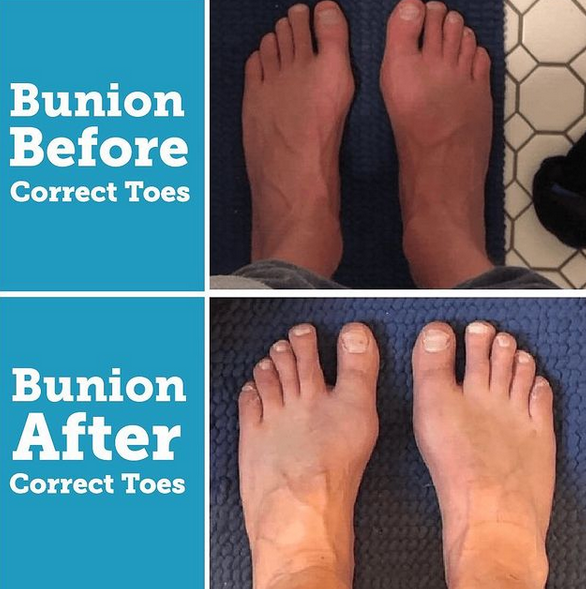 ---
Conclusion: Will I continue to wear toe-spacers?
A resounding YES! I love them! My favourites are the toe socks in the evening and the Foot Collective wild feet during the day. It's like passive yoga for your feet, a lovely feeling of stretch and wellbeing. I will never wear them whilst out walking though (for reasons made clear above in my little experiment).
I'm going to get real here. If you want REAL change in your feet (and the rest of you) then I would recommend a scarily cheap little 3-hour course called Wake your Feet Up by Gary Ward. That has been the gamechanger for me: assessing my own feet, 'refinding' those movements that have been lost, integrating it all together, so there's no need for orthotics, toe spacers, or anything else, just me and my feet!!!
---
If you have enjoyed this post, please consider subscribing so you can get more posts like this into your email inbox! I promise I won't spam you! If you have feet problems but don't know where to turn please contact me on the contact page and I'll do my best to help! Thanks for reading xxx