Are you a disheartened barefoot shoe enthusiast who wonders if you'll ever be able to look classy and elegant again without heels?
What if you could look glamourous and chic whilst being ethical?
What if you could feel sexy whilst being 100% comfortable?
What if you don't need to compromise on your vegan or barefoot principles whilst having the most luxurious feeling fabrics against your skin?
I'm here to say you CAN have it all!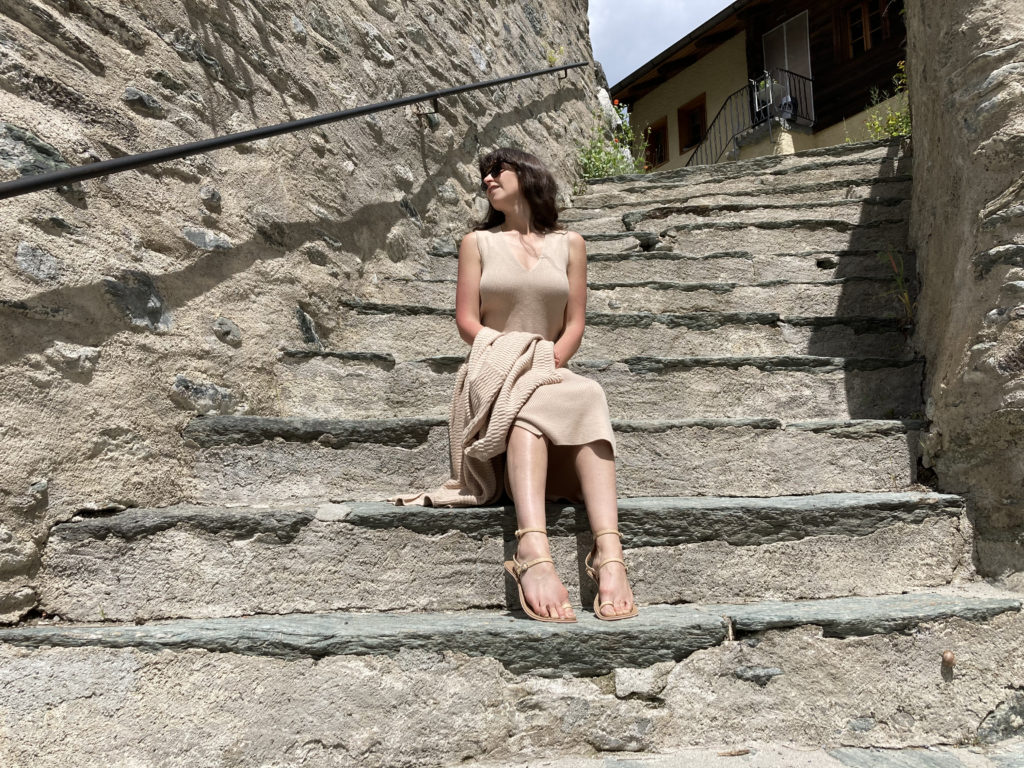 I have teamed up with Mila Vert and High Feels to put sustainable clothing and barefoot footwear firmly on the fashion map. *I purchased the High Feels sandals myself, however, Mila Vert kindly offered the dress and cardigan for review, with the cardigan to be returned.*
Introducing Mila Vert
Mila Vert make elegant minimalist garments that won't go out of fashion. Classic pieces that are luxuriously soft and comfortable to wear using exquisite natural vegan fabrics. And most importantly, they place ethics and sustainability at the core of their brand. So when I asked them if they would be interested in collaborating with me, I was super excited when they agreed! They were really enthusiastic about helping glam up the world of barefoot shoes!
"We believe that sustainable is the only way to make fashion – that's why we have put sustainability at the heart of our brand. We care about how clothes are made. We believe in working with nature, not against it, and we believe that all humans should be empowered by what they do for a living." – Mila Vert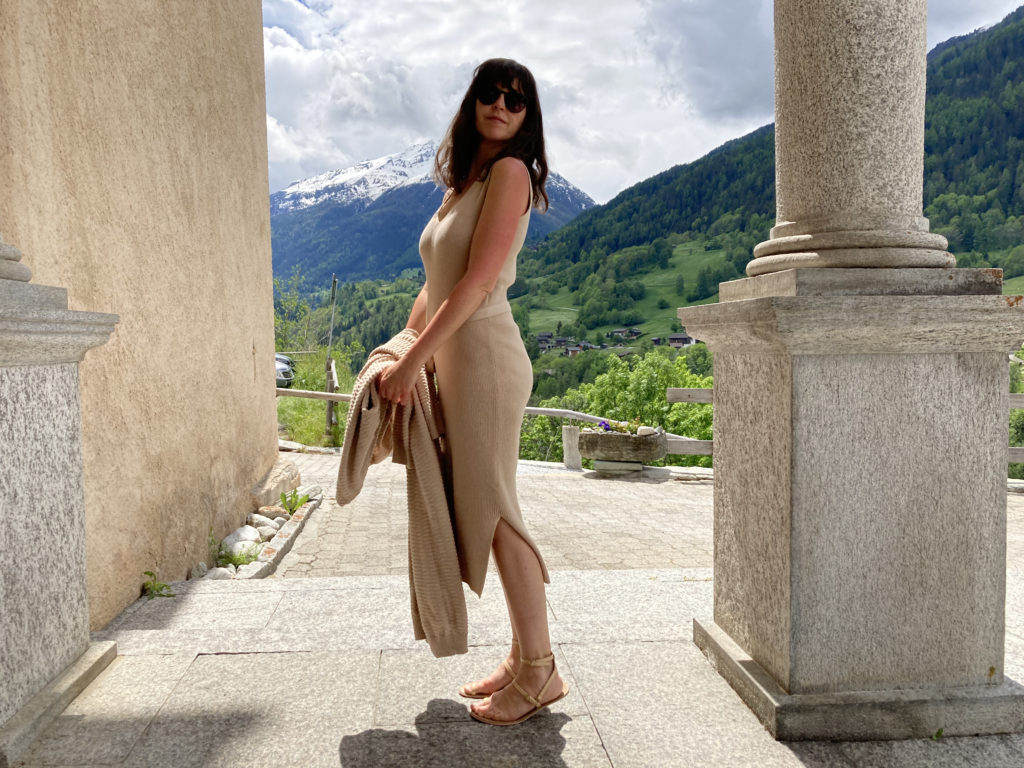 Introducing High Feels
High Feels sandals are probably the sexiest most appealing minimalist sandals on the market today. Also vegan, they have an undoubtedly interesting story detailing how they got started. Their secret lies in their elegant simplicity, their sandals are handmade in Spain and 100% barefoot!
"High Feels is all about empowerment: feeling free and moving with ease, but also looking gorgeous while doing so. The connection to the ground is the foundation of everything." – High Feels
Dress and Cardigan Specs
Model: Knitted long cardigan and v-neck dress (can also be purchased separately)
Colour: Sand
Colour Choices: Cream, sand and black
Materials: 100% organic cotton
Sizes: XS-S, M, L-XL, Free custom fit orders
Made in: Slovenia
Sandal Specs
Model: Nº3
Colour: Nude (an older version)
Colour Choices: Black beauty, brown sugar, rosegold rush, very berry cherry, oooh macaron, mmmh mocacchino, butterblume, white cloud
Materials: PU and microfiber with metal buckles
Sizes: 35-43
Stack height: 4.5mm
Toe-Box Shape: Sloping from the big toe
Tested on: Bare Soled Girl, EU size 39, slim leg and ankle, low instep, medium to wide toe box, Egyptian toe-box shape
Weight: 117g per shoe (size 39)
Made in: Spain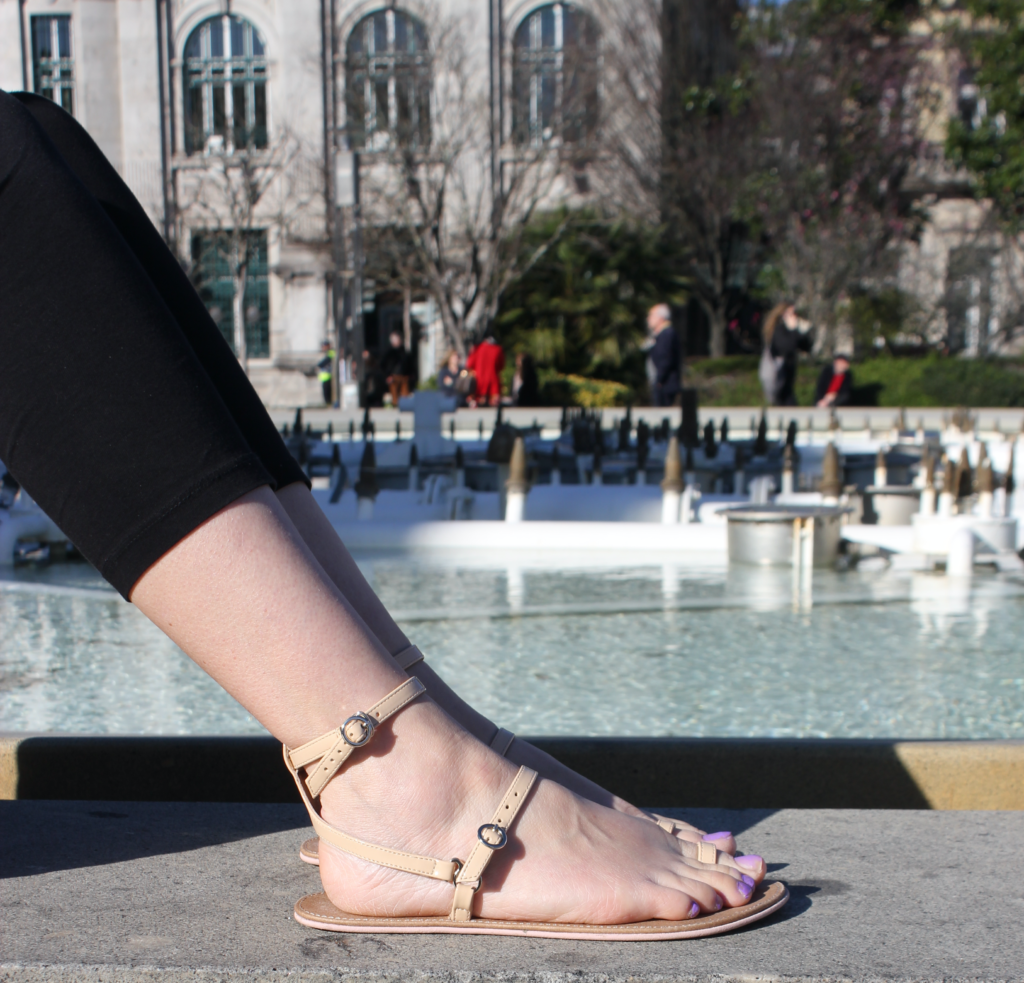 Barefoot Brief
Flexibility: Can I do a one-handed roll and twist with this shoe? YES. They have a flexible sole, however, they are generally a little stiffer than other sandals from Tikki or Wildlings. In saying that, they do soften with time.
Zero Drop: Do they have a totally flat sole? YES. Completely flat.
Toebox Space: Do they have plenty of space for toes to wriggle? YES. My toes are not hanging off the edge of these sandals. In saying that, they will not be suitable for wide feet.
Stack height: Is the distance from foot to ground small? YES. There is 4.5mm between my feet and the ground which I would consider very good for a barefoot sandal.
Arch/Cushioning Test: Are they free from supports/cushioning? YES. They have no supports or cushioning of any kind.
Ground Feel: Is there a decent ground feel? YES. The soles are durable but you definitely feel the ground in them.
Lightweight: Are they lightweight? FEATHERLIGHT at 117g per sandal.
Materials
Mila Vert:
This exquisite dress and oversized cardigan combo boast a 100% organic cotton content, supremely soft in a sublime nude tone. Each set is custom made by Jakopina knitting studio, a fourth-generation family business located in Slovenia. Machine washable, the dress and cardigan are classic neutral staples that will work forever in your capsule closet. Thanks to organic cotton, the knits still allow the skin to breathe and keep you feeling light and airy.
High Feels:
There's no going around this – the sandals are made from the big bad P-word…..plastic, PU to be exact, with a microfiber lining. High Feels are very transparent about this fact and state that "we are following the latest trends in sustainable material tech and if an interesting project pops up, we're getting in contact with them. But mostly these projects researching alternative materials are not ready for production, or not available in industrial quantities, or … they just don't answer the phone or react to emails." They are in a tricky position because they obviously have the desire to make shoes free from animal exploitation, but wait patiently for the next generation of eco-friendly leather which would work well for these sandals.
Truth be told, I usually turn my nose up at plastic shoes, but High Feels have pulled them off supremely well, and I too wait for their non-plastic versions to appear in the future. Nonetheless, they are certified free of Chromium VI, are made in Spain with an ecological CO2-free manufacturing process and are OEKO-TEX® Standard 100, so plenty of positive aspects despite the plastic.
Soling is champagne coloured rubber, surprisingly grippy and a little stiff at first. They are softening up nicely with wear.
Sizing
Mila Vert:
To make sure the set fits you perfectly, use their free custom-fit order service. Also good to note, items can be returned. When placing your order write down your measurements (chest, waist, hip, height) in your cart under "Order note"- simple as.
High Feels:
Their sandals are true to size. If you wear 39 in open shoes or sandals, then order a size 39. You can download their size guide for Sandal No.4, print it in original size if you are unsure. I am generally a 39, and so size 39 works perfectly for me.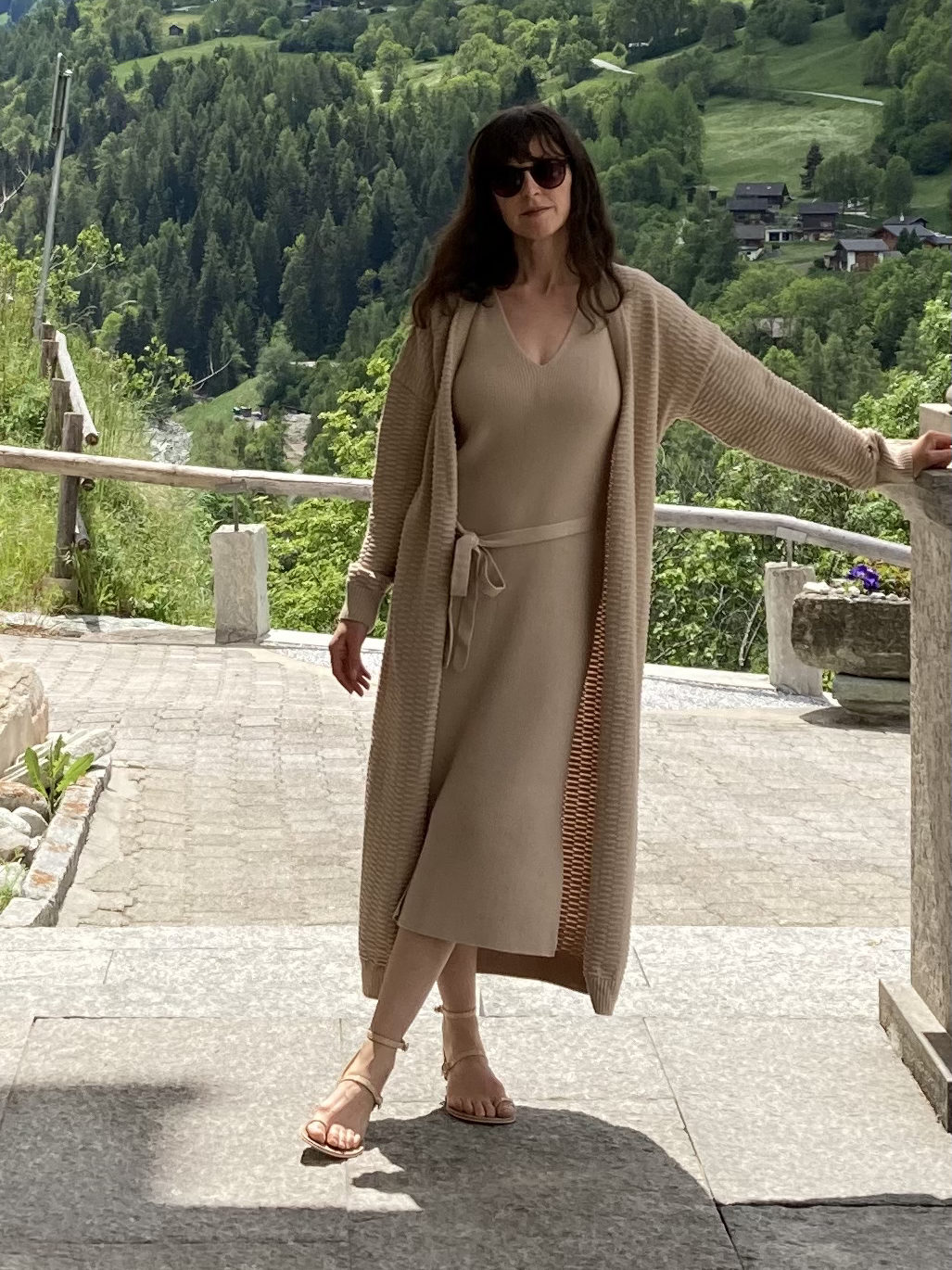 Fair Fashion
Mila Vert:
"To say we work with professionals in their field is not enough. The biggest benefit is that we personally know them and know for a fact that their workers are paid a fair living wage, do their job in optimal working conditions and that no exploitations or violations of any kind are present, as is required by the Slovenian legislation. This is what a transparent local production enables us – not only are we great business partners but friends as well."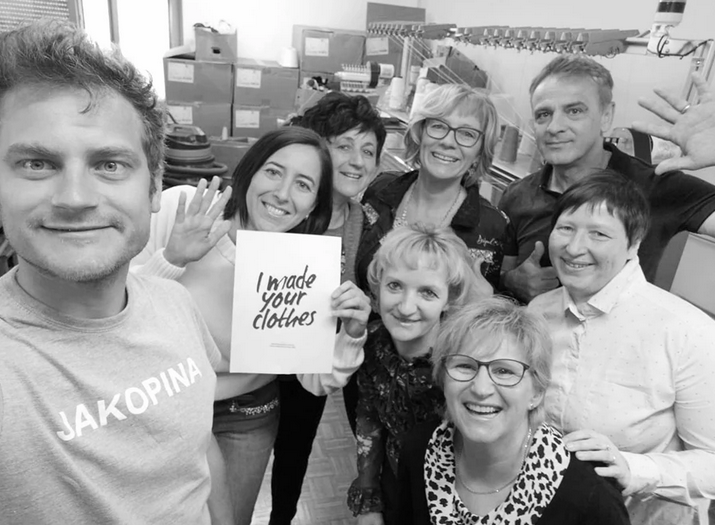 High Feels:
They take pride in being able to visit their Spanish and Italian factories at any time and are happy with the working conditions there. The sandals have a short distance to travel from the factory to their warehouse, and from the warehouse to their customers.
Style
Mila Vert:
Images speak louder than words, look how glam Bare Soled Girl looks!! The dress is figure-hugging yet incredibly soft and comfortable. I feel like a million dollars in this dress! The tiny village I live in in the Alps wasn't ready for this – I had to walk through to get to the little chapel on the hill for my photoshoot, and I got WOW looks from the neighbours, local bus drivers, and everyone else!!!! This will be a staple in my wardrobe for sure, and I have already picked out boots so I can continue wearing it in Autumn with a sweater on top. The cardigan will go with just about anything, and really dresses up simple blue jeans and a vest, for a little bit of glam. However, I love love love this combo together, they are made for each other.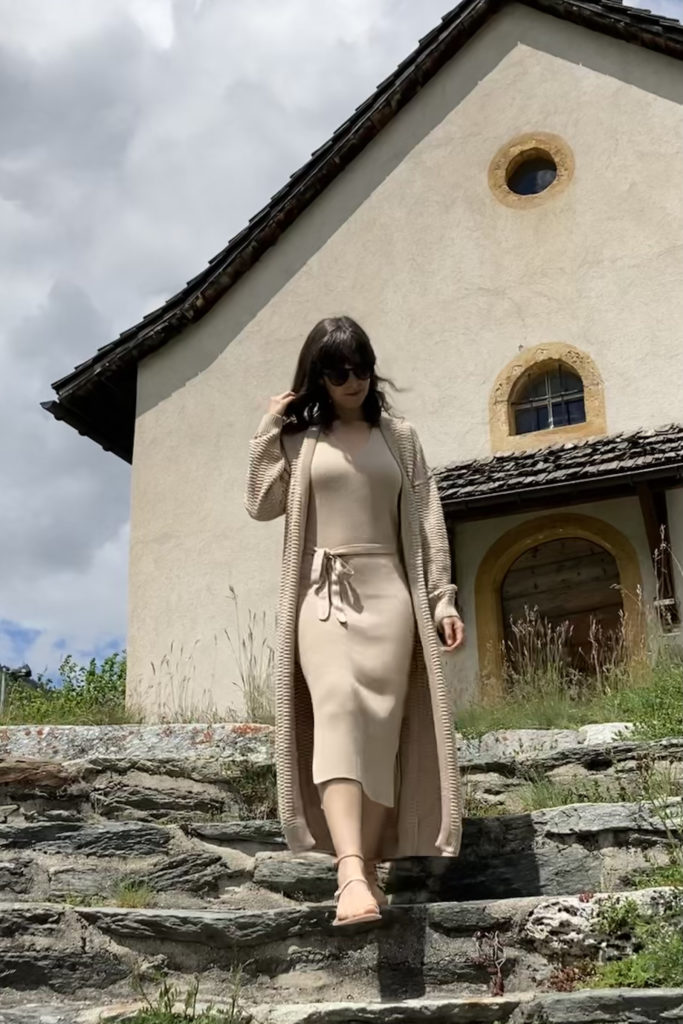 High Feels:
Sexy, minimalist and appealing to barefoot and conventional sandals shoppers alike, these little sandals sit like a queen at the top of the style throne. They work with ANY Summer dress you can think of, in any colour. They also work beautifully with leggings or jeans.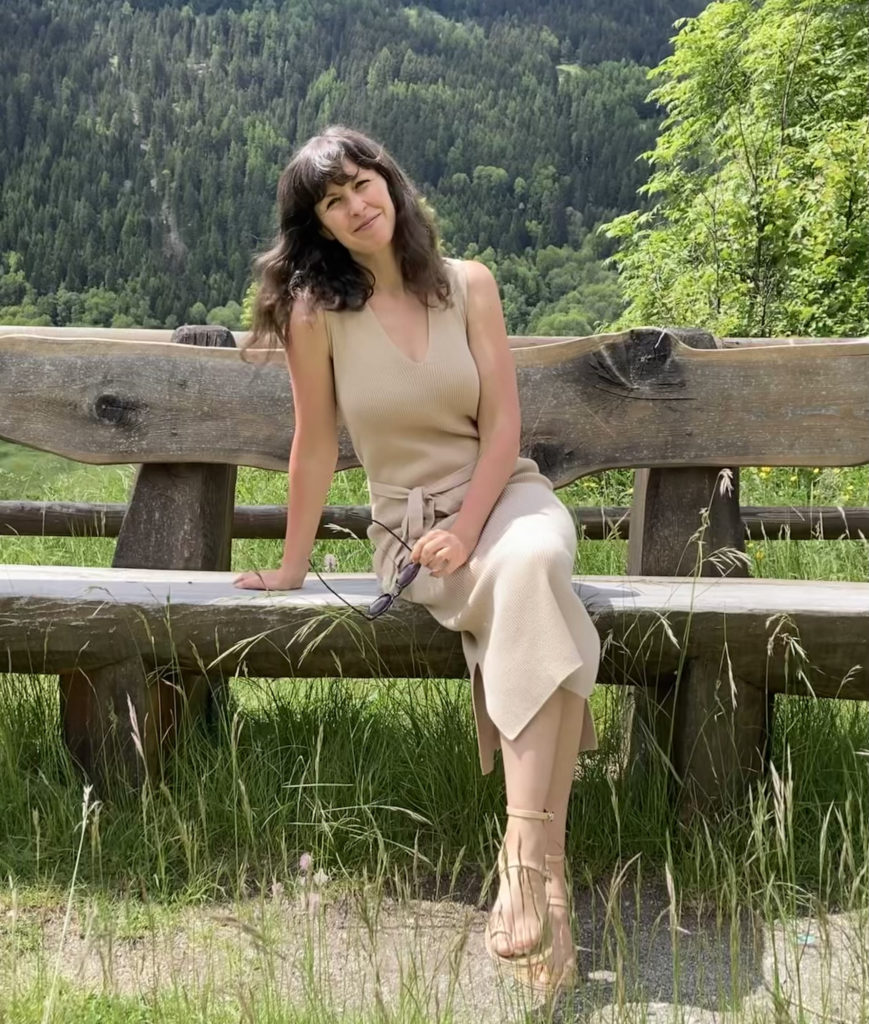 Comfort
This is a very comfortable outfit, with breathable organic cotton next to my skin and simple barefoot sandals on my feet. The sandals are not quite as comfortable against skin as leather, but they soften up more and more with wear. They will work best for narrow – average width feet and the strap across the instep can be adjusted.
Conclusion
A vegan minimalist match made in heaven – that is Mila Vert pieces teamed with High Feels glorious sandals. I like that this stunning dress and cardi was made at a little knitting studio in the Slovenian countryside. I like that the sandal design was born out of a need for a girl to feel good whilst eliminating the pain her previous shoes had bestowed.
Feel good, look good, do good!
You can purchase the dress and cardigan combo at a reduced rate of €390 here plus EU shipping at €6.90. Free custom fitting and returns accepted for unworn items with tags intact. Check out more pictures of their pieces on their Instagram page here.
You can purchase the sandals here for €129 plus €11 EU shipping. Check out more pictures of them on their Instagram page here.