Underrated Czech brand Angles Fashion handmake shoes in their hometown of Zlín. They have an interesting brand story – in that they measured a total of 1,056 Czech feet from people at music festivals and public events in order to get a good indication of what real foot shape is. If that isn't dedication, I don't know what is!
Their logo depicts the sign of the earth and the triangle, "because we want the person to be as connected to the earth as possible and the foot has the shape of a triangle." The names of the individual models are associated with Greek philosophers, gods, or mathematicians. I really like these little quirky details of this brand ……now onto the shoes! I was delighted when they agreed to send me a pair of shoes to review. In saying that, the views expressed are my own.
Video Summary
Website Description
Translated from Czech: Angles Fashion Thales EV are from the second generation of shoes from this Czech brand. A fundamental change occurred mainly in the sole, which is completely different. It is made of special rubber, which gives the shoe perfect flexibility and at the same time significantly increases the distance that the sole can walk during its life. The shoes are made of top quality leather and only from materials originating in the EU.
The shoes have long been developed in cooperation with Tomas Bata University in Zlín on the basis of the analysis of a large sample of measured Czech feet. Thales have a very distinctive character, which, in addition to an honest design, also gives them an unusual leather finish. You can choose the color of the leather in the front, middle and heel of the shoe, the color of the threads on the upper and the sole and the color of the laces and the sole. Angles shoes will reflect a part of your self. The interior is pleasant, full leather and no threads can be seen in it, so there is no risk of cracking or loosening of seams due to contact with the foot and friction.
Unboxing
I was instantly struck by how elegant these boots looked, a beautiful tan brown leather, impeccably finished and with a logo near the back that added to their beauty. They had taken a while to arrive to Switzerland from the Czech Republic, so I had forgotten which style I had ordered! But, I was delighted with my choice.
Specs
Model: Thales
Colour: Brown
Choices: 6 colours in regular Thales, 5 colours in winter option with additional synthetic thermal insulation fur with TEPOR® membrane
Materials:
Upper: leather
Inner lining: pigskin
Lacing: cotton
Sole: natural rubber
Sizes: 37-49
Stack height: 3mm sole + 3mm insole = 6mm
Toe-Box Shape: Heavily sloping from the big toe
Tested on: Bare Soled Girl, EU size 39, slim leg and ankle, low instep, medium to wide toe box, Egyptian toe-box shape
Weight: 225g per shoe (size 39)
Barefoot Brief
Flexibility: Can I do a one-handed roll and twist with this shoe? YES. These are incredibly flexible.
Zero Drop: Do they have a totally flat sole? YES. There is absolutely no heel whatsoever.
Toebox Space: Do they have plenty of space for toes to wriggle? YES and NO. There is ample space for toes, although those with a longer 2nd/3rd toe mightn't have the space they need. For me with a sloping toe-box, they are perfect. For those with a wide to super-wide toe box, you may find them a tad cramped.
Stack height: Is the distance from foot to ground small? YES. Stack height is just 6mm, consisting of 3mm outsole and 3mm insole.
Arch/Cushioning Test: Are they free from supports/cushioning? YES. There is no cushioning of any kind in these shoes of any kind. They are extremely flat.
Ground Feel: Is there a decent ground feel? YES. There is abundant ground feel in these since they are so flexible and flat.
Lightweight: Are they lightweight? YES. They are light and nifty at 225g per boot.
Materials
The Thales comes in 6 colours: black, anthracite (dark grey), coffee, brown (more like tan) and burgundy (more like a dusky pink). Uppers are beautiful leather with pigskin lining; my first pair of shoes with pigskin, but very soft, smooth and comfortable. They have also brought out a winter version with extra insulation which I would love to try. They don't claim to be waterproof, but with some waterproofing spray, I feel they would tolerate some light rain. I will say they are definitely not a winter boot, more of a spring/autumn style – however luckily they offer a winter version with lots of coziness.
Sole
The sole is made from 3 mm natural rubber. It is very firm, no give at all, so quite durable I would say long-term. The grip is pretty good considering the soles texture is quite smooth and I like how well the sole colour works with the tan coloured boot.
Sizing
I made a boo-boo. My feet measure 24.3cm, so I figured the 38 (25cm) might just be on the small side. I went for a 39 (25.7cm) so I have a whopping 1.4cm space….which really is too much. However, since they took a while to arrive and I really didn't want to return a handmade pair of shoes, I am getting a fluffy woollen insole and some thick socks and they are going to be perfect! In hindsight though, the 38 would've been just fine.
This style fits my feet well, they slope heavily downwards from the big toe, (so won't fit well those with 2nd/3rd toe longest) and are relatively straight shaped (as opposed to bean-shaped). I have low volume feet, and you can see from the images I have them tied up quite tight, so they would work well or higher volume feet too.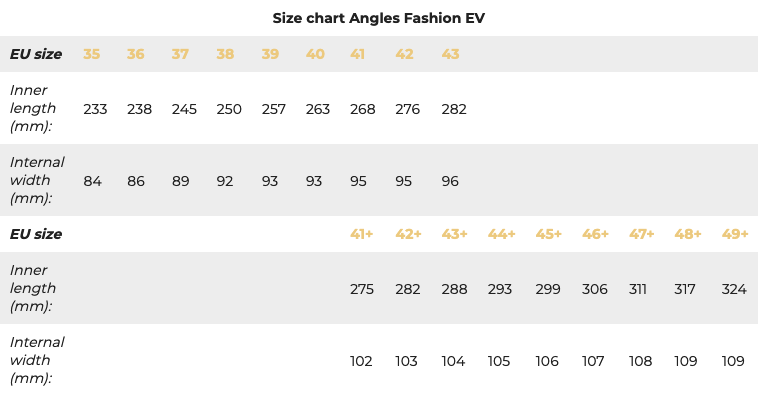 Sustainability
Handmade in the Czech Republic
Using European materials
Vegan Models
Style
These ankle boots look fab on, better in real life than on their website images. I wear them with skinny jeans mainly, and they really are a very chic and 'compact' little boot. By compact, I mean they don't have the extra barefoot width that brands such as Ahinsa and Belenka have. I still love those brands, but my feet don't require that much width, so my feet can get lost in their styles! Angles are on a par with the likes of Muki and Wildlings.
Comfort
These are soft, spacious, with good ground feel. The tongue is lightly padded for extra comfort. The leather uppers are not the smoothest I have in my collection but the pigskin lining means they are very soft next to skin.
Conclusion
I really love this boot. It is elegant and classy and compact for a barefoot shoe. They work with many different outfits and are perfect for Spring! Buy here for €134 plus postage. (Czech website can be translated with Google Translate)
Use this promo code for a 10 % discount: BARESOLEDGIRL
Code is valid till the end of April (30. 4. 2021).
If you enjoyed this post please check out my other barefoot reviews. And if you find my posts useful, please consider buying me a coffee (link below) to show your appreciation! Thanks!!