Cypriot brand Feelgrounds came to life in 2019 with a crowdfunding campaign that reached its funding goal with 48 hours! They are a young dynamic team and this is reflected in their on-trend styles. They currently have a funky slip-on, a low rise and a high rise sneaker, and Patrol, their latest addition: a waterproof winter boot. I wouldn't usually be a fan of 'plastic' vegan shoes, however, Feelgrounds use rPET in their line. Recycled plastic is a wonderful way to use up plastic destined for landfill (and our oceans) so I applaud them for their efforts. In saying that, the model I review today is unfortunately the only one in their line that isn't made from recycled PET. I was delighted when they agreed to send me a pair of Patrol's to review. In saying that, the views expressed are my own.
Website Description
The Patrol unites barefoot functionality and timeless boot design. Its animal-free materials keep your feet warm and dry while the sole pattern is made for maximum traction. Waterproof, snowproof, winterproof. Excellent for cold days.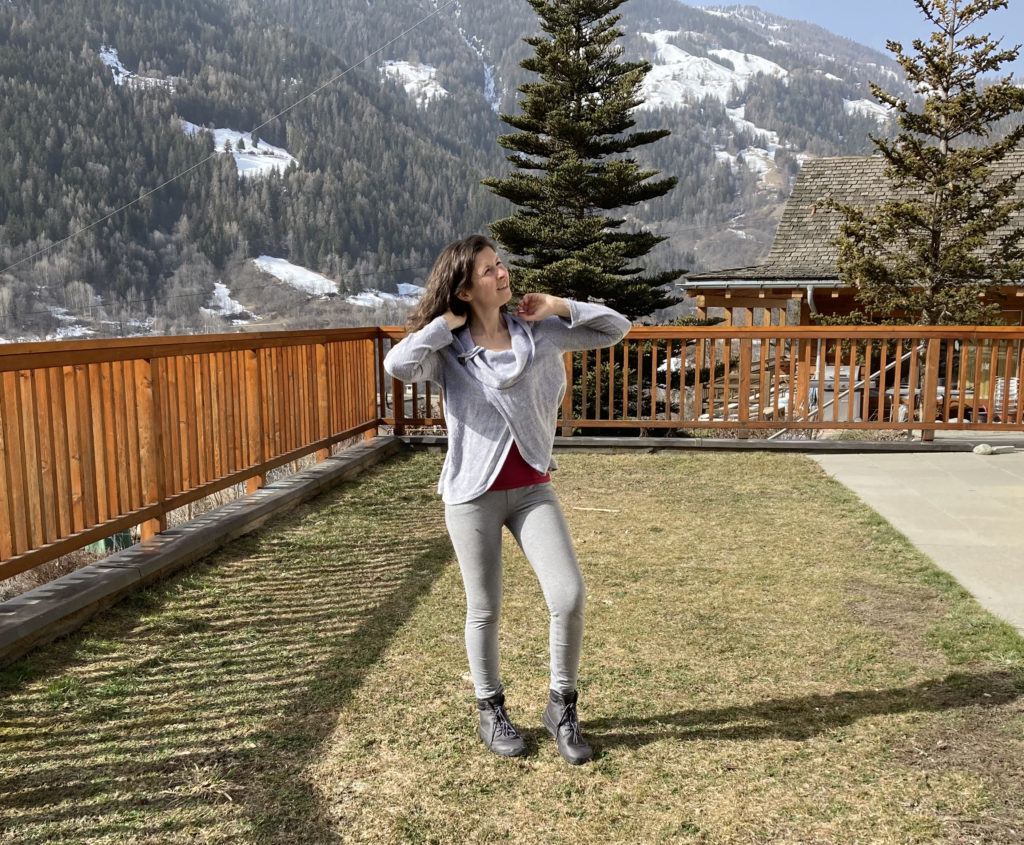 Unboxing
My first impressions were that they looked like a chunky trendy mainstream winter boot – not unlike Timberlands in fact, except with a wide toe-box and perfectly flat! The uppers and sole seemed quite stiff so was curious if this would change after some wear.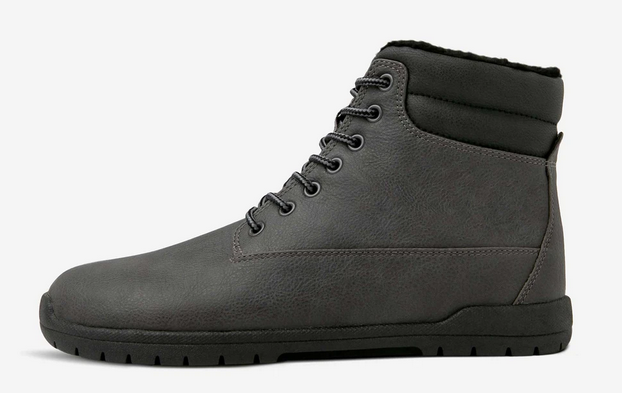 Specs
Model: Patrol
Colour: Grey
Choices: Black, Grey, Light Brown, Dark Brown
Materials:
Upper: Vegan PU leather
Inner lining: recycled fleece
Inside collar: vegan fur
Insole: synthetic felt and removable cork
Lacing: recycled PET & polyester
Sole: TPE & TPU
Sizes: 35-49
Stack height: 10mm sole + 2mm insole = 12mm
Toe-Box Shape: 2nd toe longest point
Tested on: Bare Soled Girl, EU size 39, slim leg and ankle, low instep, medium to wide toe box, Egyptian toe-box shape
Weight: 350g per shoe (size 39)
Barefoot Brief
Flexibility: Can I do a one-handed roll and twist with this shoe? YES. But with some effort. They are definitely stiffer than other winter boots I have.
Zero Drop: Do they have a totally flat sole? YES. There is absolutely no heel whatsoever.
Toebox Space: Do they have plenty of space for toes to wriggle? YES. These boots will work well for all toe-shapes as their longest point is where your second toe would be.
Stack height: Is the distance from foot to ground small? AVERAGE. Stack height is 12mm, consisting of a 10mm outsole and 2mm insole. You can add their removable cork insole which adds an extra 1mm. This isn't a terribly high number for a winter boot, but the highest I have in my collection.
Arch/Cushioning Test: Are they free from supports/cushioning? YES. There is no cushioning of any kind in these shoes of any kind.
Ground Feel: Is there a decent ground feel? NOT REALLY. However, for a winter boot, I can see they were trying to create a durable weatherproof sole and keep peoples feet cosy. So this has sacrificed ground feel in this boot.
Lightweight: Are they lightweight? AVERAGE. They weigh 350g per boot which is not incredibly light, however probably a LOT lighter than Timberlands!!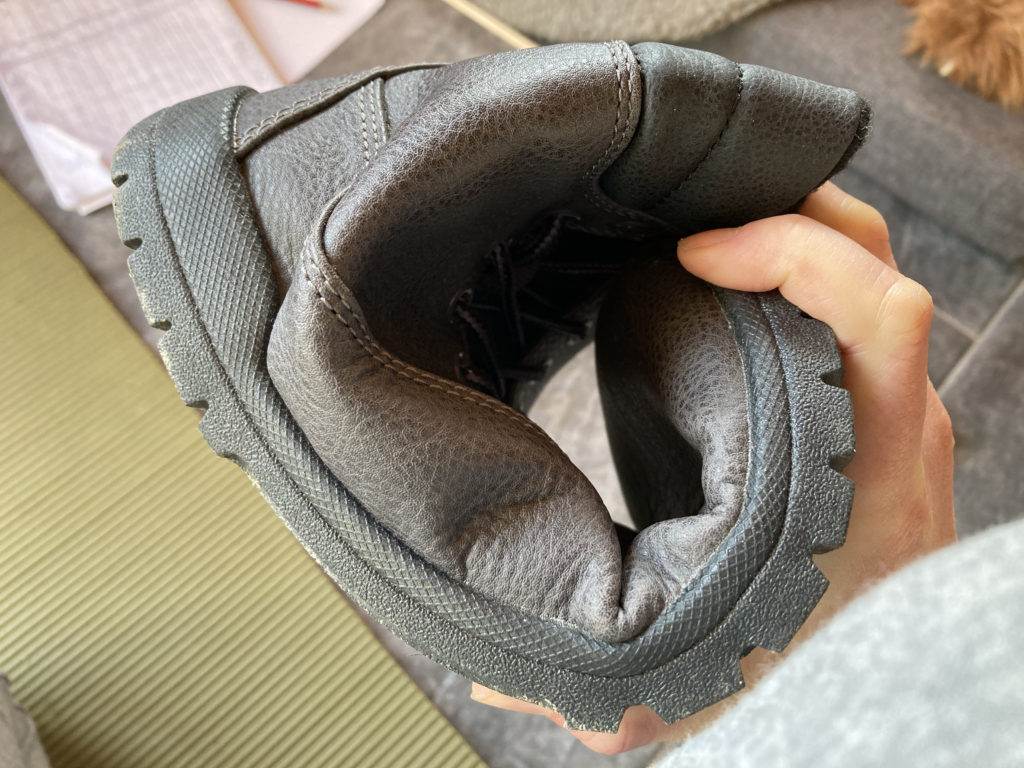 Materials
This is a vegan boot through and through – with synthetic PU uppers, which are quite stiff at first but do soften with wear. The uppers are a faux leather; to me I can tell straight away they are not the real deal, however they look very waterproof and durable. The soft inner lining is recycled fleece (a thumbs up on the sustainability front) and the strong lacing is recycled PET and polyester. The collar boasts a soft cosy synthetic fur and the insole is felt with a removable cork insole. I love cork as a raw material. It's one of those amazing materials like hemp – as it is vegan yet without the use of plastics. Listen here at the 13.10 to hear Muki founder Madlen discuss the benefits of cork.
In terms of winter-proof ability – they score high. They are waterproof because of their waterproof uppers and gusseted tongue. I can vouch for this as have been out in them in rain, splashed in puddles and walked in slush and snow. They are also quite warm, although I have only worn them in temperatures down to -3 degrees (26 fahrenheit), so can't attest to their warmth below this. However, at this temperature, my feet were toasty with only regular socks worn underneath.
Sole
The sole is made from two compounds: TPE & TPU, both originating from plastic. It is deeply treaded and quite firm to the touch. This is definitely a stiffer sole than for example my Ahinsa or Belenka winter boots, but again this is meant for heavy weather – snow, rain and ice so I can see why, and the sole does soften with time and wear.
I conducted two highly scientific studies to test the sole grip, and recruited my daughter to help!!! You can check them out here and here! With the first video, you can see the Patrol was the clear winner, however, the second experiment (out of the lab and in the field!!) gave average results. So I would class the grip as better than most other barefoot brands, but I will still use my crampons for safety on ice.
Sizing
Feelgrounds offer a nice size chart that highlights your sizing as you move along as well as stating 'insole length'. I cannot remember the number of times I have contacted companies to double check if the measurement I saw on their chart was the shoe (insole) length OR the foot length. I measure 24.3cm and the insole length is 25.4cm so I get a perfect 1.1cm space in the toe-box.
These boots are a great fit for a medium/high instep with a wide heel/ankle and toe-box. I don't particularly fit into this category so they tend to cause heel lift. I have tried lacing like in the image below and it helps to get a closer fit around my ankle.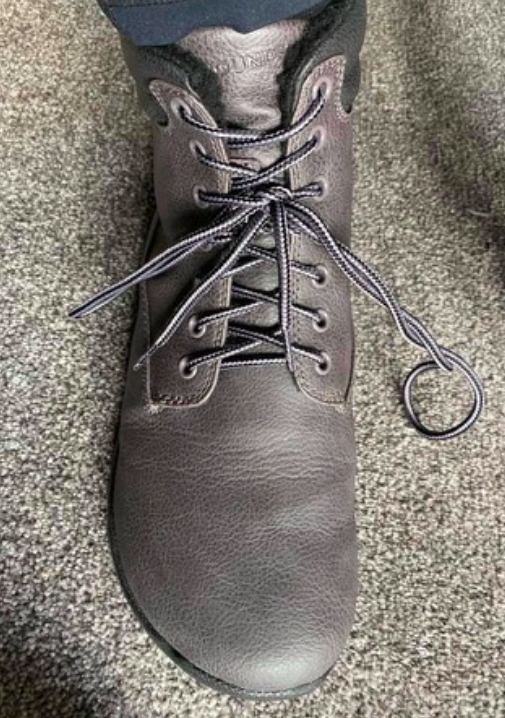 I find the lacing very long so have hooked it down through the front as you can see from the image. I have seen other wrap it around the ankle a few times also.
Sustainability
They use recycled PET in all of their styles in some way or other, whether it be uppers or linings or lacing.
Vegan
Independent testing institutes, like SGS, regularly test and approve the safety of their products
Workers in their Vietnamese factory benefit from social, medical, and accident insurance and receive a salary above the regional average.
The factory is part of the European BSCI (Business Social Compliance Initiative), whose mission is to "enhance human prosperity, use natural resources responsibly, and drive open trade globally" (BSCI).
The factory is also part of Better Work Vietnam, a program that supports the implementation of practices based on core ILO labour standards (International Labour Organization).
Style
This boot will appeal to barefoot enthusiasts and more conventional shoe wearers alike. Like the image I showed earlier, they are not unlike the popular Timberland boots. They are chunky like the Lems Boulder boots so won't really work with skirts and tights, but look great with leggings, legwarmers, woolly socks or skinny jeans.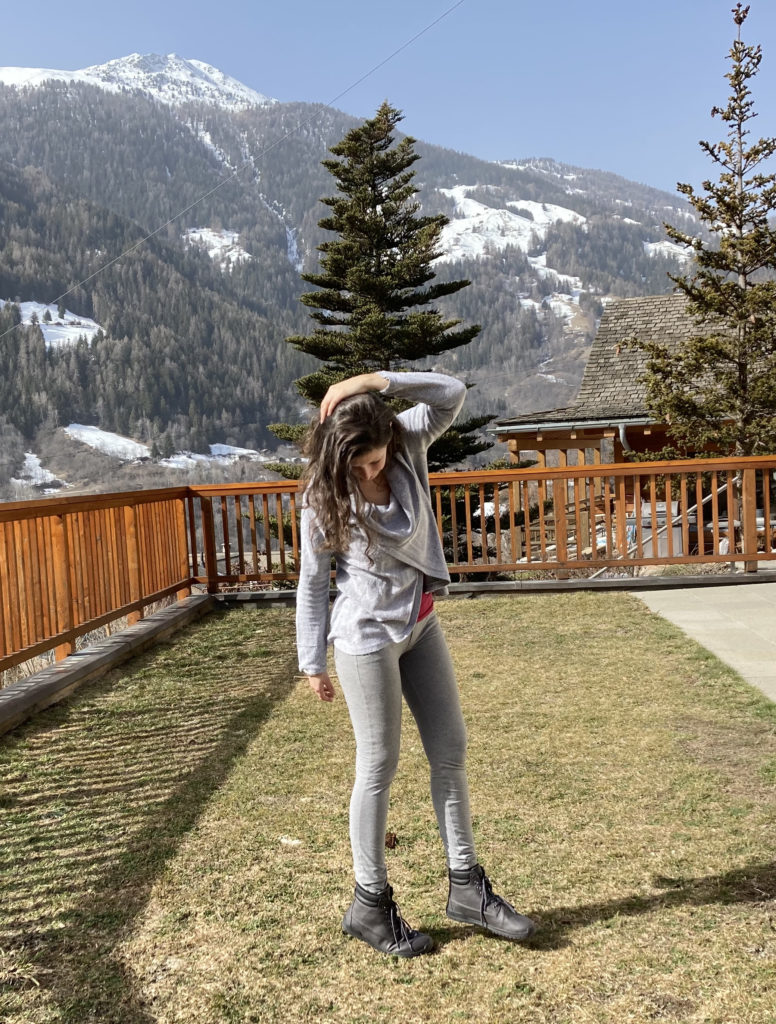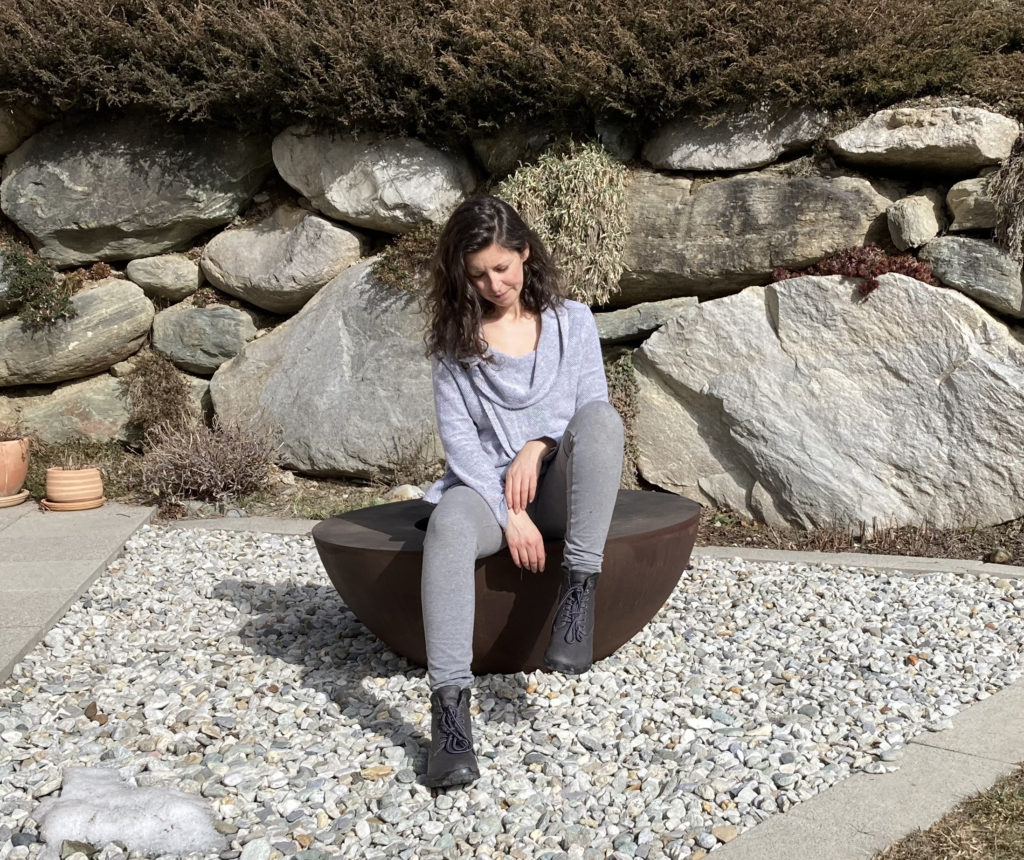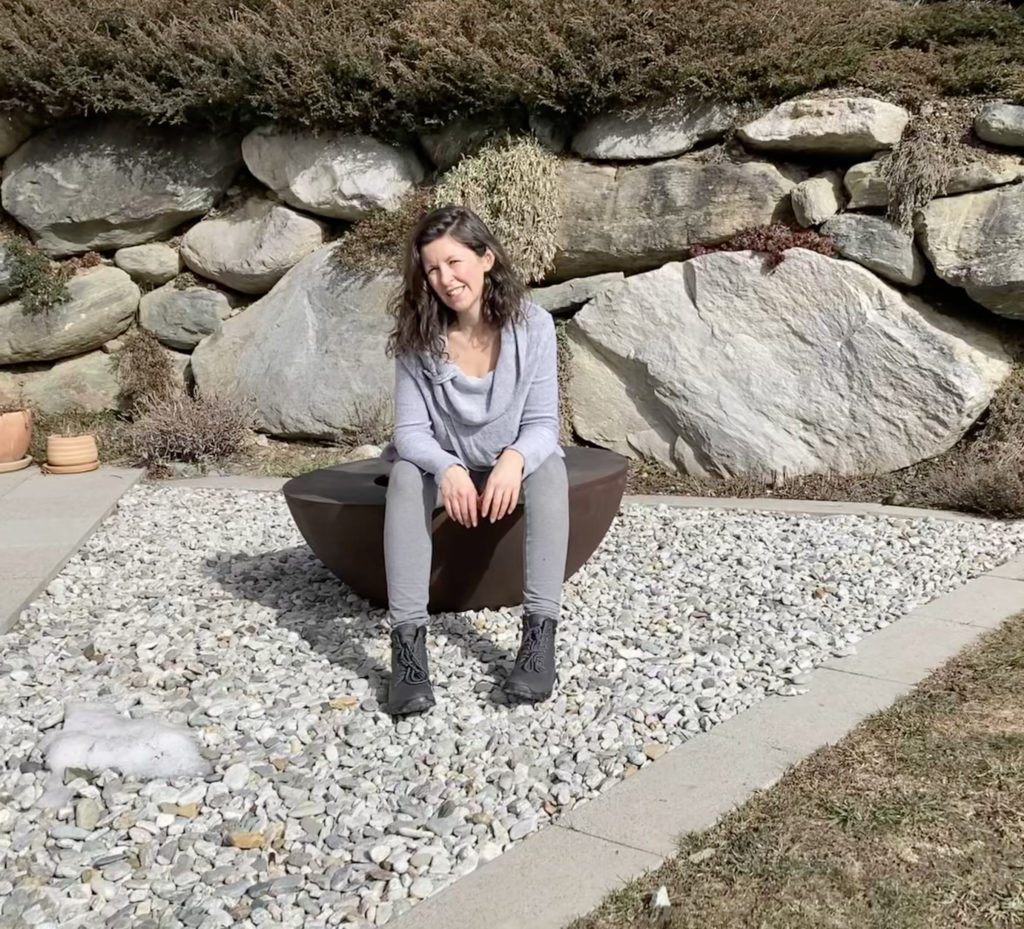 Comfort
These COULD be a very comfortable boot, for the right foot. Unfortunately, my feet just aren't right for them. My feet are medium width, low volume, narrow heels. They are slipping at the heel and so are a bit clunky as I walk. The gusseted tongues also dig in a little at the instep, but I imagine this will soften with time. They are warm and cosy and perfect for winter and spring temperatures.
Conclusion
It's so great to see a barefoot winter boot in a style that will appeal to the mainstream. It takes a lot of hard work and a little magic to create a shoe that has a wide toe-box, is flexible and flat and that has mainstream appeal. After all, we want to grow our barefoot community right! That means, bringing more people on board without them needing to drastically sacrifice what they consider to be style.
This boot merges style and function with minimal effort! It could be more flexible, but Feelgrounds are rightly trying to cater to many people at the same time (as all barefoot brands are) by creating a durable WINTER boot that won't wear easily, won't feel too cold and won't have excess ground feel. So Feelgrounds – I applaud you, you've done a great job! I look forward to trying your softer mesh styles in Spring and Summer. If you could just make the heel a teeny bit narrower, they'd be perfect (for me!!).
Buy here for €159 now!
---
If you enjoyed this post please check out my other winter boot reviews – such as the Ahinsa Sundara boot or the Belenka Nord boot.