Belenka merge barefoot shoe qualities with stylish chic footwear effortlessly. They handmake their shoes in house, and each pair are skillfully crafted, with quality materials and an exceptional finish. The Nord boot I review today are a welcome addition to last years Winter model, boasting premium leather uppers, a zip for easy on/off, and a lower price tag than its predecessor. I was delighted when they agreed to send me a pair of shoes to review. In saying that, the views expressed are my own.
Video Summary
Website Description
Be Lenka Nord – Unisex, easy to wear and remove short boots for cold but not so cold weather. Made from premium leather and breathable yet warm the fleece lining with laces and zipper for that extra secure fit. A special barefoot sole with a thickness of 4 mm guarantees you the highest walking comfort.
Unboxing
The Nord arrived on the morning of the first snow here in Switzerland. I was instantly struck by how stylish they looked. The first thing I did was to send an image to my conventional shoe wearing friends to get their opinion, and it was a conclusive thumbs up from all! So a great boot for barefoot enthusiasts and a conventional audience too!
Specs
Model: Nord
Colour: Charcoal
Choices: 4 colours
Materials: Upper: leather, Inner lining: fleece, Lacing: Cotton, Sole: TPU
Sizes: 36-46
Stack height: 4mm sole + 2mm insole = 6mm
Toe-Box Shape: Sloping from the big toe
Tested on: Bare Soled Girl, EU size 39, slim leg and ankle, low instep, medium to wide toe box, sloping toe-box shape
Weight: 277g per shoe (size 39)
Website: English
Barefoot Brief
Do they have a totally flat sole? YES. Completely flat. Even though the rubber soles wrap a little higher towards the back of the shoe, this has no bearing on the actual height from heel to the toebox.
✔
Do they have plenty of space for toes to wriggle?
YES. They have toebox space in abundance. This may be a little too much for narrow feet, but heaven for medium, wider, and super-wide feet.
✔
Flexibility: Can I do a one-handed roll and twist with this shoe?
YES. They pass the test with flying colours.
✔
Is the distance from foot to ground small with a decent ground feel?
YES. There is 6mm between my feet and the ground which I would consider excellent for a barefoot shoe. This style strikes a good balance between durability and ground feel. Whilst you won't notice every pebble underfoot in this shoe, as you might with a thinner, less hardwearing sole, you'll still feel a fair amount.
✔
Are they free from supports/cushioning?
YES. They have no supports or cushioning at the insole of any kind.
✔
Are they lightweight?
YES, they are pretty lightweight for a winter boot at 277g per shoe (on a size 39).
✔
Materials
The Nord comes in 4 different colours of premium quality leather and the fleece lining provides warm dry comfort. The leather has a somewhat creased/crackled appearance which I really love. These boots don't have any protective membrane as the model Winter does but should still resist ordinary city winter after spraying them with a waterproofing spray regularly. The tongue is not gusseted, so they will never be 100% waterproof. Nor do they have merino wool lining that the Winter model has (which I personally prefer).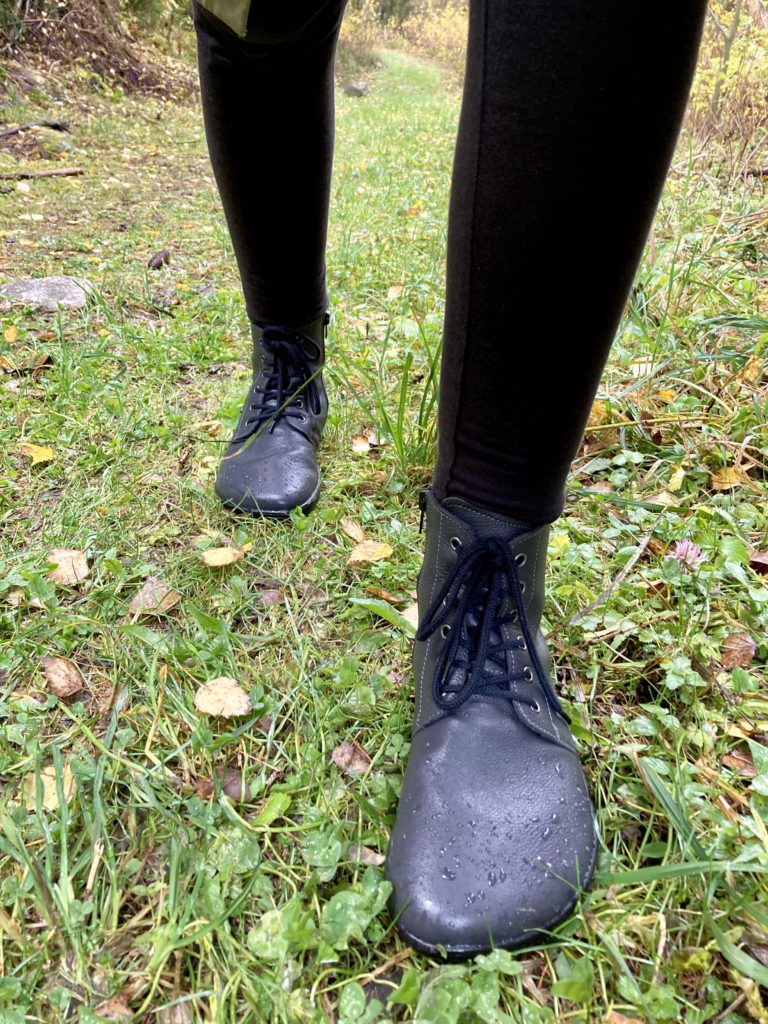 What they do have, is a side zip, which allows for easy on and off, and to be honest, I really appreciate this on cold morning school runs. Also, they are a slighter shorter boot than the Winter model, so easier to dress with skinny jeans than its predecessor.
Sole
The black puncture-resistant rubber soles have a pretty leaf design underfoot. The sole is firm, meaning they are not squishy like some barefoot soles, but thankfully this doesn't compromise their flexibility. Squishy soles (I don't mean excessive cushioning, just a little give in the sole) can offer increased ground feel, however, this type of sole also tends to wear out faster. Too much squish also dulls proprioception, just to complicate the matter! If you're new to barefoot shoes, do not worry too much here. Basically, excessive padding and cushioning causes the feet to work harder to find the ground, and so cause more impact on the joints. But there's nothing wrong with a little squish in your sole, and some squish can help with ground feel, as they have more give against stones etc.
All Belenka closed shoe styles feature soles are raised around the sides and back of the shoes, which gives the leather a bit more protection and durability. This "walled" style also helps to reduce the chance of scuffing, and gives a more conventional look to the shoe.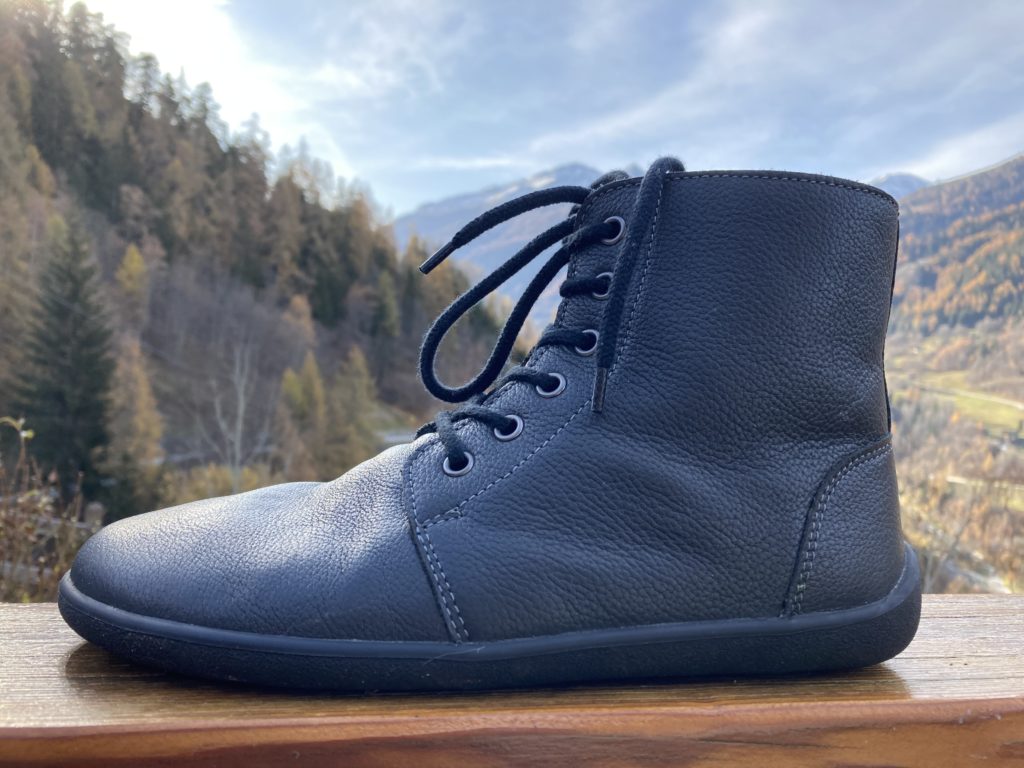 The total stack height is 6mm (4mm outsole + 2mm insole). For me, this is just the right balance between ground feel and cozy Winter feet!
Grip is average, I found them a little slippy on wet leaves, but fine on fresh snow and dry conditions.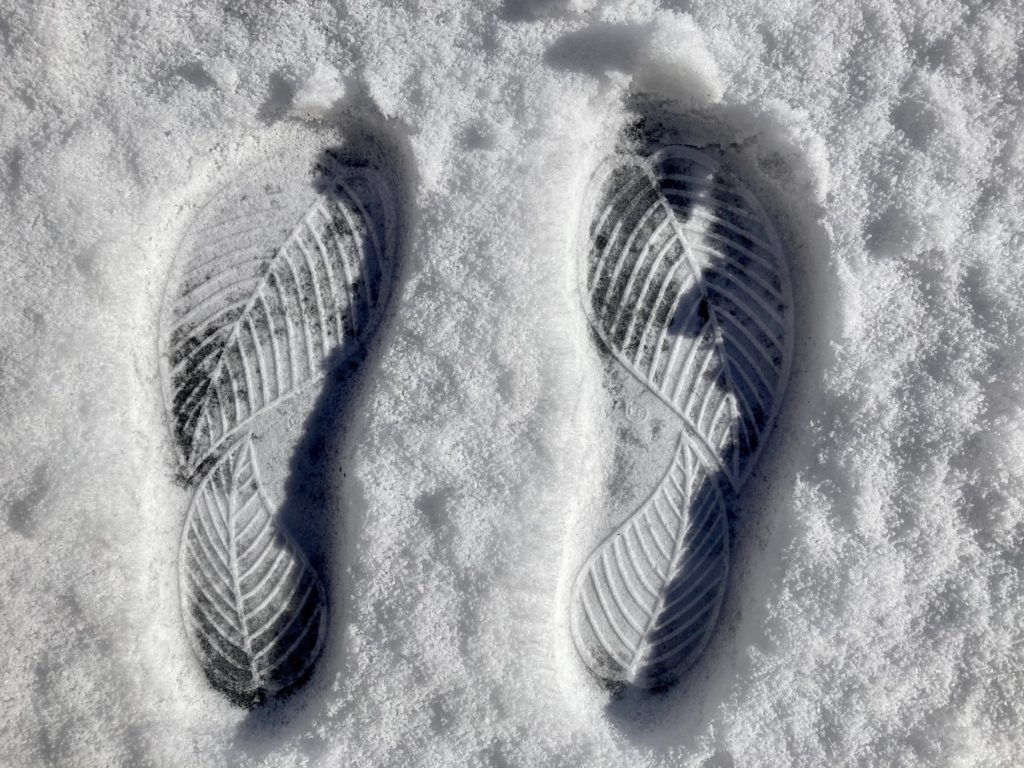 Sizing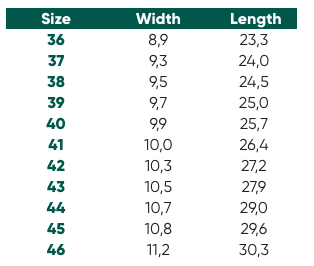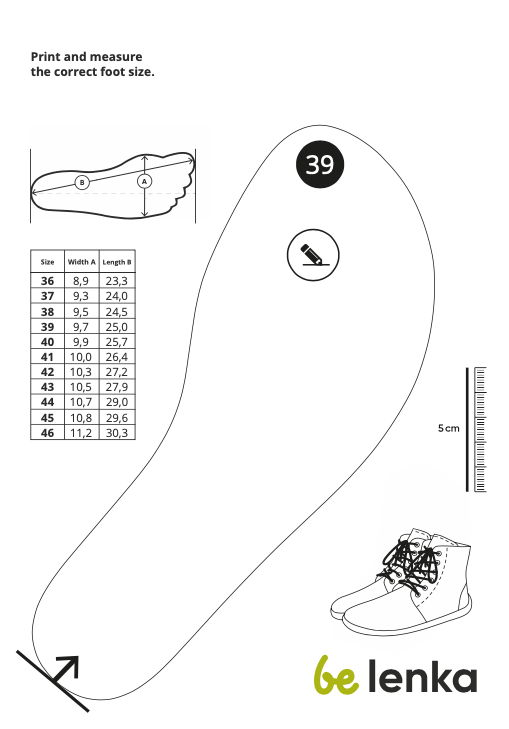 Sizing is straightforward. The size chart above indicates the inner length and width of the shoes in centimetres. Measure your feet in the normal way to get your length, then add 0.5 to 1.2 cm on top. Or print your usual size and place your foot on the sheet to test if it matches.
For me, the 39 (foot length 24.3cm) is a perfect fit. Belenka shoes tend to be 'bean-shaped', which is not the ideal shape for my particular foot shape, but they work just fine. Check out my summary video above where I delve into this in more detail. There is also a downloadable size guide you can print out.
One thing to note, if you have especially high volume feet be aware that these have a lower instep. I have low volume feet and had no problems with them being snug anywhere.
Sustainability
Handmade in house
Vegan Options
Uses local materials so a low carbon footprint
Non-toxic materials
Strict policies related to health, safety, and quality.
95% of the materials used in their shoes and in packaging is recyclable.
Style
I have been wearing these with leggings and love how compact they look. Some barefoot boots are quite chunky, but with the laces and zip, you can really get a streamlined look. I would class them as casual, but look forward to dressing them up (one day after Covid) with some tights (panty-hose for my American friends) and a wintery dress.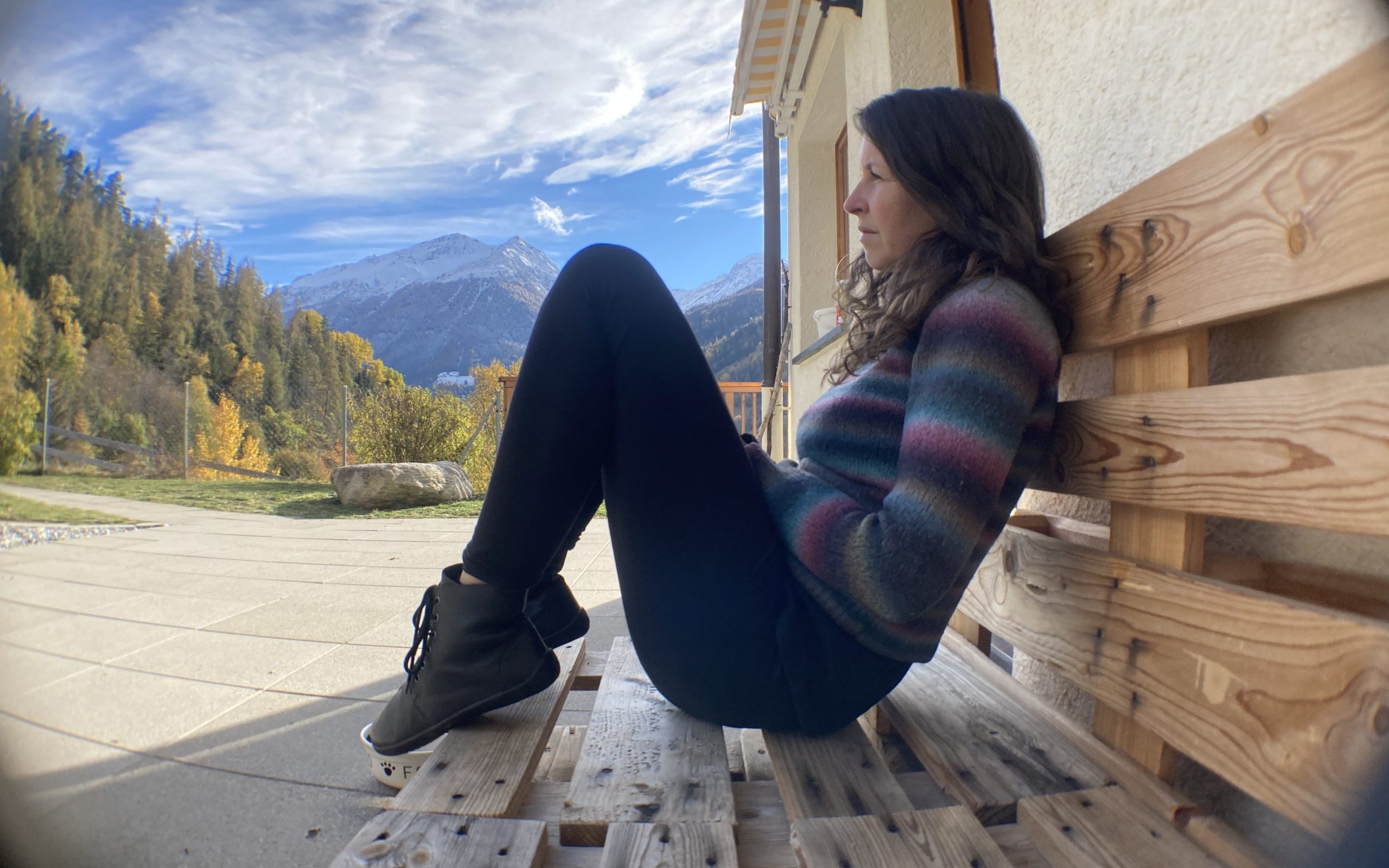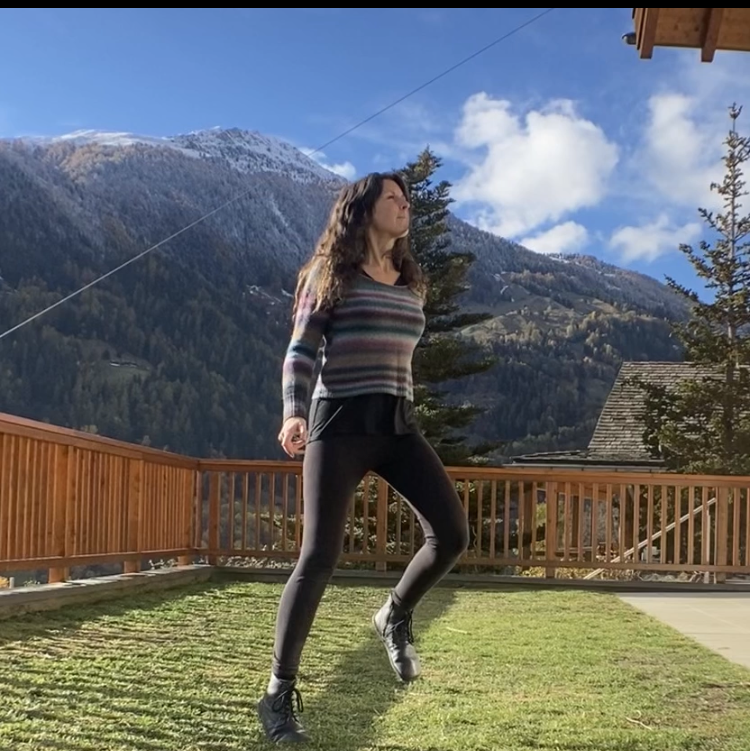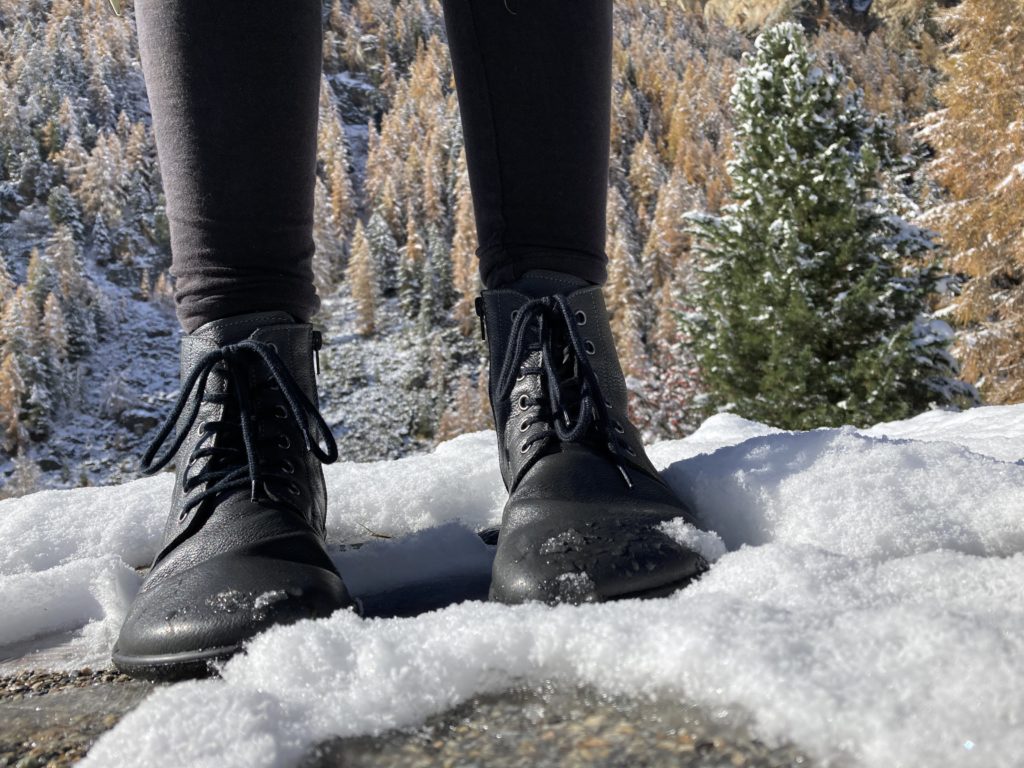 Comfort
Considering how solid of a winter shoe this boot is, it's impressive that ticks all the boxes of a barefoot shoe. It is flexible, zero heeled, lightweight and with a wide toe-box – a great choice for winter. I have worn them on Autumn sunny days and they were almost too warm! I also was lucky to try them out on a snowy day here in Switzerland, and my feet were warm as toast and dry. They won't be 100% waterproof, but they are none the less a wonderful choice for Winter.
Conclusion
Weatherproof, wide, and comfy, these are a great cold-weather barefoot option. On a personal note, I find Lenka (owner and founder of Be Lenka) an inspiring lady and her business has grown from strength to strength. Go Lenka!
Buy Here for €139 plus shipping.
---
If you enjoyed this post please check out my review of Belenka City Plum here. And if you find my posts useful, please consider subscribing!