Award-winning barefoot shoe company BeLenka handmake their shoes in house, and each pair are skillfully crafted, with quality materials and an exceptional finish. Whilst they were previously known for being an outstanding barefoot shoe brand, they have also become synonymous with stylish chic footwear. So much so that they have their own almost 5K strong Facebook community group where their shoe styles and babywearing carriers are discussed! They have quite the following! So I was delighted when they agreed to send me a pair of shoes to review. In saying that, the views expressed are my own.
BeLenka Website Description:
BeLenka City – Unisex barefoot shoes are your perfect Spring and Summertime companions. They are not only supremely comfortable like our entire barefoot lineup but also fantastically versatile. They can be easily paired with everything from jeans, chinos, khakis, shorts and even with short summer dresses. Once you have them they very quickly become your go-to pair of shoes. Why do we say so? Simply because they make your feet smile and they go with most casual outfits.
Unboxing:
I was apprehensive and excited to open my very first pair of BeLenka's.
I hoped my straight-shaped foot would work in this 'bean-shaped' shoe.
I hoped they would live up to the expectations of a popular brand.
I hoped the plum colour I chose would be as vibrant in real life as in the photos!
And I wasn't disappointed! On unboxing, the vibrant luscious plum colour really popped out. I immediately started piecing outfits together in my mind! They looked a little quirky but in a good way.
Specs:
Model: City
Colour: Plum
Choices: 10 colours
Materials:Upper: brushed leather (suede)
Inner lining: canvas
Lacing: Cotton Sole: TPU
Sizes: 36-43
Stack height: 4mm sole + 1mm insole = 5mm
Toe-Box Shape: Sloping from the big toe
Tested on: Bare Soled Girl, EU size 39, slim leg and ankle, low instep, medium to wide toe box, Egyptian toe-box shape
Weight: 205g per shoe (size 39)
Barefoot Brief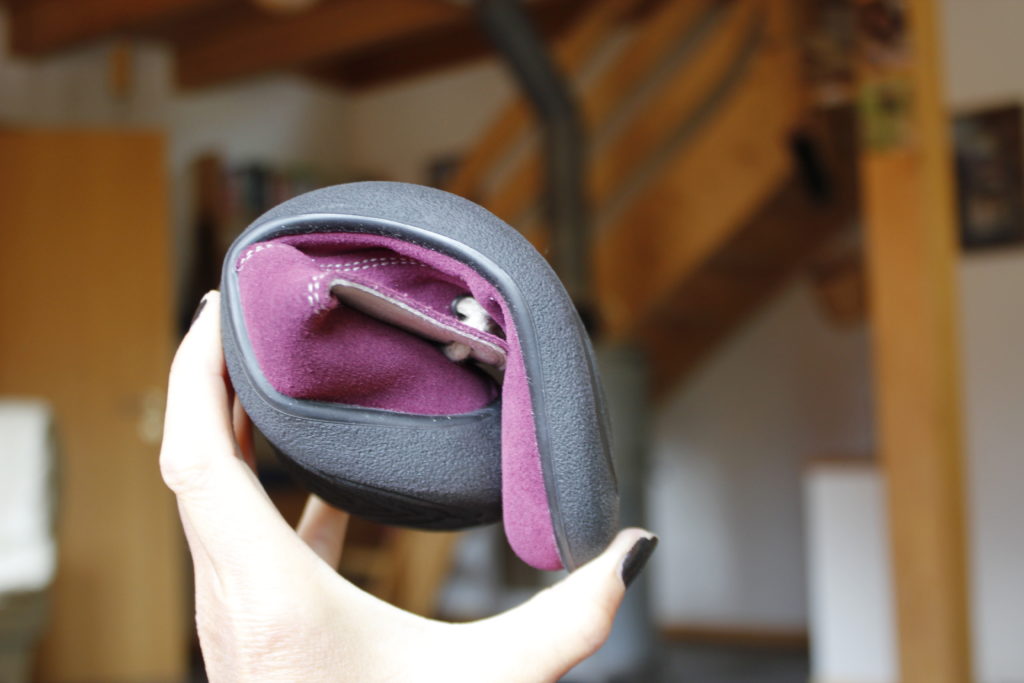 Zero Drop: Do they have a totally flat sole? YES. Completely flat. Even though the rubber soles wrap a little higher towards the back of the shoe, this has no bearing on the actual height from heel to the toebox.
Toebox Space: Do they have plenty of space for toes to wriggle? YES. They have toebox space in abundance. This may be a little too much for narrow feet, but heaven for medium, wider, and super-wide feet.
Stack height: Is the distance from foot to ground small? YES. There is 5mm between my feet and the ground which I would consider excellent for a barefoot shoe.
Arch/Cushioning Test: Are they free from supports/cushioning? YES. They have no supports or cushioning at the insole of any kind.
Ground Feel: Is there a decent ground feel? AVERAGE. This style strikes a good balance between durability and ground feel. Whilst you won't notice every pebble underfoot in this shoe, as you might with a thinner, less hardwearing sole, you'll still feel a fair amount.
Lightweight: Are they lightweight? YES, they are pretty lightweight at 205g per shoe (on a size 39).
Materials:
The City style boasts 10 different colours, mainly in smooth suede (brushed leather), however, there are a few canvas options too. Keeping the suede beautiful is relatively straight forward. The use of a suede brush with a nubuck/suede cleaner will remove most stains and help to smooth out any wear or texture that is scuffed in the wrong direction. BeLenka recommends wearing suede shoes in dry weather only. However, in case you do get caught in a shower, let them dry naturally and then brush them gently with a suede brush. It is also mentioned that they are not designed for sports, hiking running etc, hence the model name: city. The lining is beige canvas, even though its feel is much like the suede uppers. Laces are cotton, quality laces with a little grip.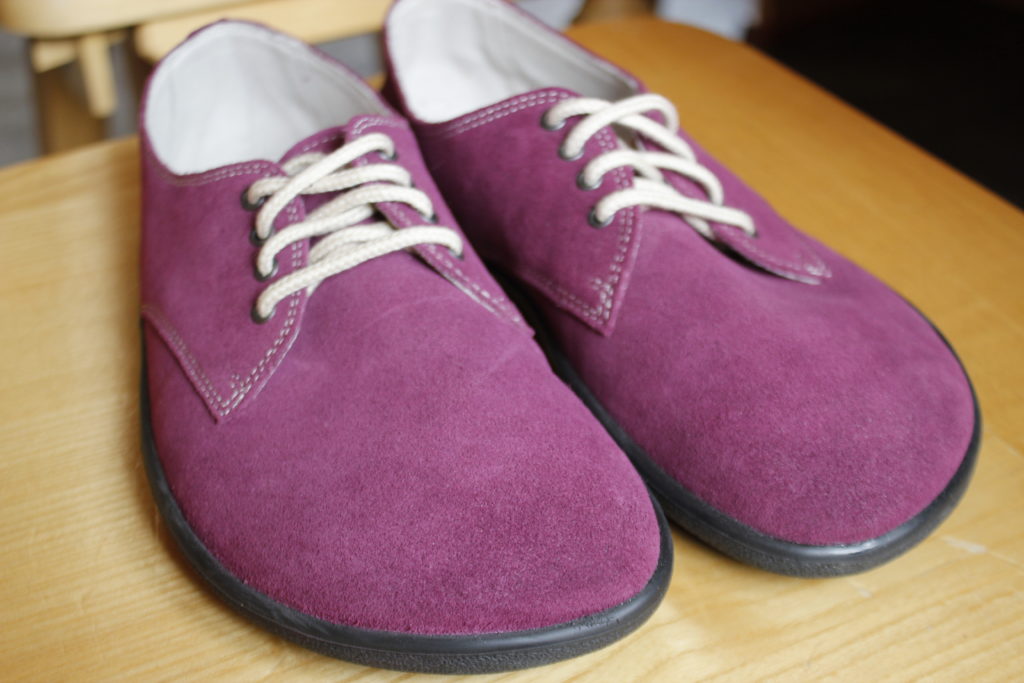 The care guide leaflet that comes in the packaging might scare you a little – they are classed as highly fashionable, therefore "designed for occasional use" and "only offer minimum resistance to wear and tear". However, I did a little research and Lenka (the brand co-founder) reassures people on a Facebook group not to worry. The leaflet is a bit strange really as it mentions lots of types of shoe that BeLenka don't even produce!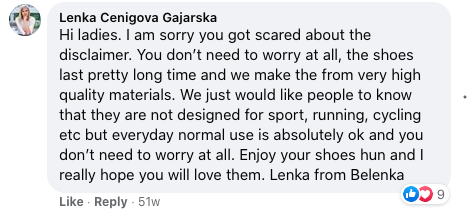 Sole:
The black puncture-resistant rubber soles have a pleasant leaf design underfoot. The sole is firm, meaning they are not squishy like some barefoot soles, but thankfully this doesn't compromise their flexibility. Squishy soles (I don't mean excessive cushioning, just a little give in the sole) can offer increased ground feel, however, this type of sole also tends to wear out faster. Too much squish also dulls proprioception, just to complicate the matter! If you're new to barefoot shoes, do not worry too much here. Basically, excessive padding and cushioning causes the feet to work harder to find the ground, and so cause more impact on the joints. But there's nothing wrong with a little squish in your sole, and some squish can help with ground feel, as they have more give against stones etc.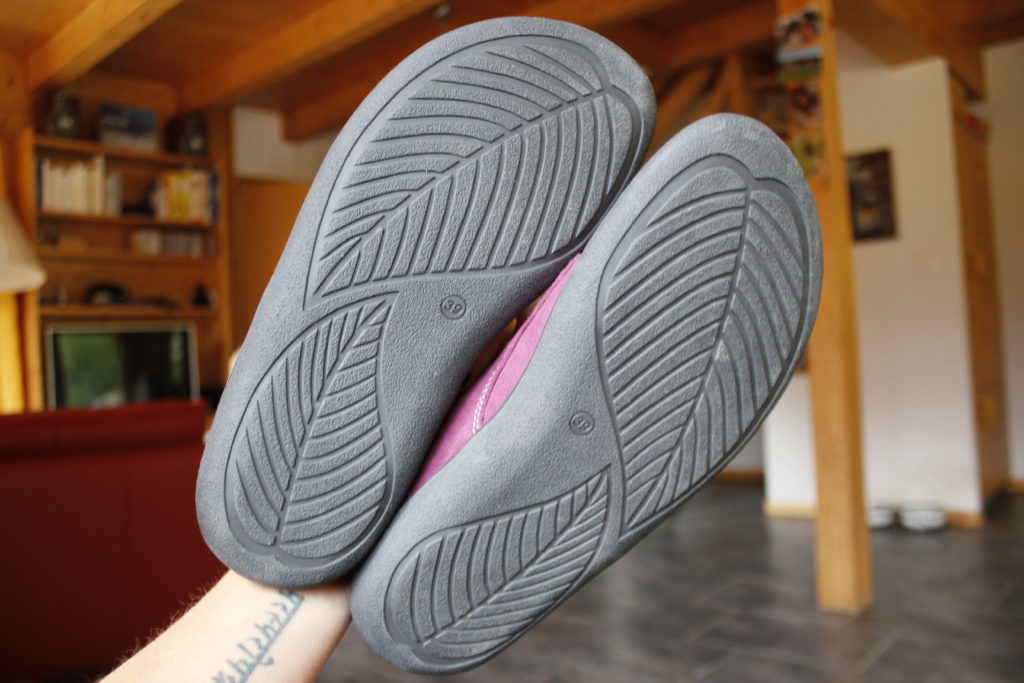 The soles are raised around the sides and back of the shoes, which gives the suede a bit of extra protection and durability. This "walled" style also helps to reduce the chance of scuffing, keeps the shoes looking nice for longer and gives a more conventional look to the shoe.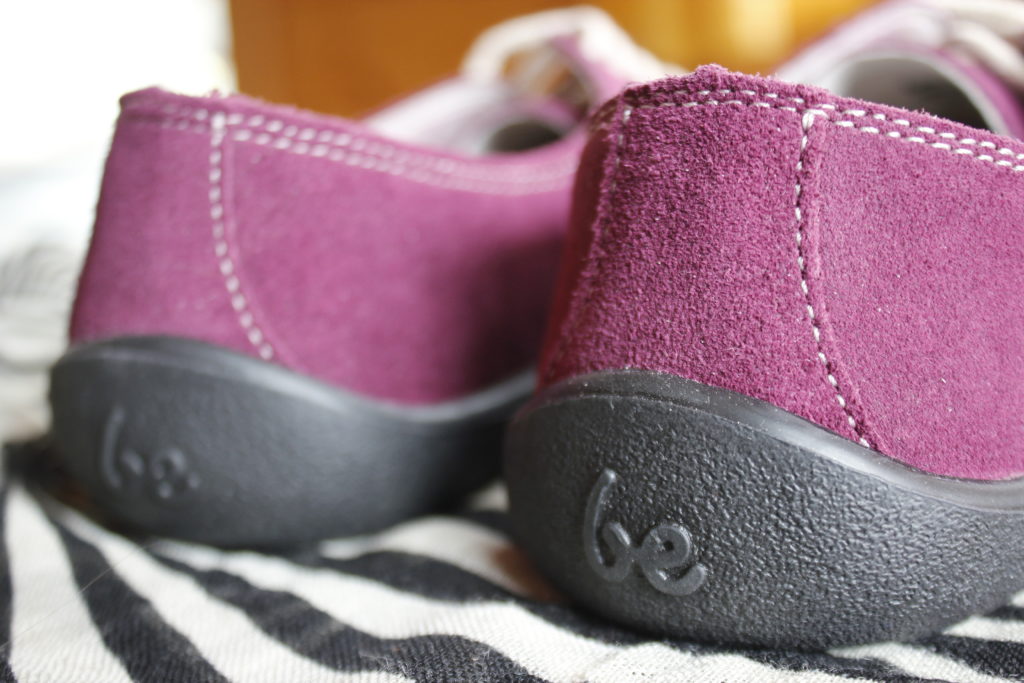 Sizing: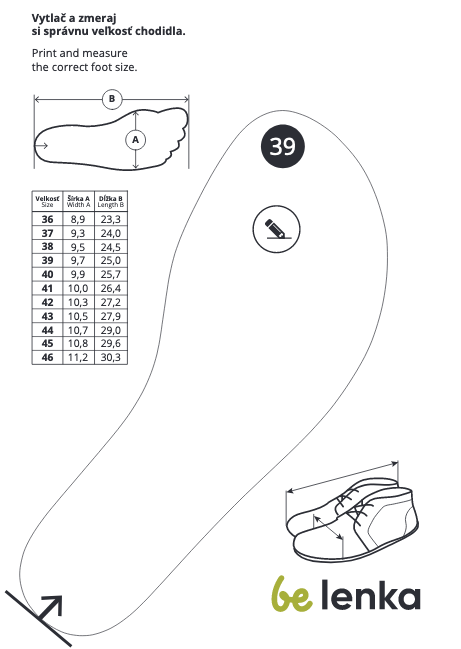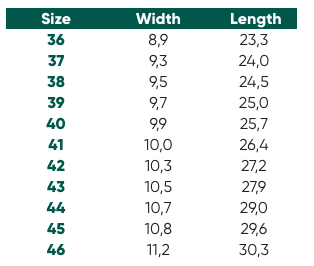 Sizing is straightforward. The size chart above indicates the inner length and width of the shoes in centimetres. Measure your feet in the normal way to get your length, then add 0.5 to 1.2 cm on top. Or print your usual size and place your foot on the sheet to test if it matches.
I would say I could be between sizes. I have just enough space, but a larger size would have been too big. Let me explain – my feet are 24.3cm in length and I like 1cm toe space, so that makes 25.3 cm. According to the chart, a 40 would have been a tad too big at 25.7 cm (total space of 1.4 cm) so I decided to go for the 39, compromising a little on my usual 1 cm space for just 0.7 cm. However, I am happy with my choice and they are perfect. To add here, I am not wearing them with socks, so I could have sized up to wear with socks, but risk the chance they would look too big.
BeLenka are perfect for people who have the following:
A wide toe box:BeLenka make shoes with wide toe boxes. Therefore, they will not be suitable for very narrow feet. My feet are relatively wide so quite okay in this regard.
An Egyptian toe box shape: This is a toe box shape that has a dominant big toe, with all other toes sloping downward toward the baby toe. This shape is a good match for my feet, but it's less well suited to those with a more square-shaped toebox where toes are all of a similar length.
A bean-shaped foot:This is a foot shape characterized by a curved medial (inner) border, where the foot width is in the inside part of the foot at the big toe. It gives the look of a bean. This is in contrast to a straight line on the medial (inner) border of the foot. Take a look down at the big toe side of your foot: is there a straight line from the big toe to the heel or a strong curve? Mine are straight, therefore this shoe shape is not quite right for my feet. HOWEVER, they are comfortable, so I am not ruling bean-shaped shoes out completely!
A medium-high volume foot: This is a foot with plenty of volume, ie. they fill the shoe well. My feet are pretty low volume, however, the laces give a good level of adjustment, and with them laced fairly tightly, I find them quite secure on my feet. I did some research on the barefoot Facebook group and one lady with very shallow feet had issues with this style. The deformity shown in the image below is an exaggerated crease from where her feet bent. With her shallow feet, the suede obviously bent in until it hit her foot, so an important note to shallow footed people, and something I will be watching out for. An insole or footpad could also help to add some volume.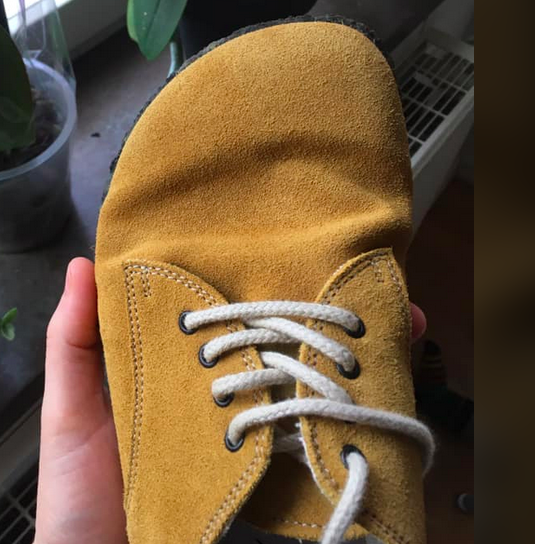 Sustainability
Handmade in house
Vegan Options
Uses local materials so a low carbon footprint
Non-toxic materials
Strict policies related to health, safety, and quality.
Style
I would class these as casual chic, with a hint of quirkiness: type boho into your google search and you'll get the idea. They surprisingly look really good with skirts and dresses and great with skinny jeans. The vibrant plum colour really jazzes up a more neutral coloured outfit. I haven't worn them with tights yet, but imagine they will look great.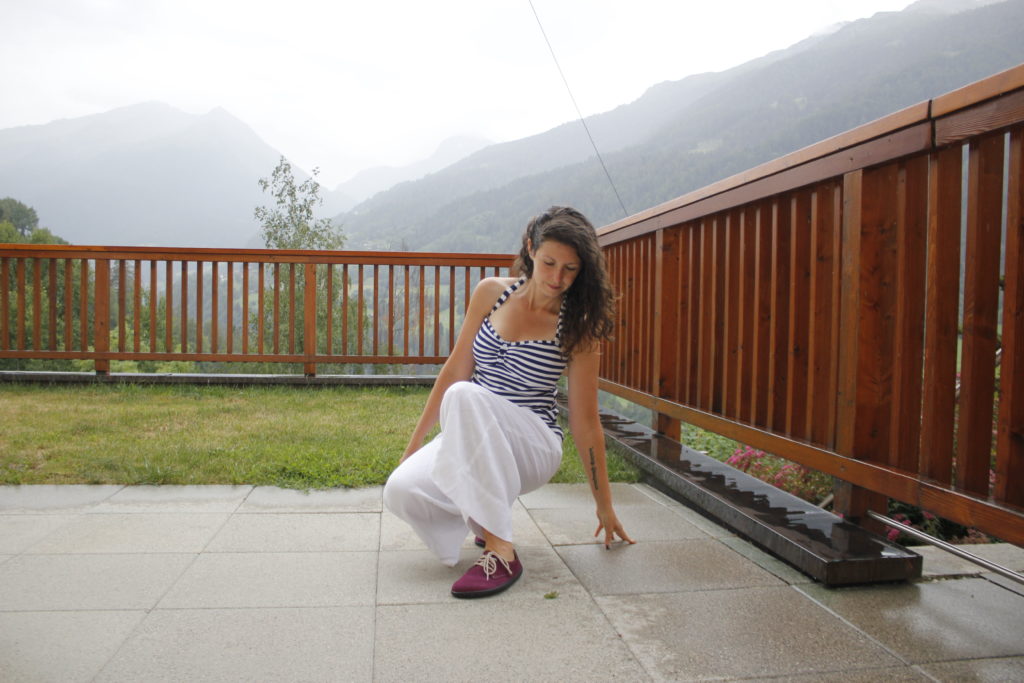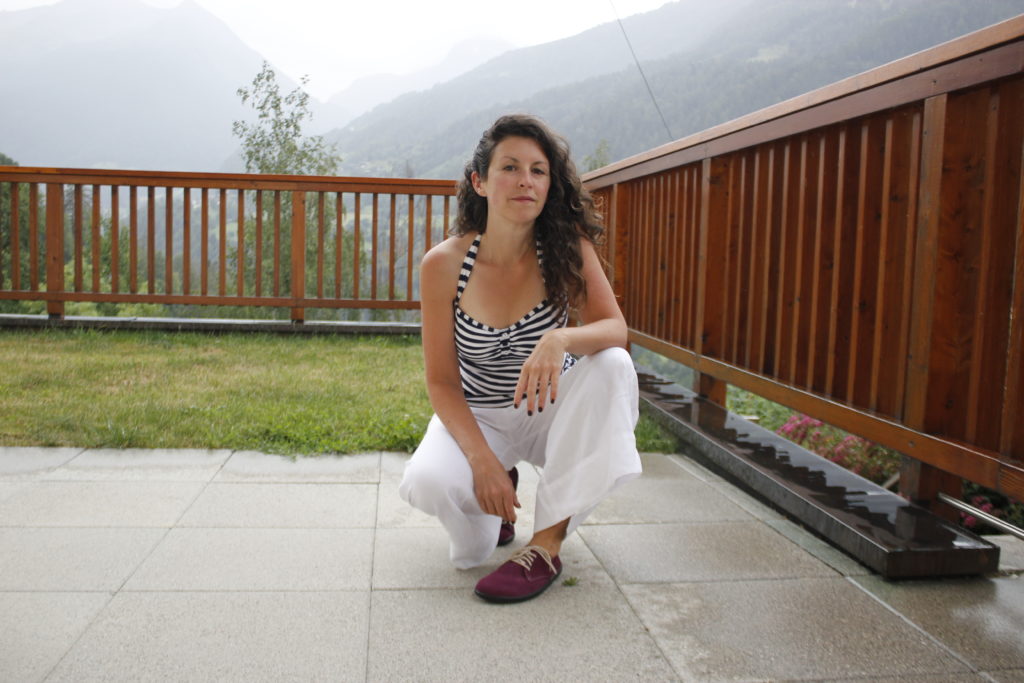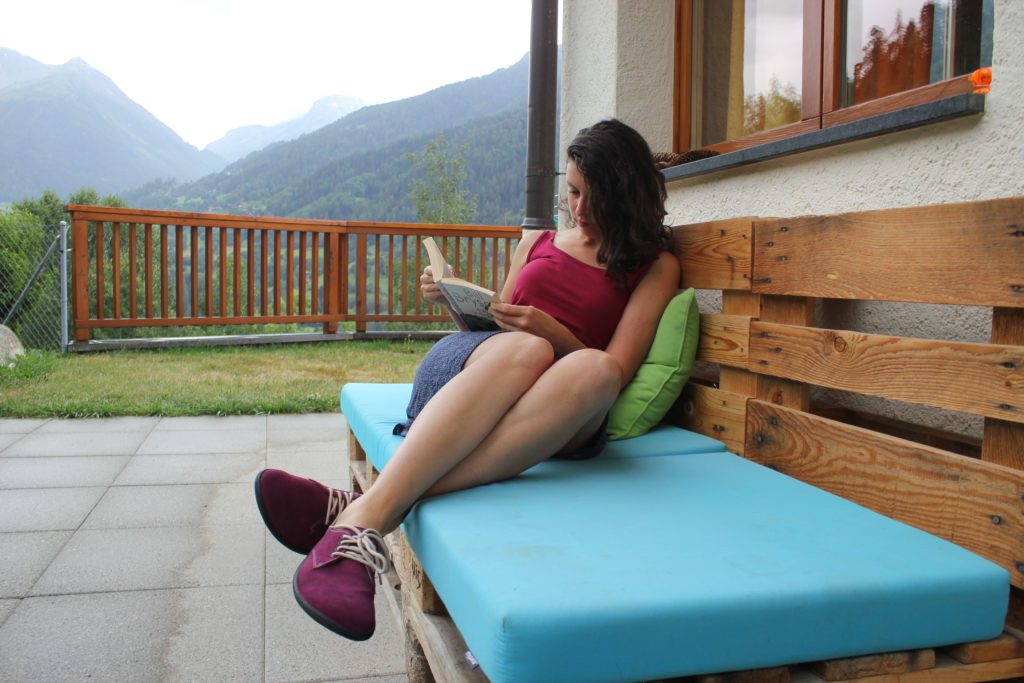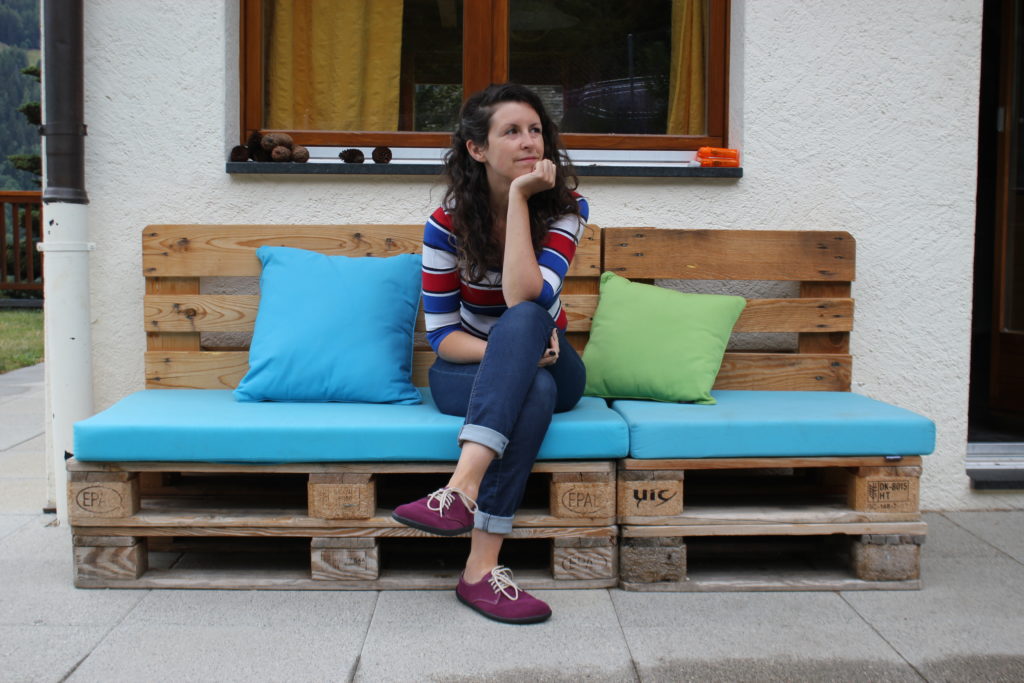 Comfort
This is a comfortable everyday shoe, with good quality laces that are easy to tie. As discussed above, they aren't quite the right match in terms of shape for my feet, so are not my most comfortable shoe, but inners are lovely and soft, and considering the mismatch, we are doing quite well together!
Conclusion
I have been a little nervous with super-wide toe boxes. Whilst I am an advocate for barefoot shoes, I personally don't like that 'clown foot' look that some barefoot brands have. It may come from wearing shoe-shaped shoes for so many decades of my life, but some wide toe boxes make me feel like I am wearing flippers! It feels like some brands compromise on the importance of aesthetics and style for comfort, and in my view, these brands will cater more to the barefoot comfort niche in the market. This is where BeLenka excels; they have managed to create a wide barefoot shoe, that in my eyes, is aesthetically beautiful, well made and chic. They have merged the barefoot comfort niche with the barefoot and fashionable niche!!!
Buy Here for €99 plus shipping.