I came across German brand Zaqq by chance whilst doing a barefoot brand search online. I was so impressed by the sheer number of stylish dress shoes, office shoes, sandals, boots and sneakers in both men and women's options. The choice is dazzling and any barefoot enthusiast will enjoy browsing as much as I did! Plus they are locally handcrafted to boot (pardon the pun!). I bought these boots myself, but received a generous discount in exchange for a review. The opinions expressed, as always, are my own.
Video Summary
Website Description
Zaqq.com description: Our interpretation of a classic: Strappy boot made by ZAQQ. The new ZAQQ RIQUET combines an elegant look with a walking experience that is second to none.
RIQUET has no need for embellishments, because the highly polished, soft nappa leather alone gives the boot its simple elegance.
To ensure maximum comfort, we have divided the shaft in two and connected them with a strap. So you can easily adjust the width yourself with the silver buckle and always have the support you need.
Of course, the barefoot feeling is not neglected either. The sole is super flexible and your toes have enough room to move freely. The mid-height boot is not lined, so you can also wear it on warmer days. However, your feet will also feel perfectly comfortable with thicker socks in winter.
Practical, functional and beautiful – that's our RIQUET!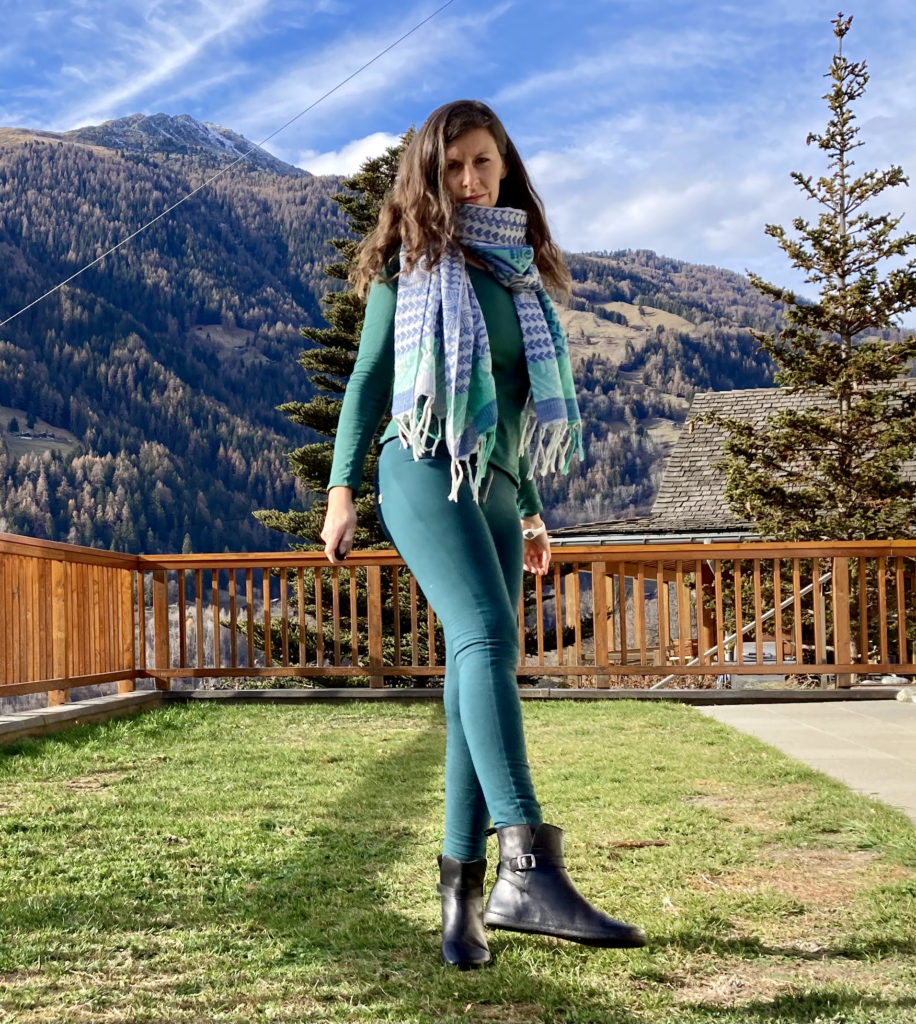 Unboxing
What a treat to open the white box from Zaqq. I was very excited by how chic and beautiful they looked. They looked narrower and generally more compact than some of my other barefoot shoes, but they surprisingly fit me really well. The leather was soft and the boot was very well constructed.
Specs
Model: Riquet
Colour: Black
Materials: Uppers: premium nappa leather
Inner lining: extra-fine leather, Fastener: Buckle strap, Sole: rubber
Sizes: 37-48
Stack height: 3.9mm sole + 3mm insole = 6.9mm
Toe-Box Shape: Sloping from the big toe
Tested on: Bare Soled Girl, EU size 39, slim leg and ankle, low instep, medium to wide toe box, Egyptian toe-box shape
Weight: 258g per shoe (size 39)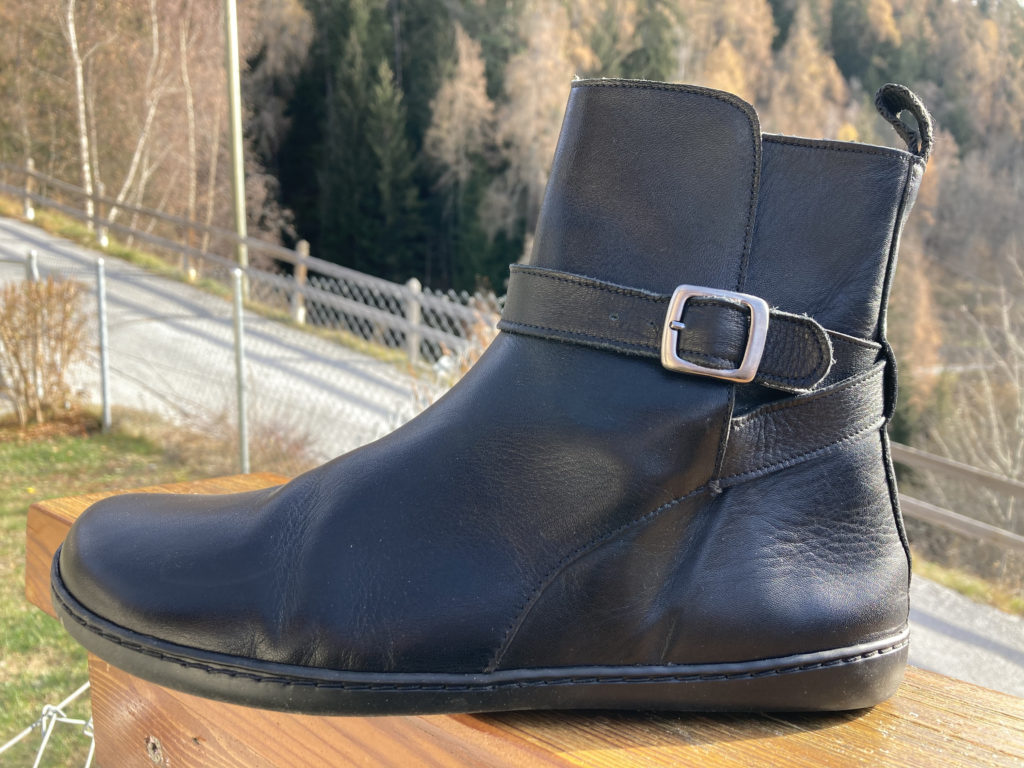 Barefoot Brief
Flexibility: Can I do a one-handed roll and twist with this shoe? YES. They have a very flexible sole.
Zero Drop: Do they have a totally flat sole? YES. Completely flat. Even though the soles wrap a little higher towards the back of the shoe, this has no bearing on the actual height from heel to toebox.
Toebox Space: Do they have plenty of space for toes to wriggle? AVERAGE. They have toebox space for my average feet, however, those with wide feet may find them too tight.
Stack height: Is the distance from foot to ground small? YES. There is 6.9mm between my feet and the ground which I would consider very good for a barefoot shoe.
Arch/Cushioning Test: Are they free from supports/cushioning? YES. They have no supports or cushioning at the insole of any kind, just a slightly cushioned insole.
Ground Feel: Is there a decent ground feel? AVERAGE. This style strikes a good balance between durability and ground feel. Whilst you won't notice every pebble underfoot in this boot, you'll still feel a fair amount.
Lightweight: Are they lightweight? YES. They weigh 258g per boot, which is quite light when you consider conventional clunky chelsea boots.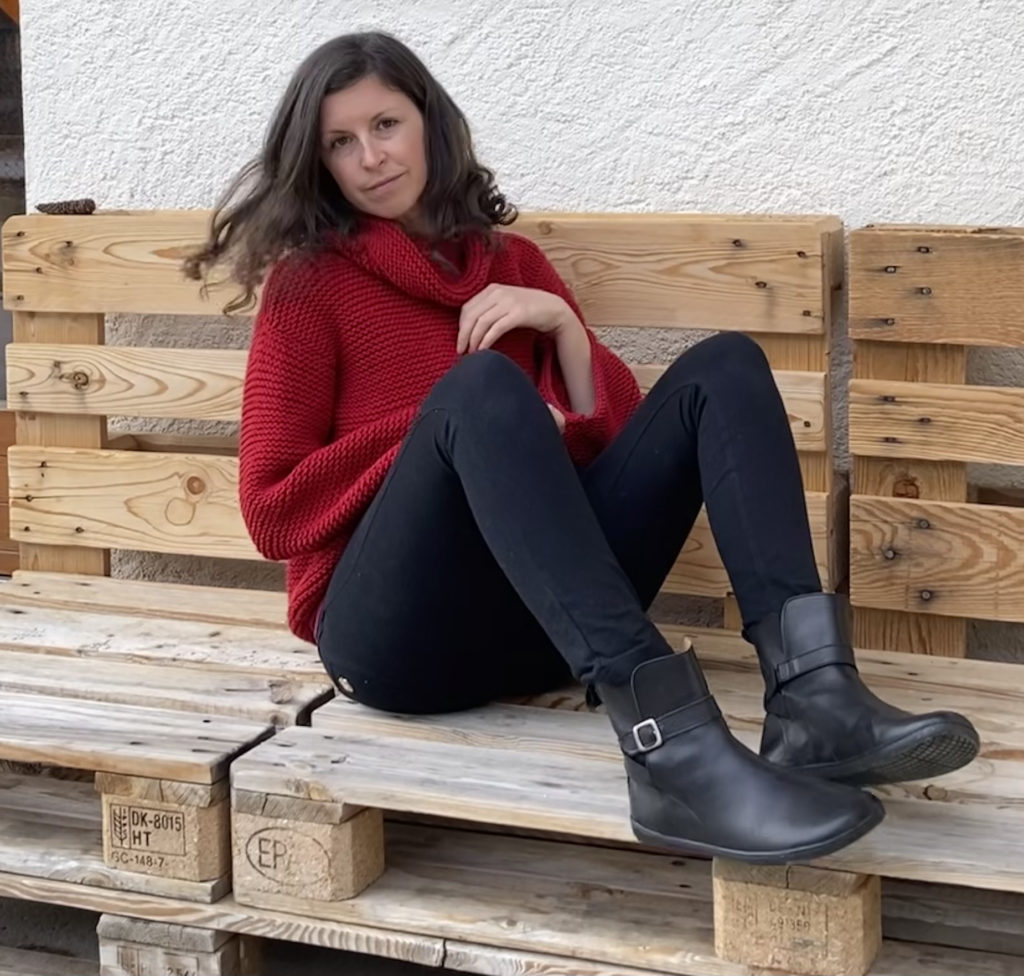 Materials
The Riquet uppers consist of premium nappa leather. Nappa is renowned for its softness and smooth feel, and these certainly don't disappoint. The lining is extra-thin leather which is supple and breathable. The insole is open-pored, breathable leather that has a slight give to it. The uppers are strobel-stitched (a common type of stitching in athletic shoes to increase flexibility) with double seams. So the entire shoe is made out of leather, bar the sole, and the buckle fastening. The buckle strap has three holes for adjusting, depending on how tight or loose you need them. There is also an elastic section in the strap for more give.
The leather does crease a lot at the beginning, but over time it has softened. They say leather improves with age, and I think this will be the case here.
Sole
The sole is very flexible, reasonably non-slip (but not for ice), with abrasion-proof rubber. The adhesive bonding is solvent-free, so a very good pick for sensitive people. It is a thin and relatively hard sole, so don't expect too much cushiness with this boot!
Sizing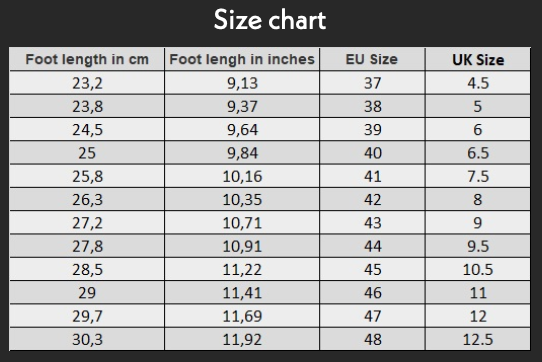 Okay follow along with me here.
Zaqq have two websites: a German site (in euros and with EU sizes) and an English one (in dollars but with UK and EU sizes).
On their German site zaqq.de they use only European shoe sizes. (I have translated the sizing chart above.)
The English one zaqq.com has all the sizes displayed in UK/EU sizes. However, they have their prices in dollars.
I would actually advise buying from the U.S. website, as when you do the currency conversion, they work out cheaper than the German euro site.
Note that UK and EU sizes are unisex, and most of the shoes are made to fit both men and women.
They don't allow 1cm space in front of toes in their chart (between 6mm and 9mm depending on the size), so if you want more space then go a size up. My foot length is 24.3cm and generally a 39, so I went for a 39 thinking I would be fine, and in hindsight I should have went for a 40. However according to their chart, a 40 would give me almost 2cm toe space….so its a tough call. They do fit, however I won't be wearing thick socks or adding an extra insole. They are quite high volume but still fit fine on my low volume feet.
Sustainability
Individual production of each pair of shoes
Hand-sewn
Solvent-free adhesive bonding
Biodegradable and recyclable (but not resolable)
Vegan Options
Low-pollutant production with regular tests at renowned institutes
Style
These boots have a surprisingly mainstream look and will appeal to barefooters and conventional shoe wearers alike. They don't require much in the way of styling as they look great with anything I try them with.
Comfort
They are comfortable and the leather is softening up nicely on them. They are quite high volume, but they work fine on my low volume feet. They are quick on and off and will suit a wide variety of ankle sizes.
Conclusion
I have placed these in my top 5 barefoot shoe collection, mainly because of their versatility and beauty. They are somehow 'compact', despite being 100% barefoot, which makes a nice change as I have recently been trying lots of big winter boots recently. I look forward to trying more shoes from this quality barefoot brand.
I advise you buy them from the U.S. English website here. They seem to work out cheaper on conversion from dollars ($174.08 to €143.26) than the zaqq.de website (€169,90), despite them being posted from Germany from both websites. They also have the same shipping costs on both sites.