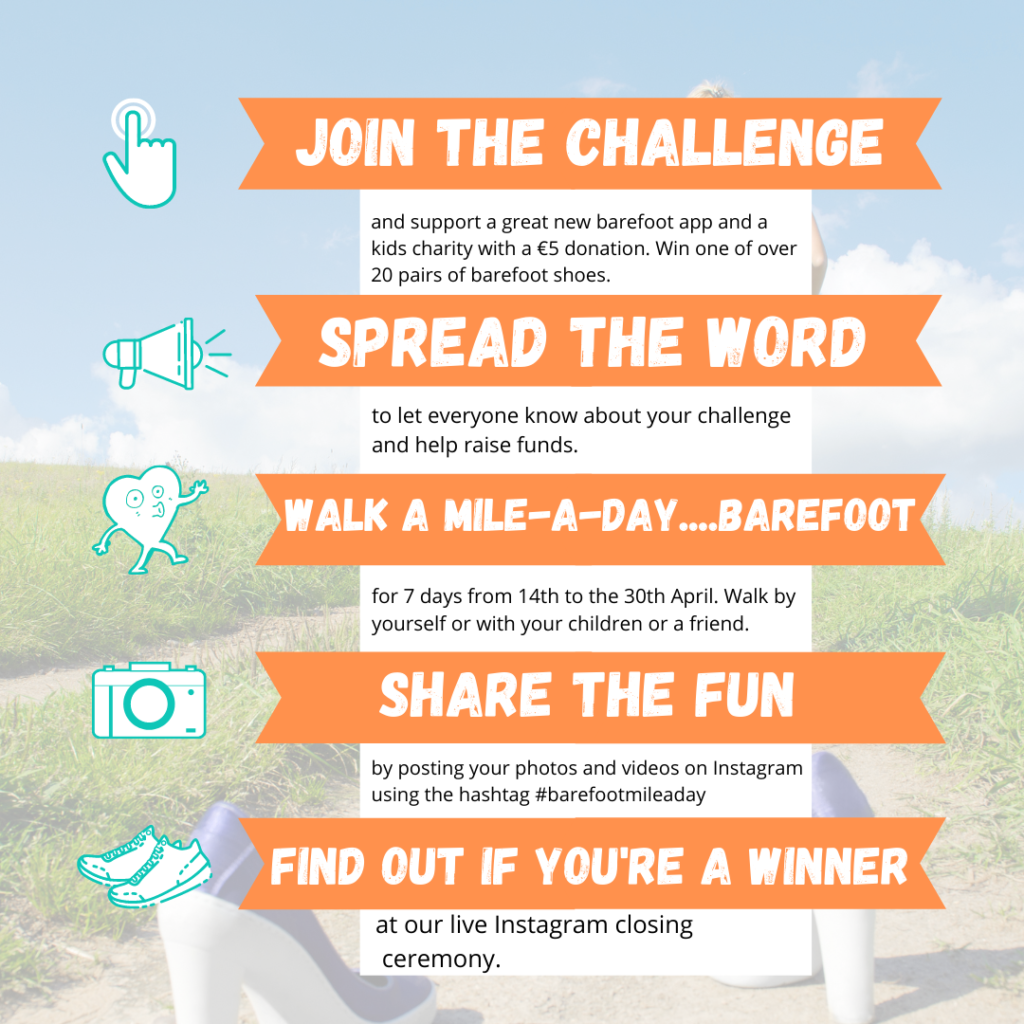 Walk to Win Barefoot Shoes while Supporting a Great New Barefoot App and a Kids Charity
Over 20 pairs of shoes up for grabs from:
CHECK OUT THE OPENING CEREMONY HERE!!!!
I am creating a FREE service on my website to make barefoot shoe shopping easier and more fun! But I need help from the barefoot community to get it off the ground.
With the generous support of my sponsors, I have created this exciting social media challenge that I have named the Barefoot Mile a Day. The hashtag is #barefootmileaday.
Walk one mile every day for 7 days. It can be in your town or village. It can be laps of your garden, the nearby field, the pathway around your house. Be brave, dare to show your beautiful feet to the world and benefit from increased proprioception and grounding for a whole week!
Ask your friend or children to join the barefoot mile-a-day and help spread the word about the benefits of being barefoot and of barefoot shoes! It costs €5 to enter.
---
Check out the dedicated feed page on my website with images from all the amazing people taking part so make sure and use the hashtag #barefootmileaday and #in your Instagram posts.
---
Enter Now by clicking on the Donate button below or click here for the platform where you can see all donators!
[whydonate id="7y5kv"]
I will livestream the kick off on Instagram on the 14th of April. You can participate yourself or simply sponsor me as I walk a barefoot mile a day! And 10% of everything raised will go to the charity Sal's Shoes as well as any excess funding. Sal's shoes are dedicated to providing shoes to underprivileged kids who are not permitted to attend school simply because they don't have a pair of shoes to put on their feet.
Everyone entering will go into a draw and winners will be announced in the closing ceremony.
FAQ