Be Lenka merges barefoot shoe qualities with stylish chic footwear effortlessly, and that can be said for their kid's models too. The Penguin boot I review today is a welcome addition to their first kid's model, (called Play) boasting premium leather uppers, a velcro fastener for easy on/off, and reflective piping on the sides and back for low light visibility. Be Lenka have everything covered in this boot! I was delighted when they agreed to send me a pair of shoes to review. In saying that, the views expressed are my own.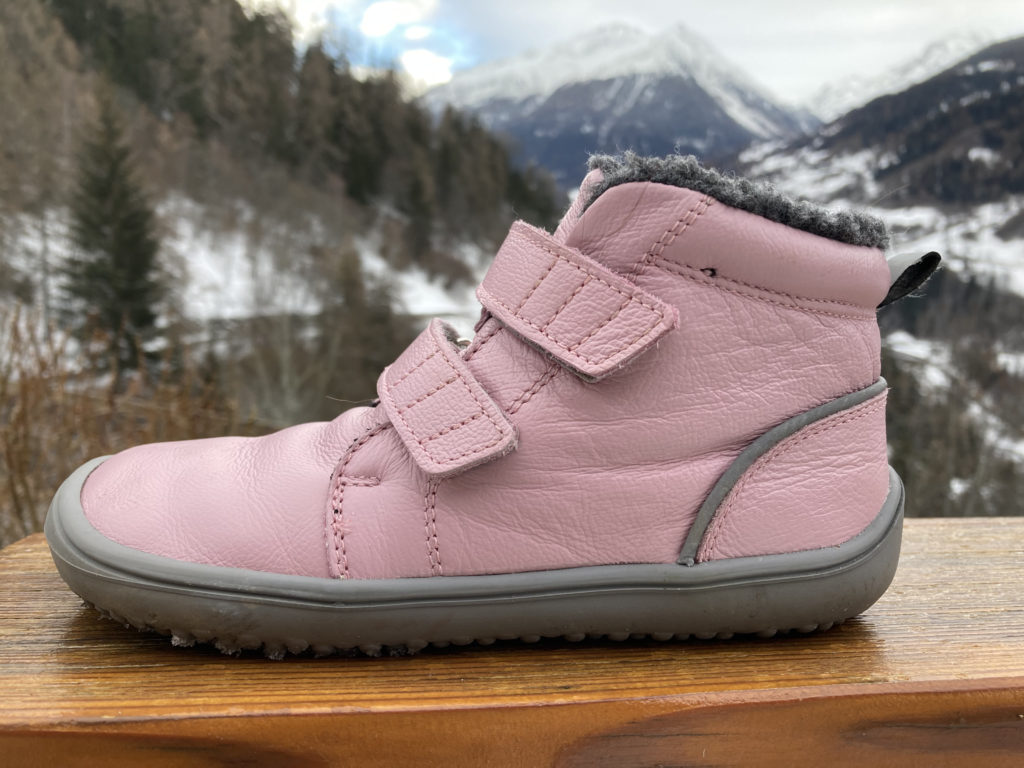 Video Summary
Website Description
Be Lenka Penguin are premium winter barefoot shoes that your kids will fall in love with at first sight. These gorgeous, insulated premium leather barefoot shoes with ergonomic foot-shaped design, wide toe box and a flexible 6 mm sole are designed especially for kids' growing feet. They come with a protective membrane which ensures dry, warm, and all-day comfort through the autumn and winter months. All and all a perfect winter barefoot footwear with an excellent blend of looks and functionality.
Unboxing
Ooh the excitement in my house the day these beauties arrived. Chloë had been teased a few days before at school that her shoes looked 'babyish' (I won't disclose which shoes they were teasing her about). So, we were both thrilled at how ultra-cool these boots looked. I really want Chloë to see that barefoot can be as stylish as the little mini-heeled shoes she sees others wearing. So I want to thank Be Lenka for designing such a hip winter boot, that everyone is happy with. Win-win for mammy and daughter!
Specs
Model: Penguin
Colour: Pink
Choices: 5 colours
Materials: Upper: Premium leather with a protective membrane
Inner lining: Synthetic insulation
Fasteners: Velcro
Sole: Vulcanized rubber
Sizes: 25-35
Stack height: 6mm sole + 1mm insole = 7mm
Toe-Box Shape: Sloping from the big toe
Tested on: Chloë, currently 19cm, chunky leg and ankle, medium instep, medium to wide toe box, Egyptian toe-box shape
Weight: 226g per shoe (size 31)
Barefoot Brief
Flexibility: Can I do a one-handed roll and twist with this shoe? YES. However, they start out a little stiffer than other barefoot shoes my kids have worn.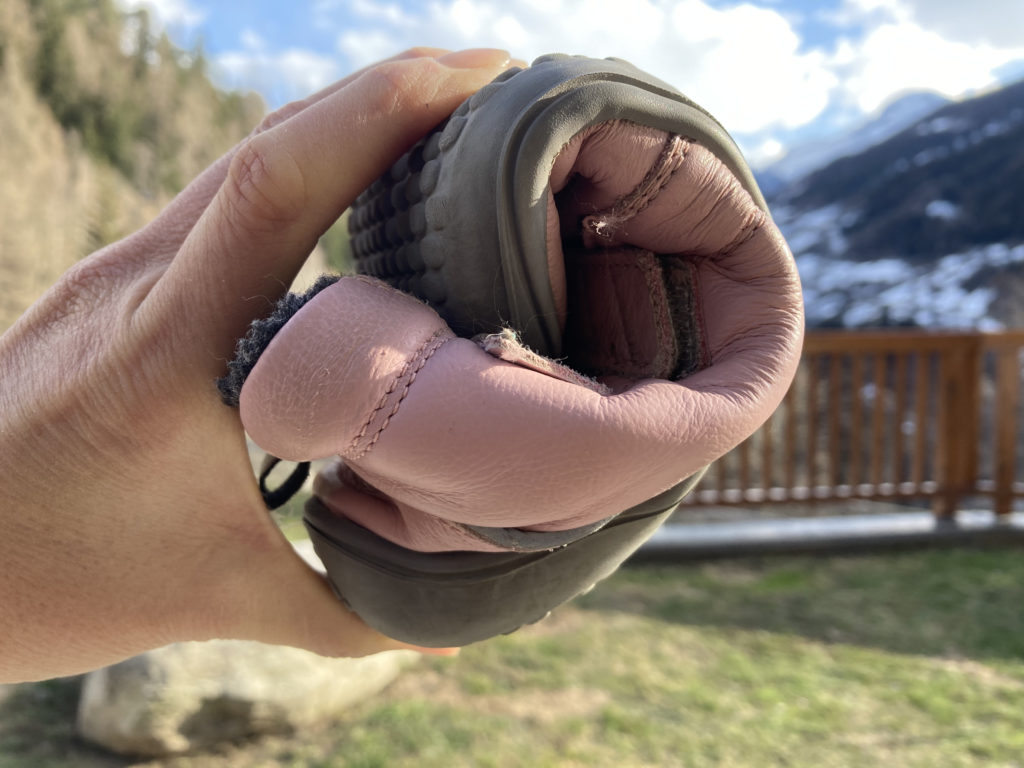 Zero Drop: Do they have a totally flat sole? YES. Completely flat. Even though the rubber soles wrap a little higher towards the back of the shoe, this has no bearing on the actual height from heel to toebox.
Toebox Space: Do they have plenty of space for toes to wriggle? YES. They have toebox space in abundance. This may be a little too much for narrow feet, but heaven for medium, wide, and super-wide feet.
Stack height: Is the distance from foot to ground small? YES. There is 7mm between Chloë's feet and the ground which I would consider very good for a kid's barefoot shoe.
Arch/Cushioning Test: Are they free from supports/cushioning? YES. They have no supports or cushioning at the insole of any kind.
Ground Feel: Is there a decent ground feel? AVERAGE. This style strikes a good balance between durability and ground feel. Whilst your little one won't notice every pebble underfoot in this boot, as they might with a thinner, less hardwearing sole, they'll still feel a fair amount.
Lightweight: Are they lightweight? AVERAGE. They weigh 226g per shoe (on a size 31), this is a little heavier than other boots my children have had.
Materials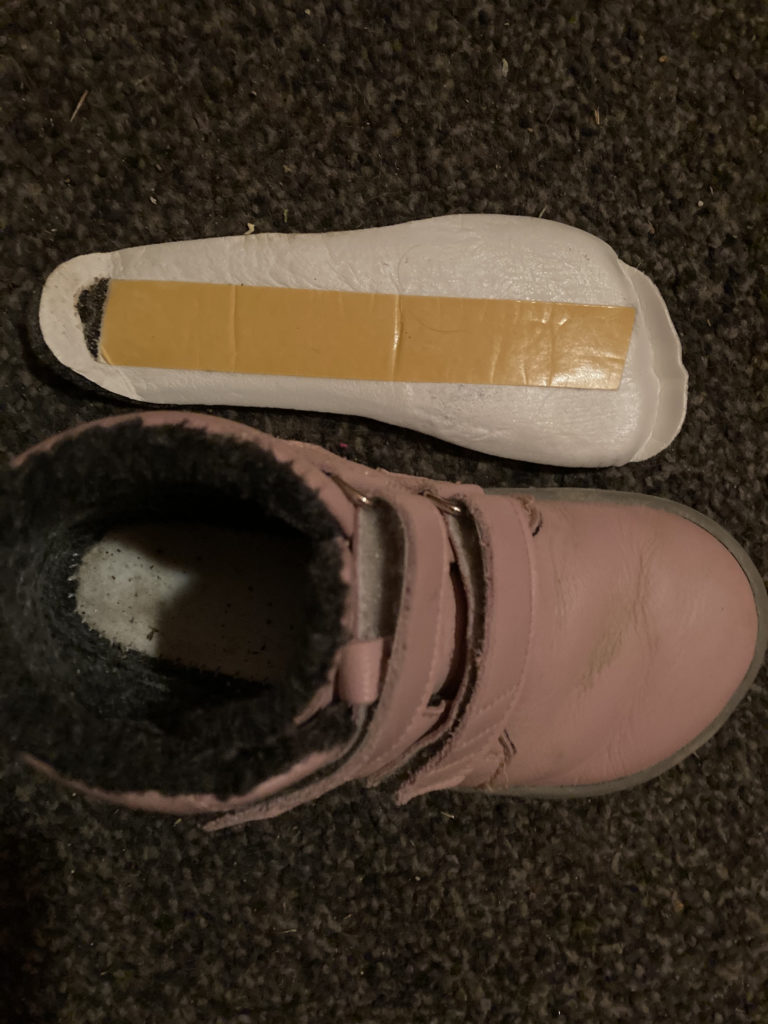 The uppers are a soft premium leather, coated with a water-resistant membrane. The lining is a synthetic plush material that has kept fresh after a winter of wear, so must be quite breathable. The collar of the boot is padded for extra comfort with reflective heel loops to help the child easily pull the shoe on themselves. Be Lenka guarantees water resistance with the regular use of a waterproofing spray. There is a handy reflective piping around the ankle of the boot, should your child be out and about in the evening. The tongue is both gusseted and has a little sewn-in attachment strap (see below) to hold the velcro in place and to stop the tongue from sliding sideways during play. The insoles are made up of a thin layer of foam, topped with the same plush fabric as the lining and add 1mm extra to the stack height at the most. The insoles have a self-adhesive strip underneath, should you want to tape them down.
The Penguins have done well for us in the rain and snow, keeping Chloës feet dry and fresh. She didn't avoid any puddles in these, yet there were no soggy socks at the end of long walks. In saying that, don't expect to treat them as wellies. Water did enter through the stitching when I tested them in a sink filled with water, but this was after 20 minutes submerged.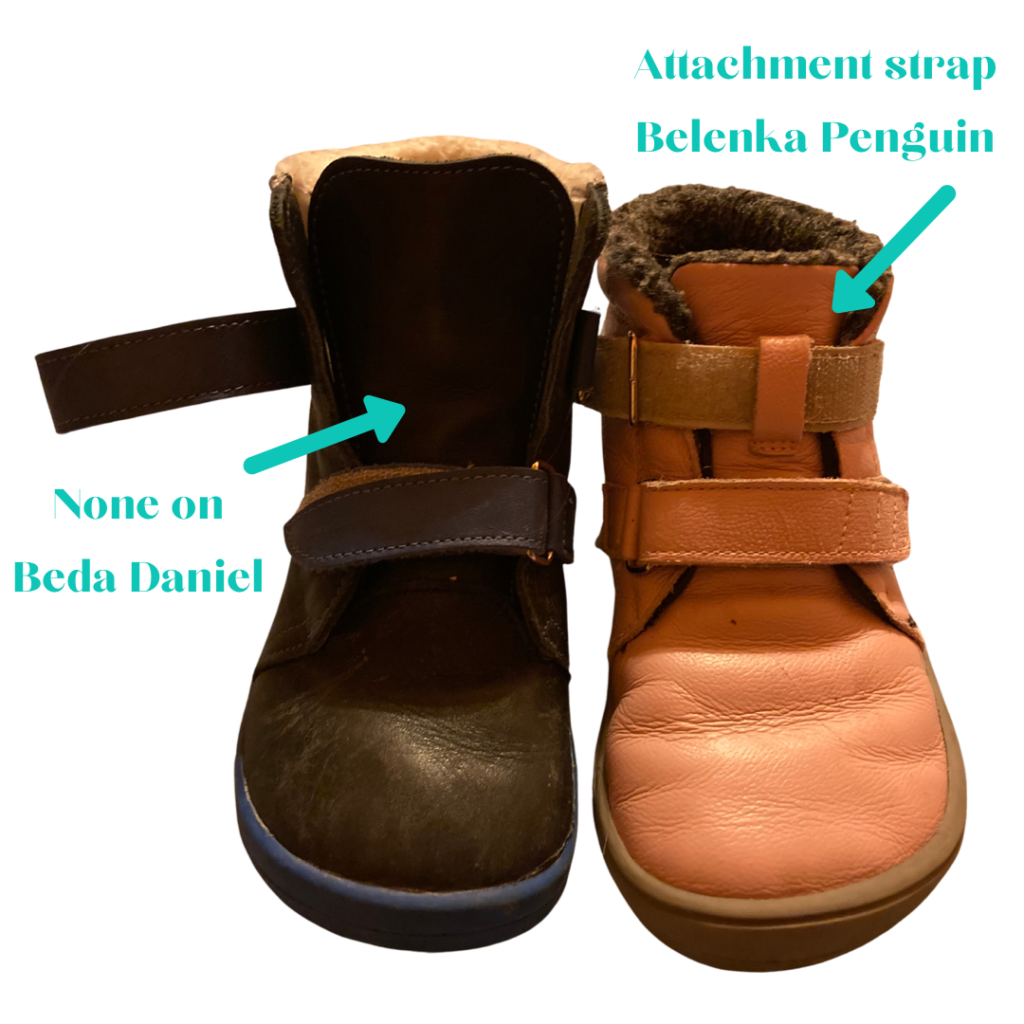 Sole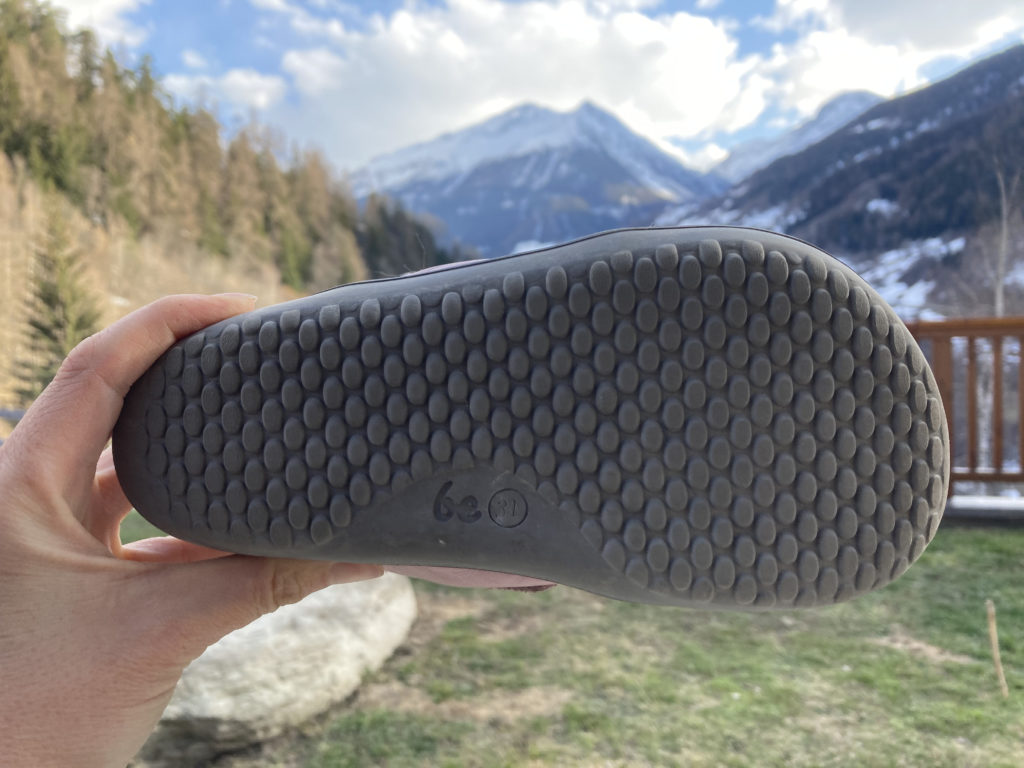 The Penguins don't have the pleasant leaf design of their other soles. The sole is 6mm thick with a profile for better traction. We tested them for hiking with Chloë too and they provide a decent grip there too. They are made from vulcanized rubber making them stronger and more elastic than regular rubber. Vulcanized rubber is any type of rubber that's been hardened through the use of heat and sulfur – for chemistry fans, there's more info here.
Sizing
Be Lenka advise adding 0.5-1cm to your child's total foot length to find the right size, although personally, I like to add 1cm for my kids to ensure comfort and fit. Chloë currently measures 19cm in foot length, so it had to be a 31 (19.9cm). These are perfect for her. While Be Lenka's adult styles are best suited to Egyptian-type feet with a dominant big toe, the kids' models have a milder slope towards the little toe, making them suitable for a variety of foot shapes. Chloë has a medium-high instep and she did find them a little snug in volume at the beginning, but they have softened right up.
Sustainability
Handmade in house
Vegan Options
Uses local materials so a low carbon footprint
Non-toxic materials
Strict policies related to health, safety, and quality
95% of the materials used in their shoes and in packaging is recyclable
Style
These boots were a godsend.
As I mentioned above, I can no longer get away with 'babyish' styles on Chloë. Its normal that kids want to look like other kids – we are a social animal. With these boots, theres no compromise on barefoot function OR style – Be Lenka has designed a boot that kids will want to wear, and that parents can feel good about. Chloë wears these with just about everything!
Comfort
Chloë will not put anything on her little feet that isn't comfortable, so I can vouch that these boots definitely fit the comfort bill. They are a soft leather, with no breaking in period required and have provided enough warmth for cold winter and fresh spring days.
Conclusion
I felt it was only fair to have Chloë write the conclusion, as it was her wearing them. Here are her impressions. "I think they are soft and cozy, and I love the pink colour, it's really bright. They are quick for putting on, but not as quick as my wellies, but quick enough."
And that sums them up !!!
Buy Here for €75-79 plus shipping.
If you enjoyed this post please check out my review of the women's Be Lenka City Plum here and Winter Nord here. And if you find my posts useful, please consider buying me a coffee (link below) to show your appreciation! It goes back into developing my barefoot/movement directory for your guys! Thanks!!