A very kind lady in Slovenia named Urša makes cozy slippers, pretty ballerina shoes, keyrings, coasters, handbags and mobile phone cases all from local wool felt. She has recently branched into the barefoot world by creating a super flat super flexible version of her popular ballerina style. I had the pleasure of testing out a pair that she sent to me for review. As always the views expressed are my own.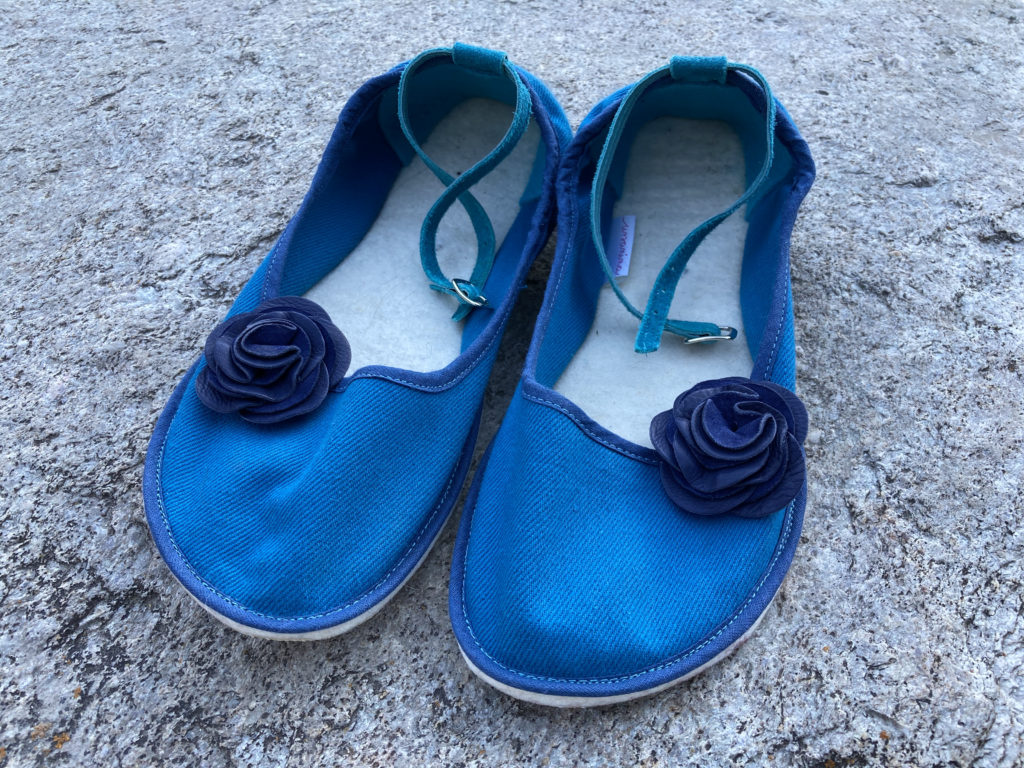 Website Description
"Comfortable, light, breathable and soft Ursanina ballerina flats are the favorite spring/summer shoes of active urban women who love to be relaxed, charming and playful.
What makes them special is their sole, made from 100% wool felt that helps your feet keep dry by minimizing sweating and thus making them most comfortably worn barefoot, without socks.
The sole is fully flexible and allows for healthy natural walking, almost as if you were walking barefoot. They are also suitable for those with the most sensitive feet. It is additionally protected by a layer of non-slip natural rubber. The upper part is made of cotton or microfibre and has no hard parts – you will not be scarred or get any blisters.
Weighing only at 150g per pair, they are the ideal travel shoe. They are no bigger than a folded Cosmopolitan and can be easily packed into a handbag or suitcase. They are available in many color variants, and in combination with our leather shoe clips (separate product), the color combinations are almost endless.
Ideal for walks in dry warm weather, for office, school hallways, or for work around home, these comfortable Ursanina ballerinas are a must-have for any active modern woman.

STRETCHING: Ursanina ballerina flats stretch by almost half a size after a few days of use. When you try them on for the first time, they will most likely feel (too) tight. In this case, we advise you to wear your ballerinas around the apartment for a few days to stretch them. You can speed up the process by lightly spraying the front of the shoe with water and tightly stuffing them with soft plastic bags. Leave for a day or two and try them on again. If they still seem too tight, you probably need a larger number or a tailored cut.
CUSTOM ORDER: If our basic model does not fit the width and shape of your foot (check the dimensions in the table below), we can make custom ballerinas for you. All we need is a precise outline of your foot, in millimeters, sent to us by post (Urša Cigler, Rožna ulica 25, 1000 Ljubljana), scanned at info@ursanina.si, or simply as an attachment to your order. See video instruction for correct measurement of your size here."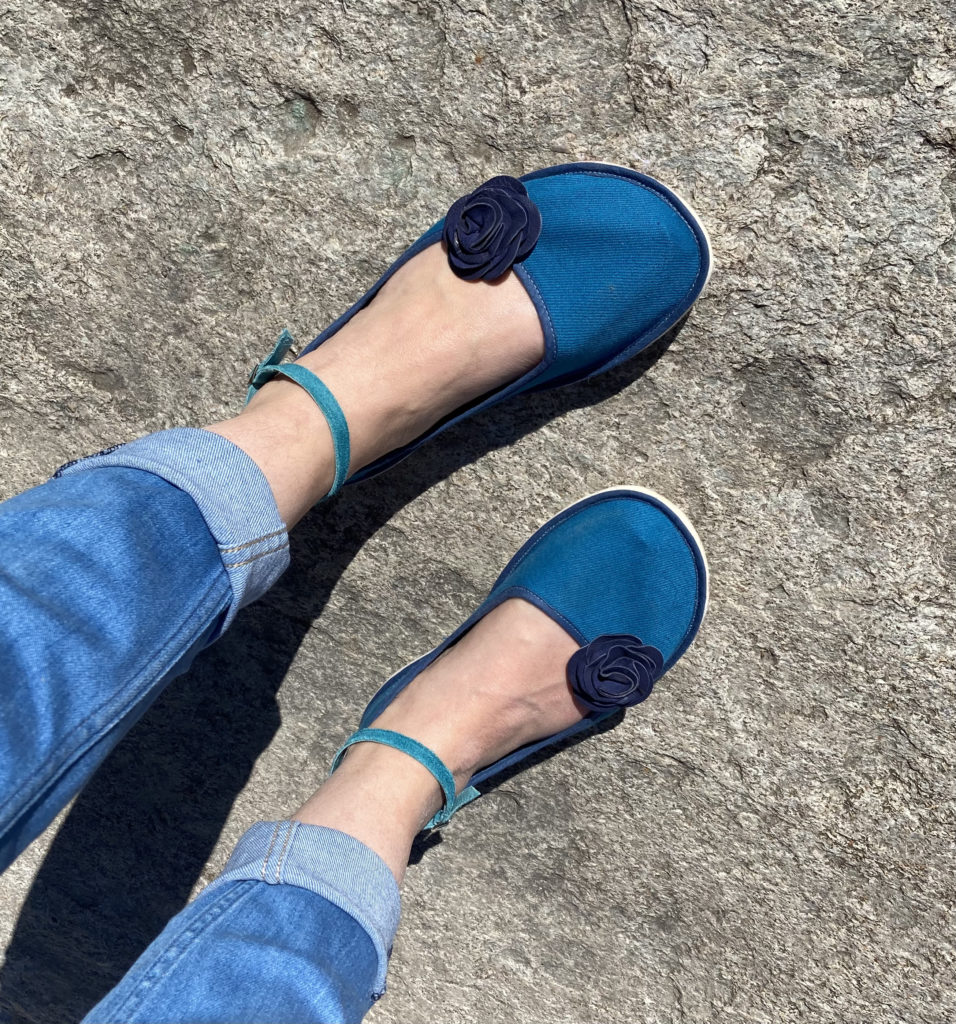 Unboxing
These arrived in minimal packaging, and what a treat to open to a 100% handmade pretty little ballerina with ankle strap and dainty little flower accessory (also handmade by Urša). They had a slipper feel because of the wool but once on they looked quite chic and …well…pretty!
Specs
Model: Ballerina Custom
Colour: Petrol Blue
Choices: 16 colours
Materials:
Uppers: Cotton
Optional Strap and Flower Accessory: Genuine leather
Sole: Wool felt and natural rubber
Sizes: 36-43
Stack height: 1.4mm sole + 5mm insole = 6.4mm
Toe-Box Shape: Sloping from the big toe
Tested on: Bare Soled Girl, EU size 39, slim leg and ankle, low instep, medium to wide toe box, Egyptian toe-box shape
Weight: 114g per shoe (size 39)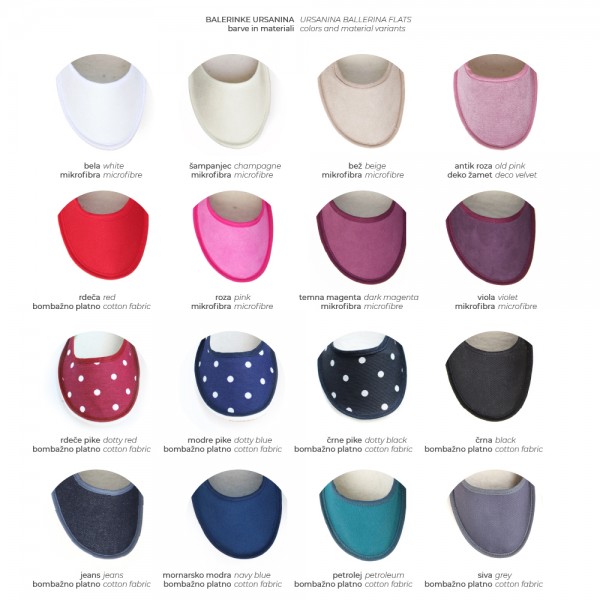 Barefoot Brief
Flexibility: Can I do a one-handed roll and twist with this shoe? YES. These are incredibly flexible.
Zero Drop: Do they have a totally flat sole? YES. There is absolutely no heel whatsoever. And the insole only adds 1mm to the stack height so 6mm between your feet and the ground.
Toebox Space: Do they have plenty of space for toes to wriggle? YES. There is ample space for toes, although those with a longer 2nd/3rd toe mightn't have the space they need. For me with a sloping toe-box, they are perfect.
Stack height: Is the distance from foot to ground small? YES. Stack height is just 6mm, consisting of 1.4mm rubber outsole and 5mm wool felt insole.
Arch/Cushioning Test: Are they free from supports/cushioning? YES. There is no cushioning of any kind in these shoes of any kind. They are extremely flat.
Ground Feel: Is there a decent ground feel? YES. There is abundant ground feel in these since they are so flexible and flat.
Lightweight: Are they lightweight? YES. Like a feather at 114g per shoe.
Materials
My ballerina uppers are a strong cotton canvas. I believe a few of the colours are also microfiber. The insole is soft thick wool felt (the insole in fact makes up most of the stack height as the sole is a mere 1mm!). They cut the felt from sheets in house. So they have that slipper feeling whilst being quite a cute chic little ballerina. The addition of the little leather flower and strap buckle really finishes the look, so I had to have them. I am so happy I did, they really add to the ballerina's prettiness.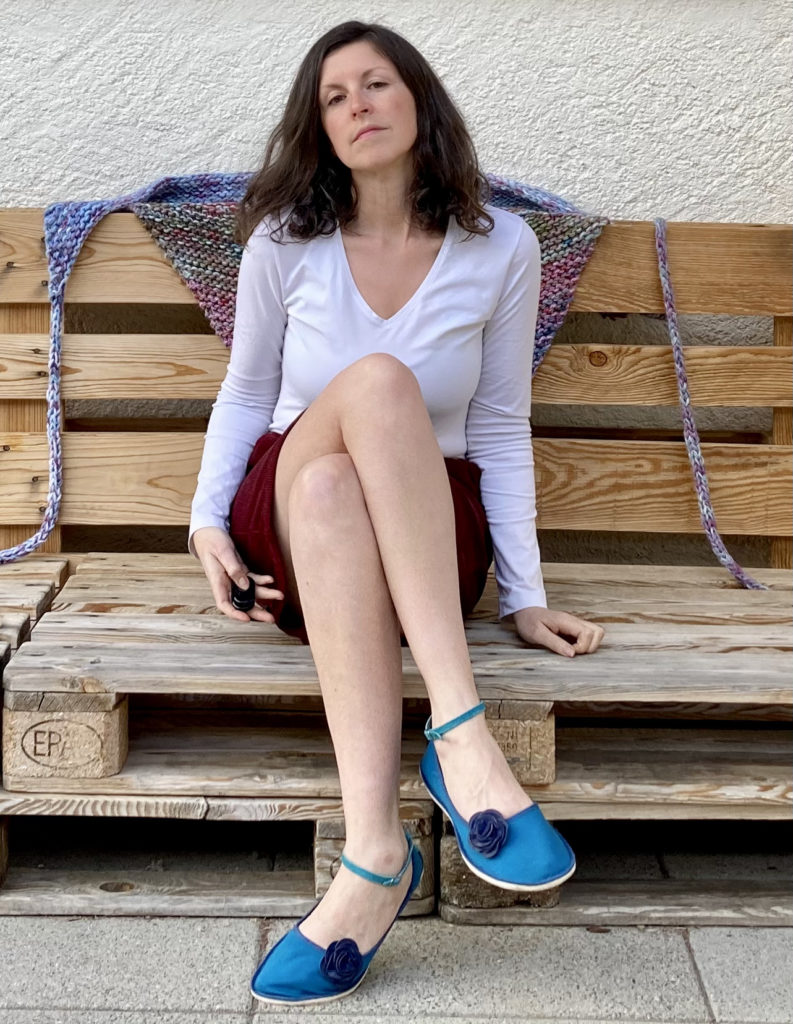 Sole
The sole is a 1.4mm natural rubber from a local factory. It is very minimal, very flexible, beige in colour and even has a little grippiness to it! I also bought a little of the sheeting for shoemaking and you can really see how incredibly thin it is.
Sizing
Sizing is…..a little complicated. There is a size chart to guide you, and they do stretch after a few days of wear, however, my first pair was absolutely too small. Urša kindly made me a second pair, which also seemed too small. We figured out the issue was the way the heel was 'folding' closing off some of the space there. So…..Urša being the amazingly kind lady she is, made me a third pair, this time with an enforced heel to prevent the heel fold issue. And it worked.
They still have some stretching to do at the front, but I am getting there with them and the folding isn't happening. So perhaps ask Urša for this enforced heel when you order. I recommend you upload your feet outline (costs an extra €10) to give Urša a clearer idea of your size requirements. Or just email her: customer service is amazing, she really wants to please her customers! She is courteous and friendly, so no worries there.
Sustainability
Sustainable biodegradable materials
Natural rubber sole produced in Slovenia
Wool felt produced in Germany and India
Small family team
Minimal packaging
Style
Whilst they are not super dressy because of the beige felt midsole on display, I still think they look great with a little flowy skirt or dress. They also work well with the usual – skinny jeans, leggings etc. I don't imagine they will be a super hardwearing shoe, so wouldn't wear them for long walks every day but perfect for a summer stroll and a coffee (once the ☕ cafes ☕ open up again!). These are in my pretty pile along with my High Feels Nude Sandals (review on the way), my Tikki Soul sandals, and my Zeazoo Siren sandals.
Comfort
The materials here make for a soft comfortable shoe – feet are touching wool felt and cotton canvas. However, there is surprisingly quite a 'breaking in' period with them. The main reason is that their construction doesn't allow for much space above the toes, however, this space does come with wear and stretch. In the image below, you can see what I mean here. They don't come with space build in, it has to be acquired through wear and stretch. I personally did what is suggested on the website – which is to wet the forefoot area with water and stuff with plastic bags for a day or two, and this really helped.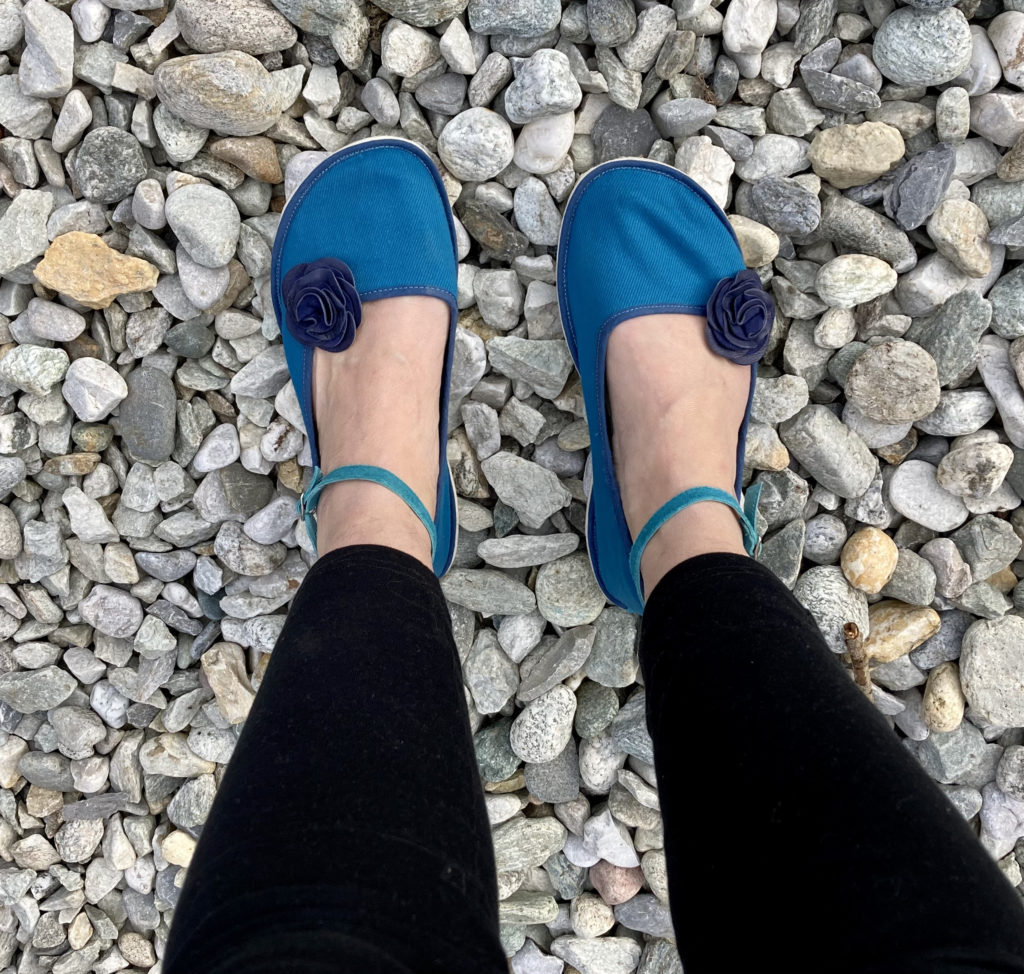 Conclusion
A really lovely little ballerina from a lovely lady. The brand Ursanina is a small family operation, and I wish them all the success in the world. Urša will do everything in her power to ensure you are happy with your shoes. Please don't forget to ask for the enforced heel to safeguard against the issues I went through with my pairs. Support a small business and get your ballerinas with Ursanina!
Buy here for €35.99 plus shipping.
Add €10 for custom upload of your foot outline.
Add €10 for the strap buckle.
Add €10.99 for the handmade flower brooch accessory.