Marie and Adrian from Romania began to discover the wonderful world of minimalist footwear not long after their first child was born in 2008. Crafting shoes for their son became a hobby and passion until they made a big career switch from IT to making kids shoes full time. Hence, Tikki was born; beautifully crafted vegetable tanned leather boots, shoes and sandals for kids (and now adults too woohoo!). Tikki kindly offered me these shoes in exchange for a review. However, the opinions in this review are my own.
Tikki Description
Sunlight and women's sandals collections are finally back! Barefoot summer shoes to enjoy in your own style and colors. Created to renew a unique bond between nature and yourself, Tikki SOUL sandals are incredibly light, fun and comfortable. Sporting a minimalist 6 mm ultra-flexible Vibram sole, they are exclusively manufactured from premium vegetable tanned leather. 
Tikki Crafters absolutely adore this material, which has constantly rewarded their trust. Durable, organic and so pleasant to the touch, vegetable tanned leather is ideal for true quality footwear. Through artisanal manufacturing, it gains lively, luminous colors and plenty of character. As a guarantee of their genuine manufacturing, each pair of sandals is unique in nuance and through small particularities, characteristic to all that is natural.  
The sandal molds we use here at Tikki Shoes are continuously tested, tried and calibrated. We do it to make sure our brand new collections fit both narrow and wide feet. This concept offers ultimate adaptability, with sandals specially designed to tailor any foot instep height. Featuring a delicate embrace on the big toes and smart adjustable ankle strap, feel the absolute natural freedom of the toes that only barefoot walking is equal to.
Reimagined and improved, Tikki SOUL are barefoot sandals you'll love from the first moment, in the city, in the countryside, with every attire. Order them in your favorite colors to effortlessly match the style that fits you best, go out and enjoy the sun.
Unboxing
Tikki is a brand I know and trust for quality kids shoes, so was delighted when they began making adults sandals too! My daughter and I were very excited to receive this package. She was waiting eagerly for her sandals, and I couldn't wait to try mine. My first thoughts were that my Soul sandals looked earthy, elegant and beautifully crafted. The Soul is one of two sandal models for women, and it was a difficult decision whether to try the Vibe or the Soul, but I was delighted with my choice!
Specs
Model: Soul
Colour: Brown
Choices: Nine Colours
Materials: Vegetable-tanned leather, Vibram Supernewflex rubber
Sizes: 36-43 in equivalent European Sizes
Stack height: 8mm
Weight: 105g per sandal (on EU 38)
Tested on: Bare Soled Girl, EU size 39, slim leg and ankle, low instep, medium to wide toe box, Egyptian toe-box shapeShare
Barefoot Brief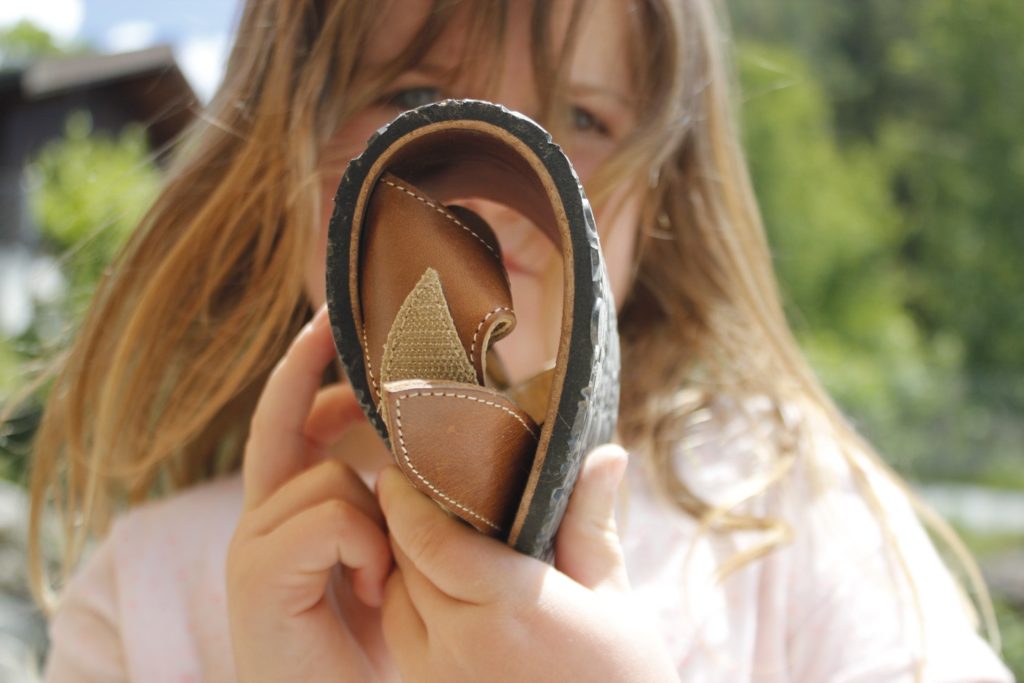 Toebox Space: Do they have plenty of space for toes to wriggle? YES. There is a big toe loop and the rest of my toes have plenty of wiggle space.
Stack height: Is the distance from foot to ground small? YES. Stack height is just 8mm, consisting of 6mm outsole and 2mm topsole.
Arch/Cushioning Test: Are they free from supports/cushioning? YES. There is no cushioning of any kind in these sandals.
Ground Feel: Is there a decent ground feel?YES. There is a relatively decent ground feel in these since they are so flexible.
Lightweight: Are they lightweight? YES. They are super lightweight at only 105g per sandal.
Materials
The straps and topsole are smooth brown leather, which has a very organic look and quality to it, with a soft beige chrome-free lining expertly stitched on to the straps. There is a big toe loop connected to the heel via the instep. The strap runs around the heel and is fastened with Velcro. Since there is no strap around all toes, they have full toe clearance, which I find great. To keep them beautiful, clean with a slightly damp rag and a little leather balm. You'll find a recipe for homemade leather balm here. See before and after images below, they look like new in the second image right?!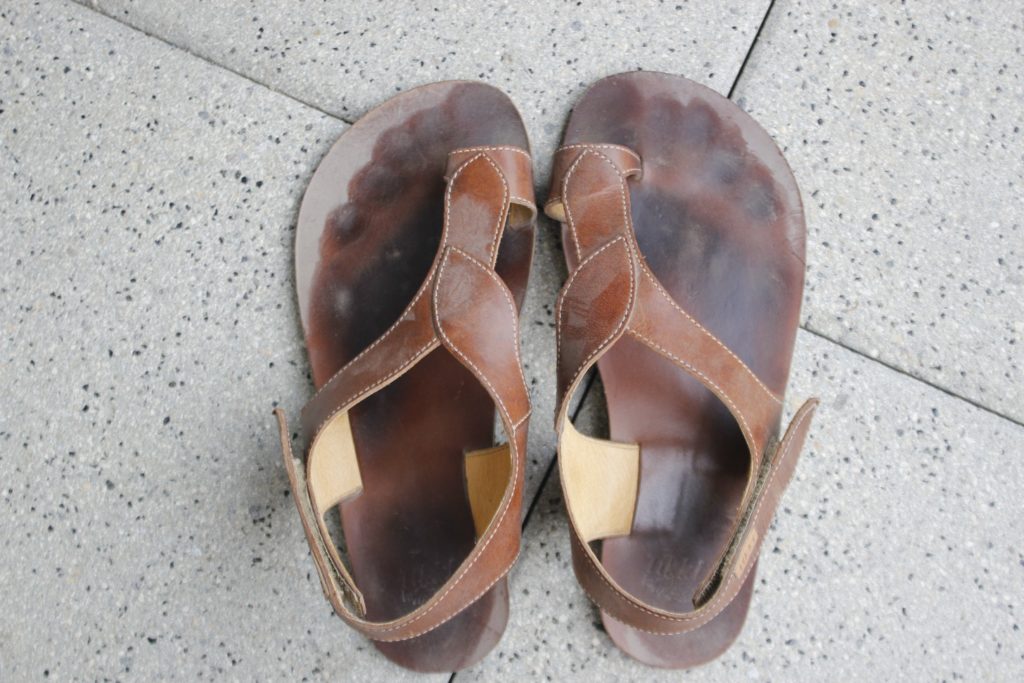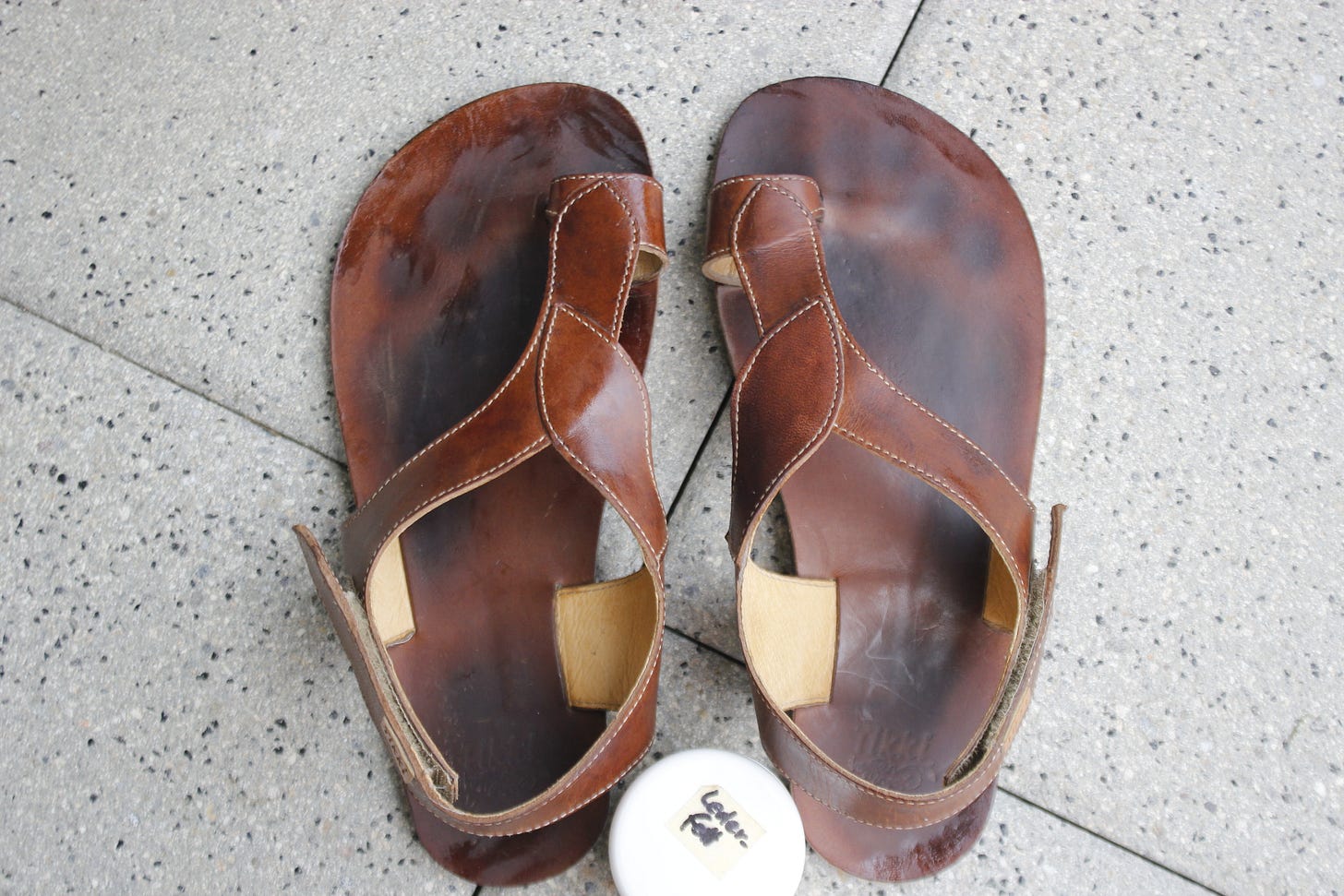 Sole
The ultra-flexible 6mm sole is made from Vibram Supernewflex rubber, a brand I know and trust for quality soling. It is relatively 'squishy' which makes for a very comfortable sandal and grip is quite good for a light summer sandal. Whilst squishy soles can offer increased ground feel, this type of sole can wear out faster. However, I have worn these a LOT this Summer and they are not showing any signs of wear whatsoever.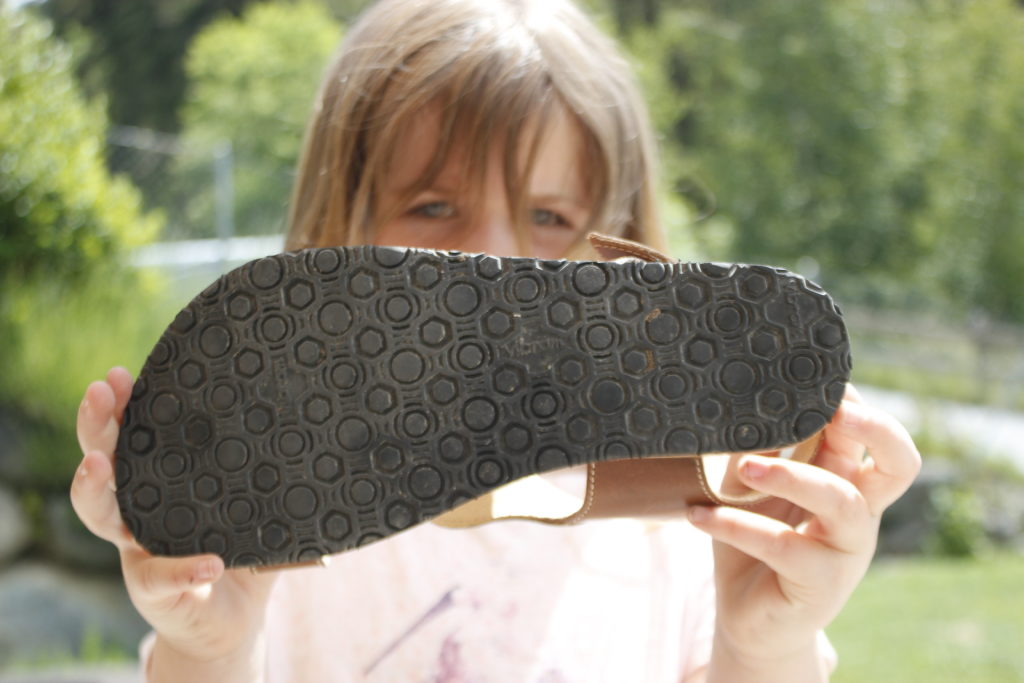 Sizing
Tikki Crafters recommend choosing a size that is 0.5 to 1cm longer than the measurement of your foot, then use the Velcro strap to easily adjust. So I went for a 38, despite generally taking a 39, and they are perfect. My foot length is 24.3 cm, so a 38 gives me 0.5cm of space, which is fine for an open toe sandal. They have a wide sole so suitable for my medium-wide feet, although they may be too wide for a very narrow foot. If you really love the style as a narrow footed lady, you could always have a cobbler take a bit off the sole, as a friend of mine did.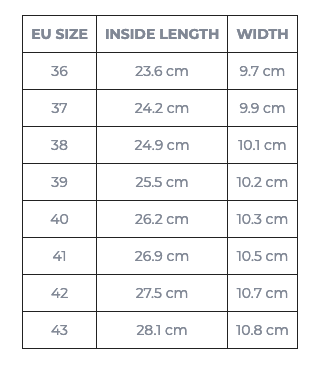 Sustainability
Family run business
They import most of the raw materials directly from the producers
They run a series of products at one time to streamline the process
They shorten the distribution chain by selling it directly to the final customer: they do not invest in advertising but only in quality – the quality of their products is their advertising
Vegetable-tanned leather (vegetable tanning is an organic method based on tannins extracted from bark tree or plant fibre. Oak, chestnut or silk tannins are the most popular, but hundreds of other types of plants used in tanning natural leather are known). Vegetable-tanned leather is a biodegradable material with minimal allergenic risk, has wonderful wear resistance, retains its beauty over time, it gives the feeling of an organic product, and pleasant to the touch.
Chrome-free lining and topsole
Style
I would class these as a casual but elegant sandal. These are the first sandals that my conventional shoe-wearing friends have been very interested in, and I can see why: they are very stylish, well made and versatile. The sandals go with anything!
Dressed up: flowy dresses, evening dresses, a white trouser suit
Dressed down: shorts, skinny jeans, leggings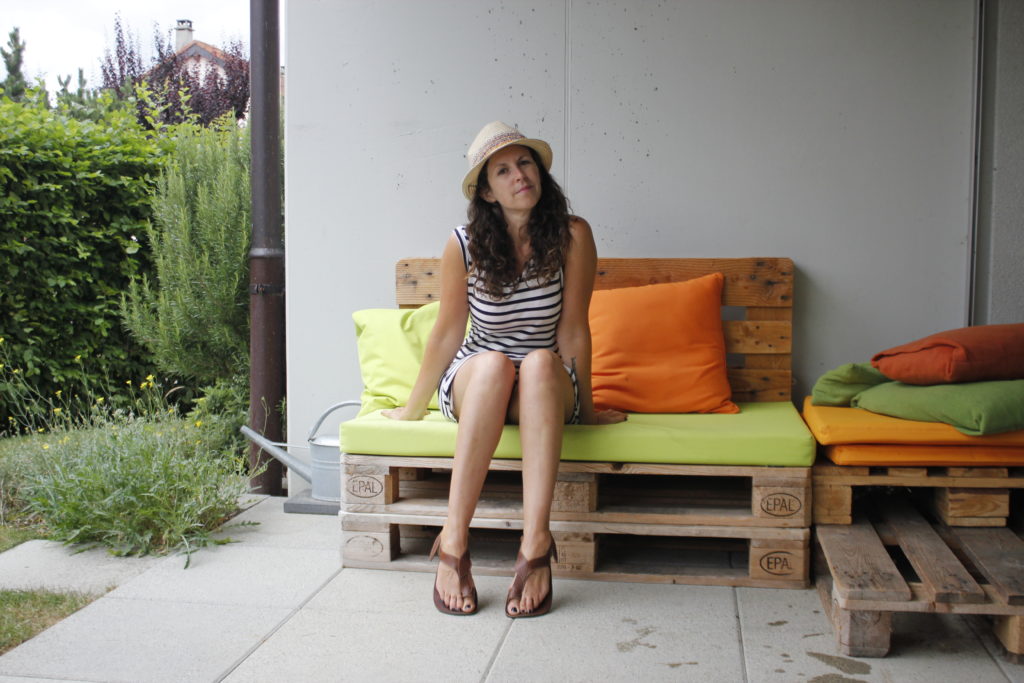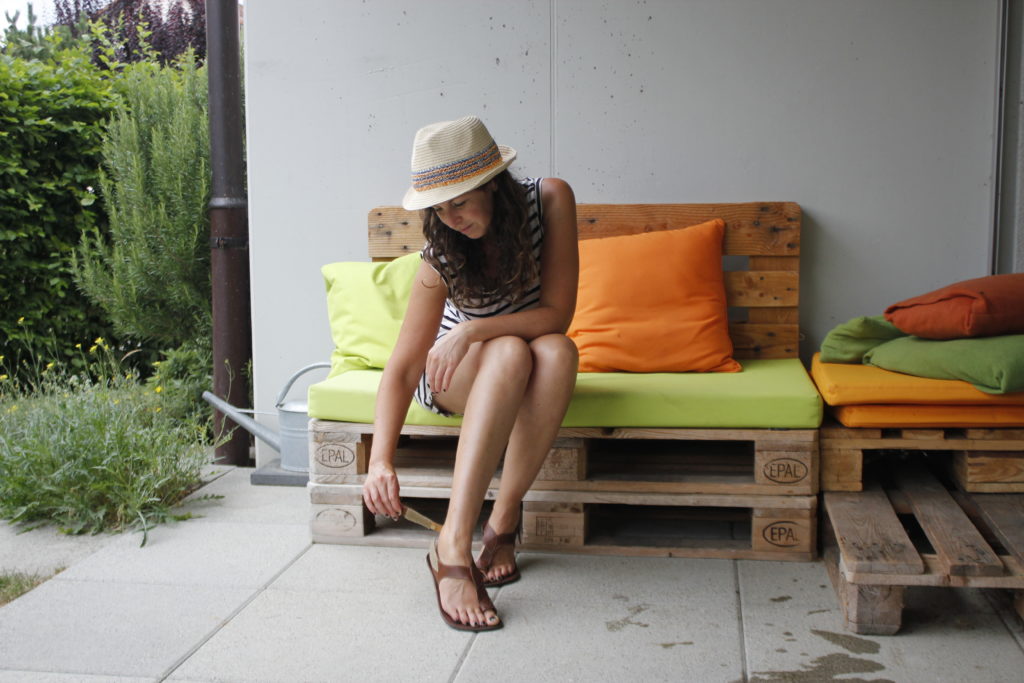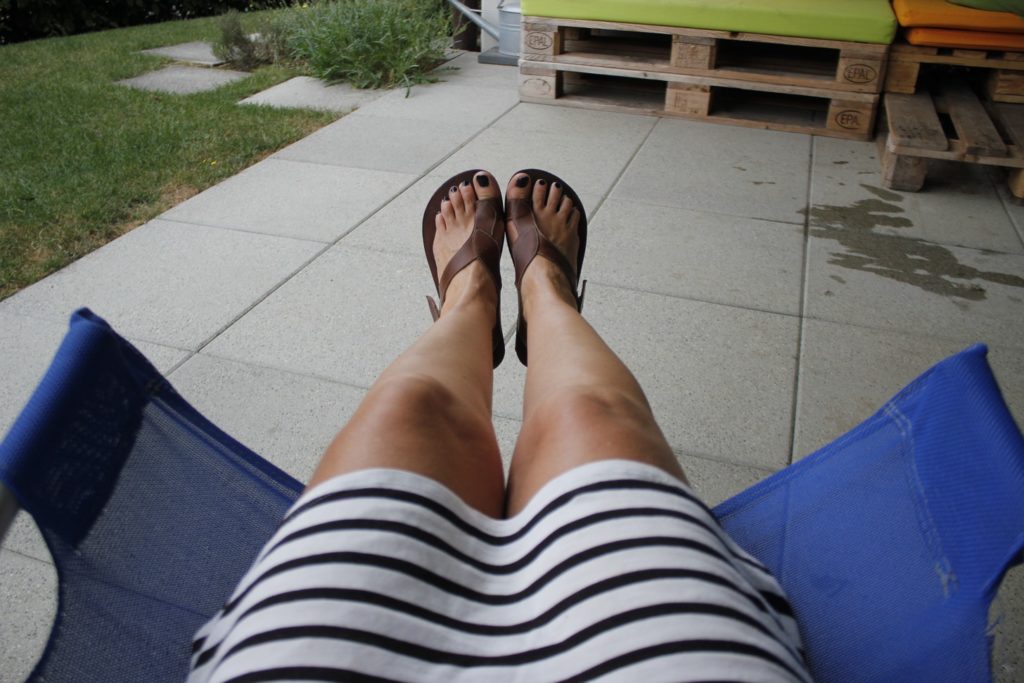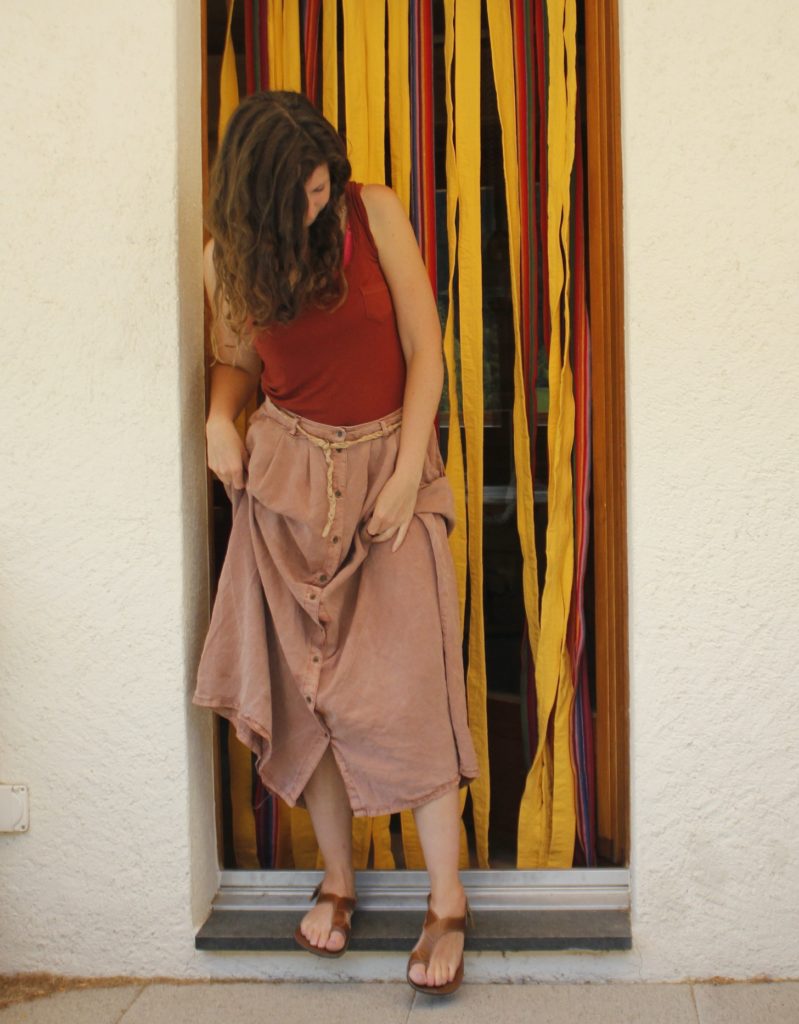 Comfort
These are very comfortable to wear, and easy on and off, so I wear them lots! Check out my footprints on the image below! Smooth leather as a topsole has the potential to be slippy. Fortunately, the big toe loop holds the sandal on well so there is less chance of forward sliding. After a full day of walking and wearing, my big toes were happy to be released from the loops, but it was a hot summer day, and my feet had swollen a bit from the heat. I love how my feet are at all times touching only natural non-toxic chrome-free leather, very breathable and airy.
Conclusion
This is a great little summer sandal. They are quick and easy to put on thanks to the velcro strap, and allow for easy adjustments depending on how loose or tight you want them. They also look great with just about everything!
Buy Here for €64.29 plus shipping.