Austrian brand Geniale Sandals have been making truly minimalist huarache style sandals since 2016, with a lacing system inspired by Tarahumara Indians of Mexico. Anika Radl, (Geniale Sandals founder) was fascinated by these masters of long-distance running and decided to try making her own. The Tarahumara Indians cut their sandals from old car tires and fasten them to their feet with long leather straps. However, Anika uses thermoplastic rubber, topped with leather or vegan pineapple leather, and robust paracord from nylon kernmantle rope or hemp cording. Her business started out very small with only friends and family requesting she make some for them, and it grew solely by word of mouth!
Anika from Geniale Sandals kindly offered me these sandals in exchange for a review. However, the opinions in this review are my own.
Website Description:
Walking completely barefoot is a healthy pleasure, but it's often hard to accomplish. That's why we made a sandal, as thin and light as possible, which keeps us from hurting our feet while stepping onto not-so-yummy-stuff, like sharp stones, broken glass, chewing-gum, dog poo and other stuff.

You can roll our sandals up, to carry them in your bag easily. They are not only perfect for backpacking, travelling and vacation, but also for everyday-use or as emergency-shoes. (In case of very uncomfortable high-heels, for example)

The top layer is made either from real leather or vegan pineapple-leather. This layer is glued on the bottom layer – thermoplastic natural rubber. It's resistant to abrasion, durable and very flexible. The lacing is either made from Paracord – a really durable lightweight nylon kernmantle rope – soft enough to comfort your feet, though strong enough to last for years, or you choose the sustainable rope of natural hemp.
Unboxing:
The first words that came to mind were 'wafer-thin'! I liked how the packaging was incredibly minimal; there is even a little paper letting you know that lacing details etc can all be found online. They seemed quite rectangular in shape, but I quickly realised that I was to neatly cut around my feet to get a perfect customized shape, for me.
Specs: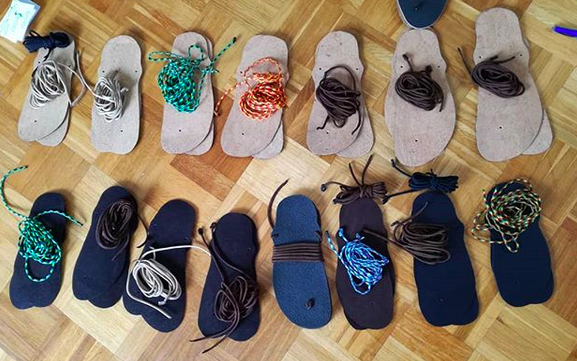 Barefoot Brief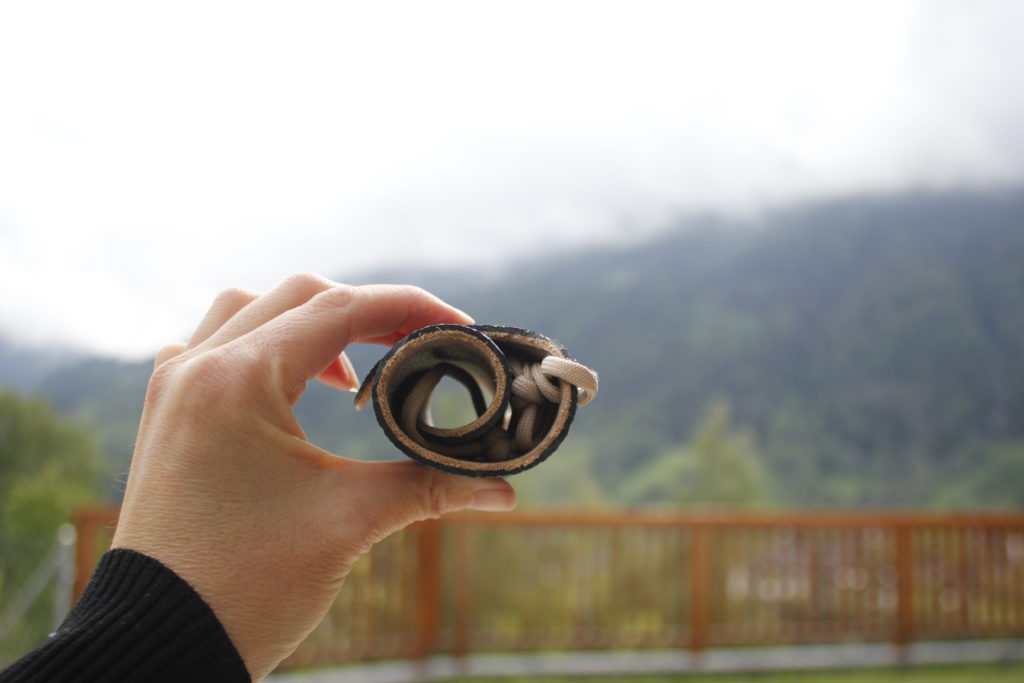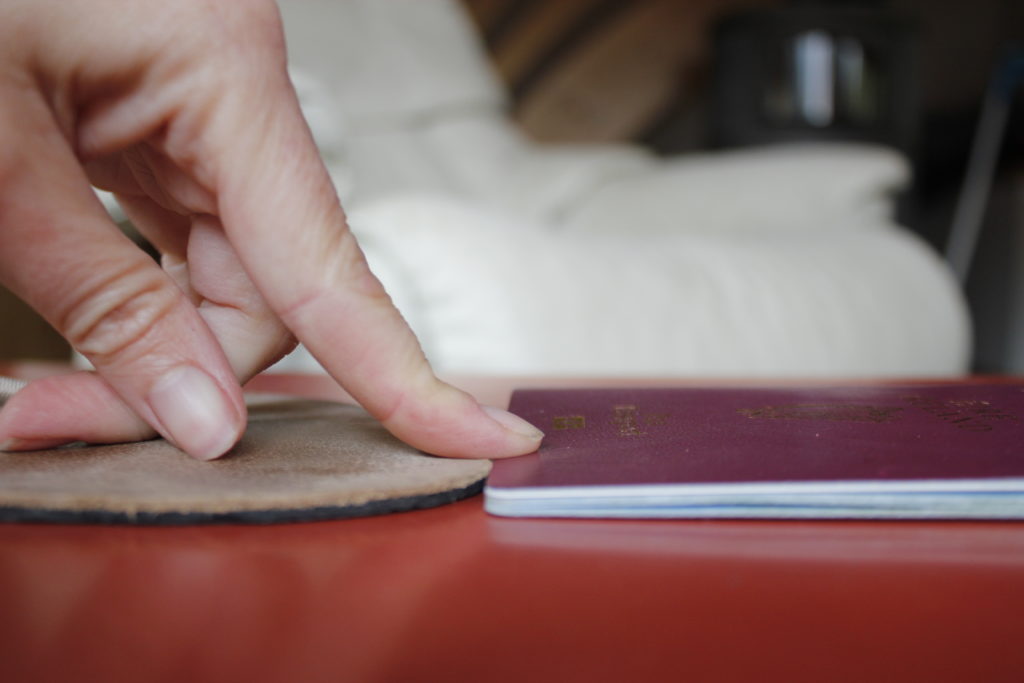 Sole and Surface Lining:
The outsole is made of highly elastic, abrasion-resistant rubber with a finely profiled and non-slip profile. Together, the outsole and surface lining have a total stack height of 3mm, which is the least distance between my foot and the ground of any shoe I have worn…ever! It is also the most flexible sole I have ever come across in an adult's shoe.
For the surface lining, there is a choice of certified organic leather from Bavaria, vegan pineapple leather, or cork leather.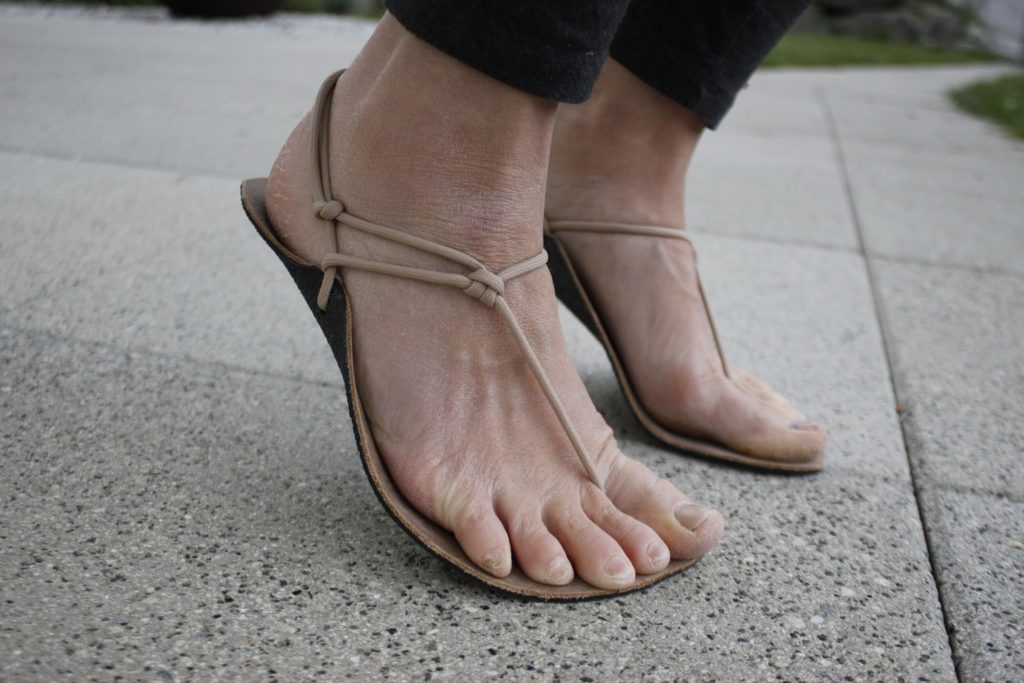 The Bavarian leather is certified with IVN, BioKreis, and ECARF as particularly environmentally and allergy-friendly!
As leather is a natural material, Anika states each pair may be a slightly different shade of colour, giving each pair some individuality!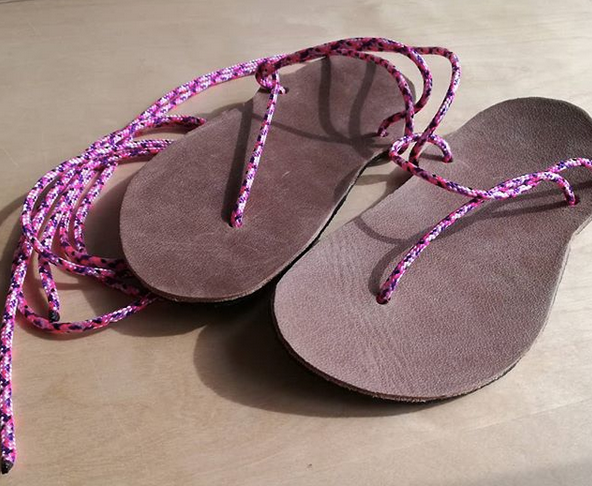 Pinatex (pineapple leather) is a natural and sustainable material made from the fibers of the pineapple leaves. These are usually simply burned and are therefore actually a waste product that is thus recycled! The properties are comparable to those of real leather, it is flexible, soft, robust, robust, and waterproof. Anika states that Pinatex consists of natural fibers and is not chemically sealed – therefore there may be color rubbing in the area of ​​the foot contact.
Cork is another incredibly sustainable option, taken from the bark of the oak tree. No trees are damaged in the process and no trees need to fall. In the following 9 years after each harvesting, the cork oak will regenerate its bark and the cork will acquire a smoother texture. Because the life of an oak tree is on average 200 years, each tree can be harvested around 17 times.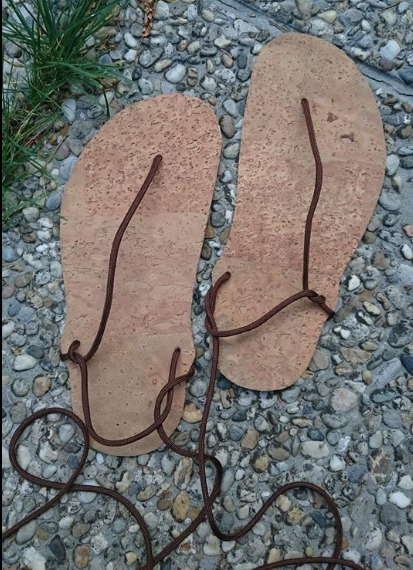 Lacing:
The lacing used is nylon paracord with a minimum breaking load of 249 kg, guaranteeing a long service life! (A little tidbit here from the website, did you know paracord was originally used as a tether on American parachutes?!)
100% Natural hemp lacing is another option (5mm diameter), but I must say I am happy with my choice of paracord in beige, it is smooth, thin, and comfortable on the foot. For ease of on and off, there is the option of a small plastic buckle that you can choose to have already mounted on the sandal, or you can do it yourself.
Sizing:
They have a pretty broad size range, ranging from young kids to adults. The beauty of these sandals is their customization. For example, if you have one foot bigger than the other, no worries, just let them know! If you are between two sizes, they recommend taking the larger one. This makes sense to me, as you can shorten them with sharp scissors, (like I did) but you can't add to a sandal that is too short. They offer a simple size chart in which the length and width of the sandals are given in centimeters. I am 24.3cm in length, so went for the 39 (25.3cm) and I had plenty of room and did some trimming which was fun!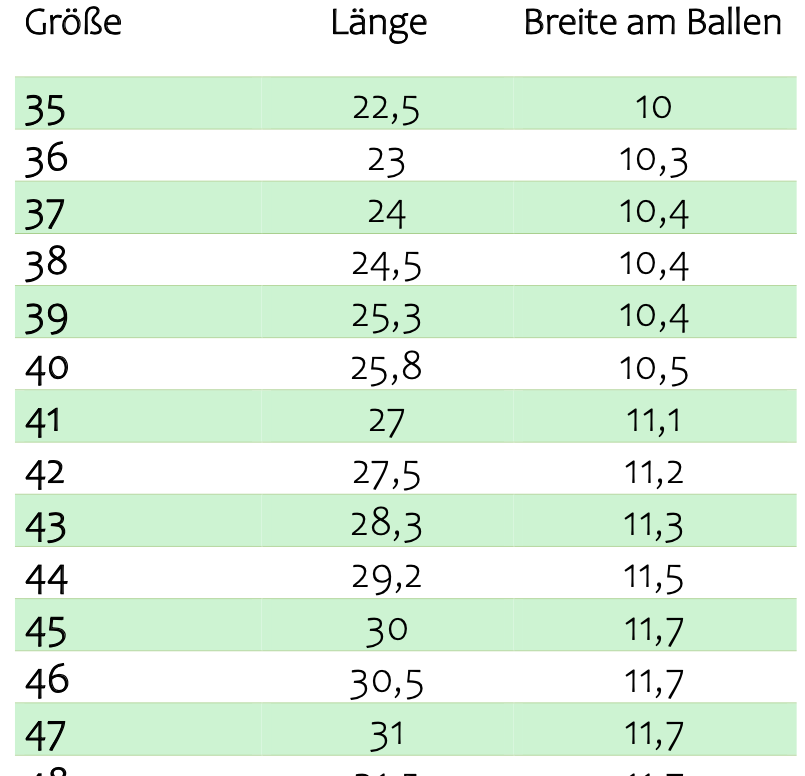 Sustainability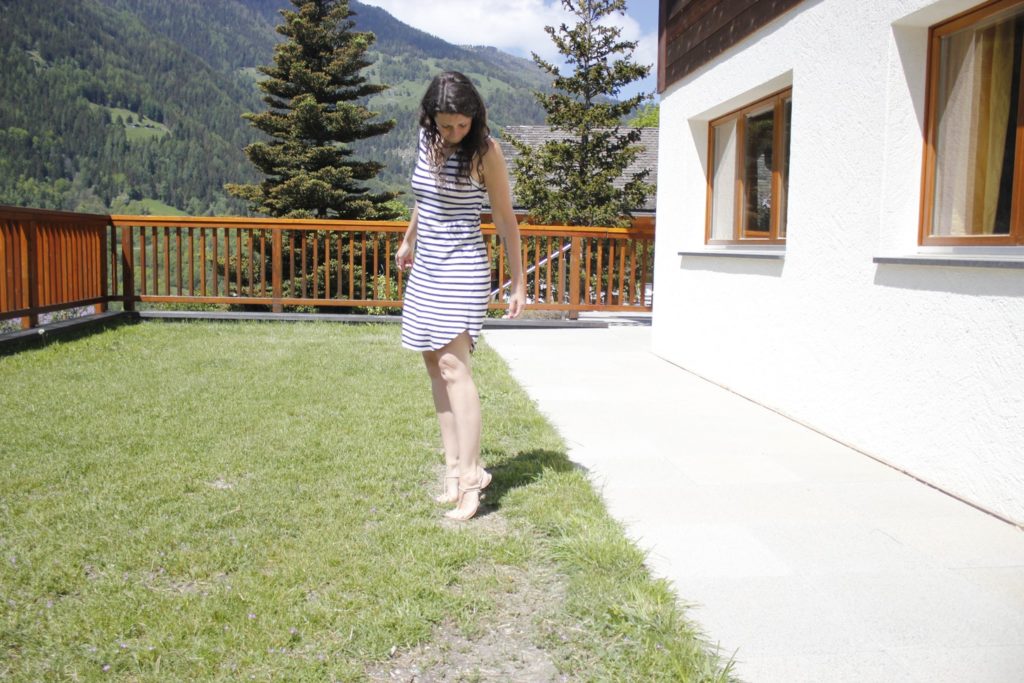 Lacing System
Like all huaraches, there are various options for lacing. I first went for "Romans-sandal-look" you have to redo it each time. There is another option, the "Slip-on/Slip-off" Lacing, where you just tie the knot once and leave it. (check out the video below at the 4:30 minute mark). They have some additional videos here on various lacing options and general info (in German) but you get the idea. I ended up finding a simple lacing system on a YouTube video that I like, but there's so many options out there, it's really fun playing with them!
Comfort
Comfort is subjective, isn't it?! For some people, having a little buffer between you and the ground is preferable. For others, feeling the ground as much as possible is the goal. I am somewhere in the middle. Let's get straight. This sandal is not for someone who has just thrown away their conventional shoes and hopes to go barefoot running in a month. I have worn barefoot shoes for a few years now, and these sandals have really challenged my idea of what 'barefoot' shoes really can be! So far, I am finding my walks on asphalt a little too harsh in these sandals, but forest floor and grass are sweet. I like that you don't feel the knot under the two toes, considering it is such a thin sole. The first few times I wore them, the sole made a flapping sound with every step. However, I find the longer the walk, the more the sole is adapting to my foot and the sound disappears. You can see in the image below how well they mold to the foot once broken in.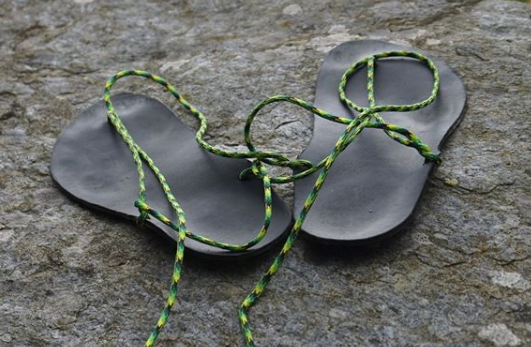 Conclusion
I love the simplicity of these little sandals, they are great with casual dresses and my skinnies for the reason that they don't brag too much. They are understated and I think that's what I like about them. I certainly couldn't wear them for a day in the city, but for Summertime forest walks, and pottering in the garden they are perfect.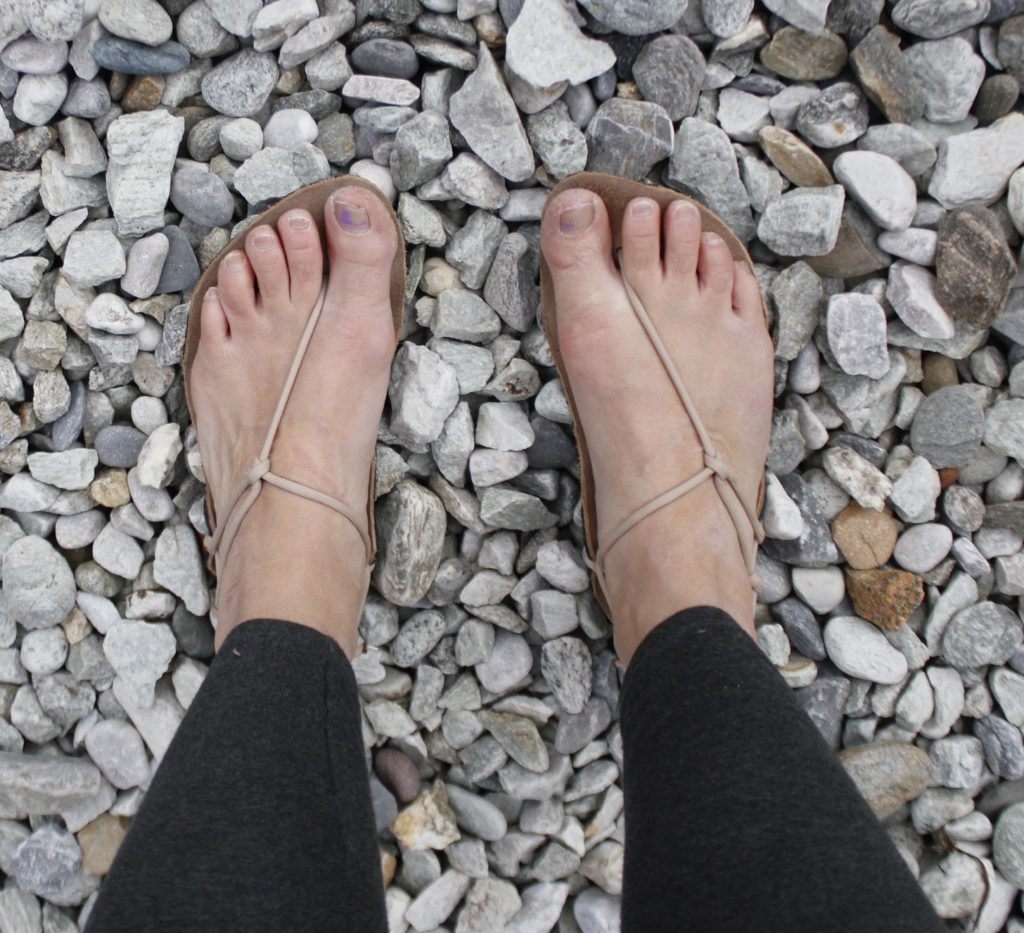 Buy Here for €40 plus shipping.