Peter Janura produces huarache sandals in a wide range of colours and combinations. You will see from his Instagram that he is hiking mad, hence his need for solid durable huaraches for the purpose. I will say upfront that I have a bit of a love/hate relationship with these sandals, which I will get into in the review. He kindly offered me these sandals in exchange for a review. However, the opinions in this review are my own.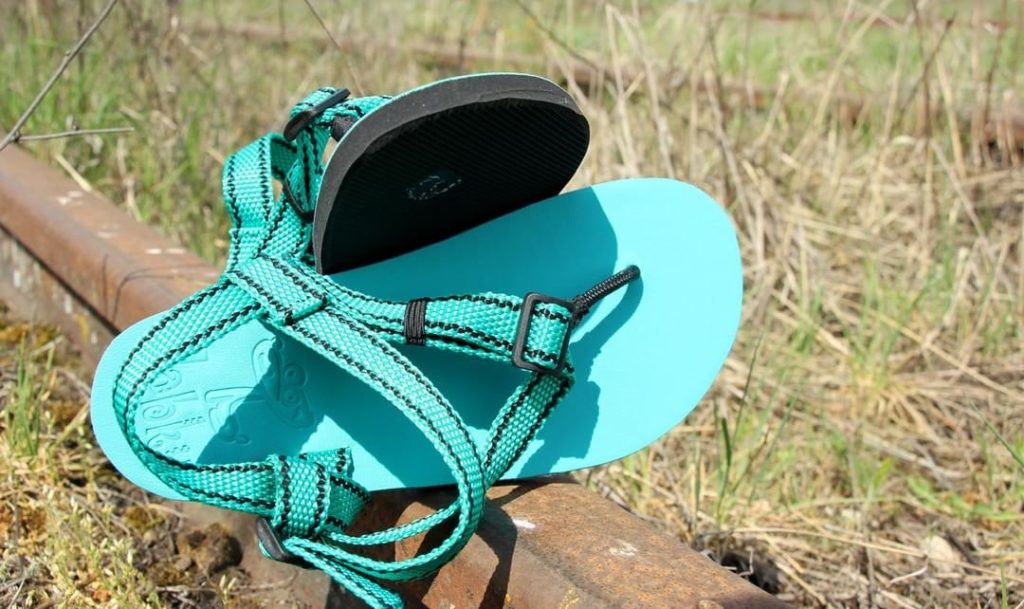 The Origins of Labky Sandals
I asked Peter how Labky Sandals were born and his response was because he wanted to make sandals like his beloved Luna sandals, but at a better price point for the Slovakian market. He also wished to spread the barefoot ideology as he believes barefoot shoes can genuinely help and solve many health problems today. He added nobly, that his methods are available on his website publicly for anyone to try making them themselves. I find this refreshing in the competitive world we live in.
Website Description:
These are hand-crafted footwear modeled after the Huarache sandals worn by Indians in Honeymoon Canyons in Mexico. If you want to find out more about the inhabitants of the canons, read the book by Christopher McDougall, Born to Run. The whole product is handcrafted with the use of basic equipment. (translated by google translate)
Unboxing:
Wow, two very different sandals, one looked very athletic and sporty (I was thinking shorts and a hike), the other one more pretty (I was thinking a dress and a stroll in the village). I liked how minimal the packaging was, and my little girl loved the debossed dog image with the brand name Labky.
Specs:
OutSole: 9.5 mm medium hard synthetic poroflex
Surface Lining: Synthetic Leather
Lacing: wine paracord and 20mm straps
Choices: 16 paracord colours, 12 soles, 41 strap colours, 12 topsole colours
Sizes: 20-45
Stack height: 10mm
Weight: 100g for model with paracord, 125g for model with straps.
Tested on: Bare Soled Girl, EU size 39, slim leg and ankle, low instep, medium to wide toe box, Egyptian toe-box shape
Website: Slovakian, translated with Google Translate
Barefoot Brief
Flexibility: Can I do a one-handed roll and twist with this shoe? Well, yes I can, however, they are much stiffer than some other huarache style sandals
Zero Drop: Do they have a totally flat sole? YES. There is absolutely no heel in this sandal.
Toebox Space: Do they have plenty of space for toes to wriggle? YES. The sole is broad, so all the space you want.
Stack height: Is the distance from foot to ground small? AVERAGE. There is 10mm between me and the ground.
Arch/Cushioning Test: Are they free from supports/cushioning? YES. They have no supports or cushioning of any kind.
Ground Feel: Is there a decent ground feel? NOT SO MUCH with these as the sole is thick and hard.
Lightweight: Are they lightweight? YES, they are quite light at 100g and 125g respectively.
Sole and Surface Lining:
The soles are incredibly durable. They are quite hard and not the most flexible soles I have, but I think they could last forever! The topsole is synthetic leather.
Lacing:
The lacing used is nylon paracord or durable straps with a dizzying choice of 16 paracord colours, and 41 strap colours, so I had great fun deciding and playing with topsole colour and straps. (Check out the gallery of choices here!) As Peter has no sewing machine and does everything by hand, the strap system is a very simple one, with two simple buckles.
Sizing:
I think the easiest way to get your size is to contact Peter at the address below, as I did. I just provided my foot length in cm.
Sustainability
Minimal packaging
Handmade in Slovakia
Lacing System
Like all huaraches, there are various options for lacing. With the paracord, I changed the initial lacing a little to suit me. The strap system is a little 'busy' as there is a lot of playing about to get it right. You need to remove the sandal to adjust and it took me quite a while to fine-tune. Expect that for the first 20-30km to adjust until you get it perfect. Peter says that once you get the fit perfect, there should be no loosening or tightening to do, they should be ready to go as they are. This was new to me, as I've always been able to adjust sandals easily. The toe strap is also a little thicker than I am used to, so very durable, but takes a little getting used to.
The paracord laces are pretty much like any others …it is up to you what lacing style you go for and there are plenty of videos on YouTube to find what you want.
Comfort
I think I have not yet broken in my Labky's. The durable yet stiff sole is still pretty 'flat' and Peter assures me that they will soften and mould to the feet with time. So for now, I wear them only on natural terrain as they are too rigid and stiff for an asphalt walk.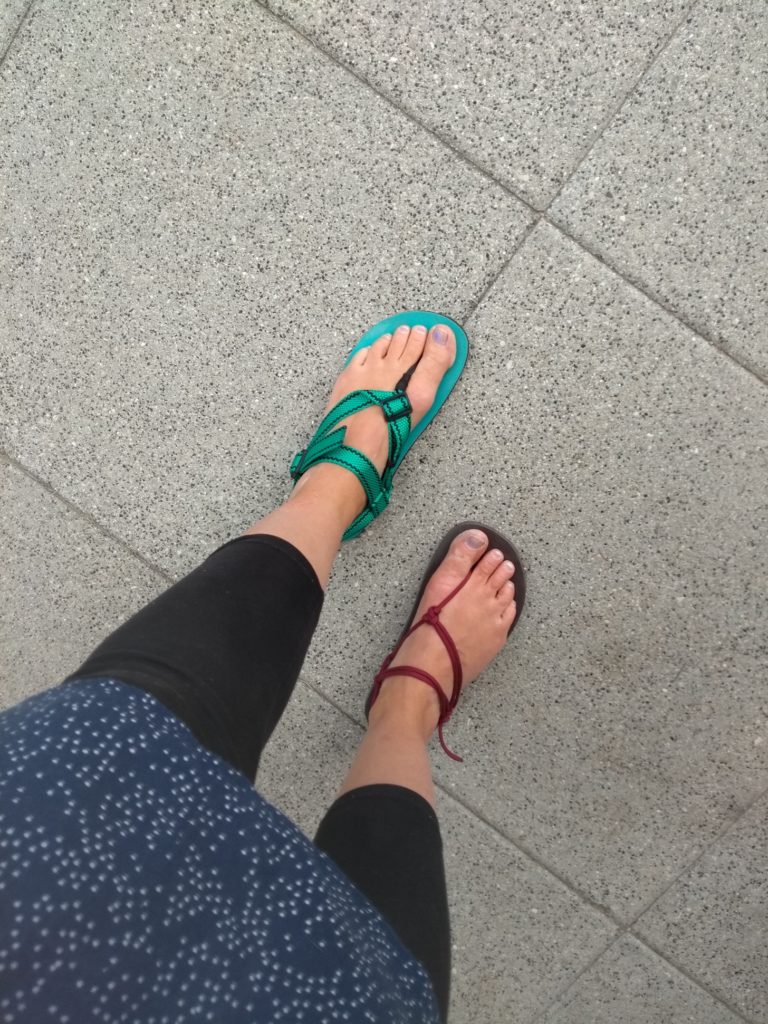 Conclusion
The turquoise pair are a little bulky to pair with a Summer dress, however, they are very durable and functional for a long hike when you'll be on unforgiving ground, going through streams etc. The paracord pair is definitely more 'fashion' versatile, however, the stiff sole is not as comfortable with this style of lacing. Labky's sandals are hardcore serious hiking sandals, for full-day hikes, something I don't yet do with my small children. I do reach for the turquoise ones for an afternoon hike with them, but the paracord ones are not getting as much wear, so I think next time, I will opt for a softer sole with the paracord lacing.
To order, I think the best option is to contact directly here, to get a price, give your foot length and requirements, ie. what you will use them for. The website is in Slovenian, so I needed a lot of help, but Peter was courteous and helpful.