What is success to you?
Success signifies different things to different people. It may also change from one decade to another. For me, success means a fulfilled life, in which I have the courage and freedom to be myself.
How do you stay centered in the middle of chaos?
I breathe in for 4, out for 4 and hold for 4. Simple as that sounds, it's a highly effective technique that gets me through chaotic moments.
How do you do your bit for the planet?
By sending out compassion during meditation, by only taking what I need from it, and by enjoying all the beauty to be experienced in this life.
What advice would you give your younger self?
Stop wasting time looking for happiness, it's to be found inside of you (cheesy as that sounds). Be authentically yourself, be honest about your needs, and assert yourself. I would also have myself read these 3 books:
What is magic for you?
Thoughtless present moments are pure magic, rare and unforgettable.
Also, synchronicities. I don't believe things happen by chance or coincidence anymore. I've had way too many synchronicities in my life for that!
What is love for you?
When you love yourself completely, in complete acceptance of your shadow, and in a way that negates any need for another person. When you get to that place, there are no expectations from the other person, you completely accept who they are and allow them total space and freedom to find their own way. This is a work in progress in my own relationship, but my partner and I are both dedicated to doing the work to get to that place where our first love is ourselves!
What is your biggest challenge?
Practicing self-compassion, and not falling into old habits that don't serve me.
What is your beauty/ health practice?
I will begin with the beauty practice, as it's short!
I'm going to be blatantly honest and say that I get up and go in the morning… I splash my face with water and that's it. A few nights a week, I massage castor oil onto my face and neck. Then rinse it off with a hot damp cloth. Then I massage a blend of oils into my skin. Currently, my handmade blend is organic rosehip, neem, and jojoba oil with patchouli and frankincense essential oil. The rest of the week it's a quick splash of water and off to bed.
As for my hair, I currently use Theraneem organic shampoo and conditioner. I do an Olaplex repair treatment once a month and use Cantu curl cream for my curls. I don't really use any body moisturizers or oils, and shave/dry skin brush when I remember!
Dry skin brush
Theraneem shampoo and conditioner
Face and massage brushes
Sage for smudging
Wide toothed comb
Various organic face oils for mixing
Dr. Bronner toothpaste, toothbrush and razor (Yes, they are plastic. I'm making the shift… one thing at a time)
Pukka castor oil for face cleansing
RMS organic eye shadow and foundation pots (for the odd time I wear makeup)
Homemade dry skin egg (shea butter, coconut oil)
Cantu curl cream
Weleda wild rose body wash
In relation to health practices, I have simplified things a lot over the years.
I meditate in some shape or form, every day, be it for 5 minutes before I go to sleep, 10 minutes before lunch is ready or 5 minutes walking to the shop. I have stopped committing myself to any schedules that with children and a busy life might need twigging from day to day, as I found this in itself was a source of discontent. I noticed I was criticizing myself if I didn't stick to the unrealistic goals I set week by week. I smudge sage over myself from time to time, as a general reset button.
I make efforts to go into cold water as often as I can… Which for now is easy with a river beside where we stay, so I go into the river around 3 times a week and am absolutely hooked. There's a definite internal debate each time I go for my dip.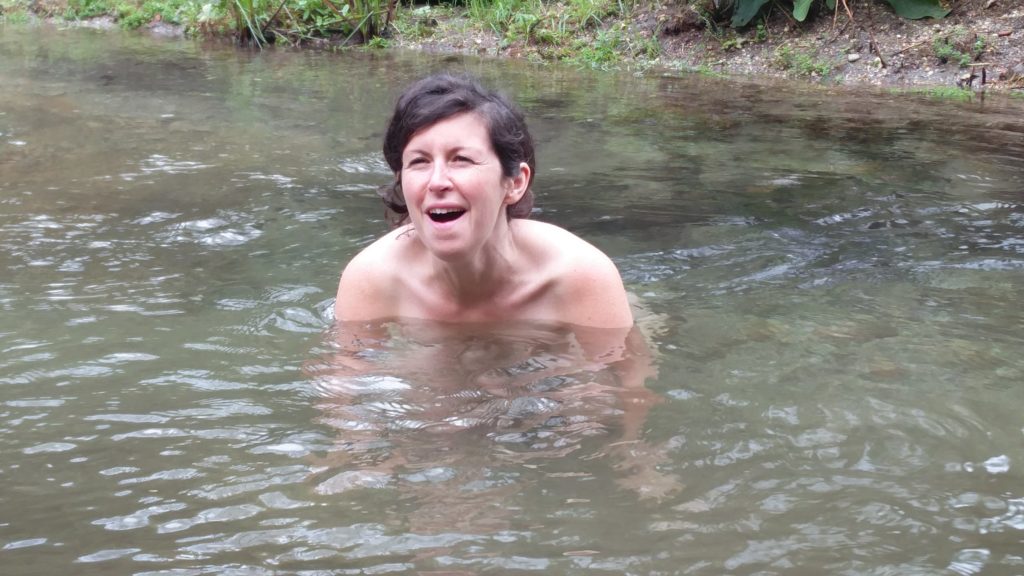 I try my damnedest to talk myself out of it, because… Well, it's uncomfortable. But the rewards are so meaningful. Physically, I feel vital, focused, alive and energized the rest of the day. Emotionally, I feel brighter, spirited and grateful, and yes there's even a spiritual component. I experience a feeling of surrender and release, the same kind of feeling you get when you have just spilled your heart out to a dear friend. The river has become a dear friend.
I eat balanced home-prepared meals, as local and organic as I can commit to, depending on where we are and the budget for that particular week.
As far as supplements, I have stripped them right down to the following:
I take a universal mold, heavy metal and toxin binder a few times a week, mixed with apple juice and water kefir.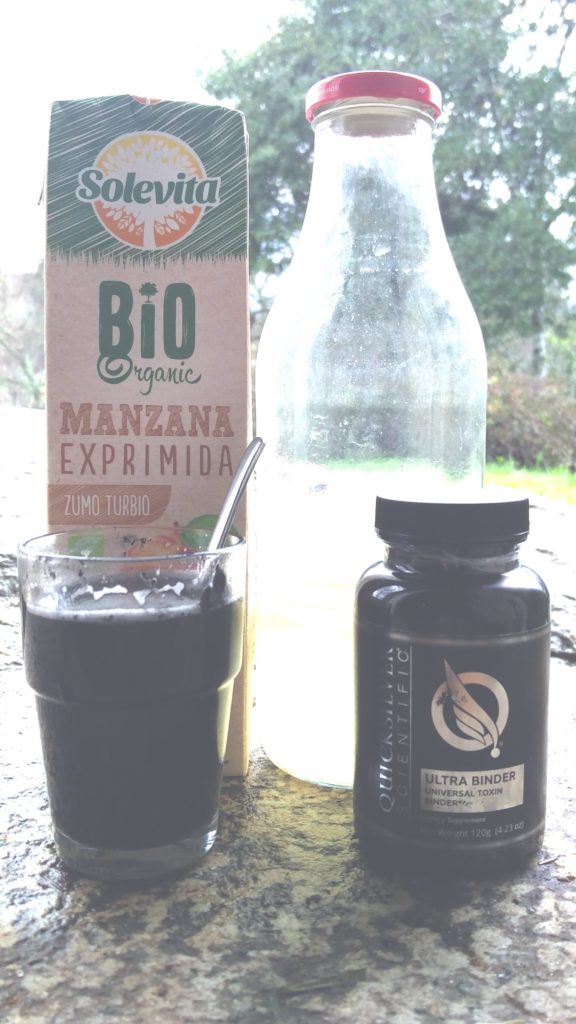 I take Oriel Magnesium drops when I think of it.
I make efforts to take time out when I need it, and now accept that short bursts here and there are as beneficial as full days away from everyone.
What makes your spirit glow?
Being myself. When I'm with people that I can be my authentic self, my spirit glows. Also, dancing to music and listening to music.
What have you learned about yourself since you became a nomad?
I've become acutely aware of aspects of my environment that seemingly trigger me. I'm catching myself a little quicker, so I don't fall into spiraling cascades of negative thoughts and feelings. Also, I'm enjoying my own company immensely! I don't think I ever spent so much time in my own company.
What things in life are still a mystery to you?
Why it takes people decades of their lives (including me) to come home to themselves or begin the journey of coming home to themselves. If only this stuff was taught in school!
If you could ask a guru any question that you want to know the answer to, what would you ask?
I wouldn't ask one. I've watched the YouTube videos, read the self-help books, went to more retreats than I can count. As a wise lady from Carlingford once said to me "the more we know, the more we realise we know nothing. In the end, we are all just putting one step in front of the other".
If you could say one thing to the youth of the world what would you say?
You have been led astray. Everywhere you look, you are bombarded with messages that you're not enough. This breeds fear and disconnects you from the truth of who you are. We all have everything in us to succeed, to live a fulfilled life. The only thing keeping us from this is our own thinking, so remember, don't believe every thought you have. Be authentic, and practice self-compassion every day of your life. Don't follow anyone's path but your own.