I love clothes. I love alluring colours, natural fibres and clothes that don't restrict movement in any way. But I hate high street clothing. Rows upon rows of homogenous mass-produced garments, clothes with no story, with no soul. I deeply feel there's an overlooked aspect to how we value our garments aside from their comfort and aesthetic appeal.
Do you know the name of the seamstress who made that jumpsuit you plan to wear out at the weekend? Does that cotton shirt at the back of your wardrobe acknowledge the 300 million people involved in cotton production in China alone? Is the ecological and 'literal' footprint considered in the polyester t-shirt you wear on your daily run? (By literal I mean the accumulated footsteps of other people on your behalf to allow this t-shirt to get from the other side of the planet to your local store). We don't really value our clothing in a way that's meaningful to ourselves or the planet.
But things are a-changing, and textile revivalists everywhere are dabbling in plant dye baths, reclaiming the lost art of spinning, and macraweaving the most exquisite wall tapestries. Garments are slowly reclaiming their value.
Why?
Because we are beginning to realise that there is profound joy, creative expression, community, movement and a sense of accomplishment to be had in clothing creation, in whatever phase works for the individual.
I stumbled upon the world of fiber arts and handmade clothing creation a few years back – I took a beginner sewing class and learned to knit something other than a scarf. I started playing with natural dyes and even food colouring (see my food colouring creation below).
This year I plan to create a garment with some local alpaca wool I've recently been gifted – from spinning to natural dyeing to knitting the finished yarn into something inspiring and unique. And I am excited – that future garment already has meaning and value before it has even been made!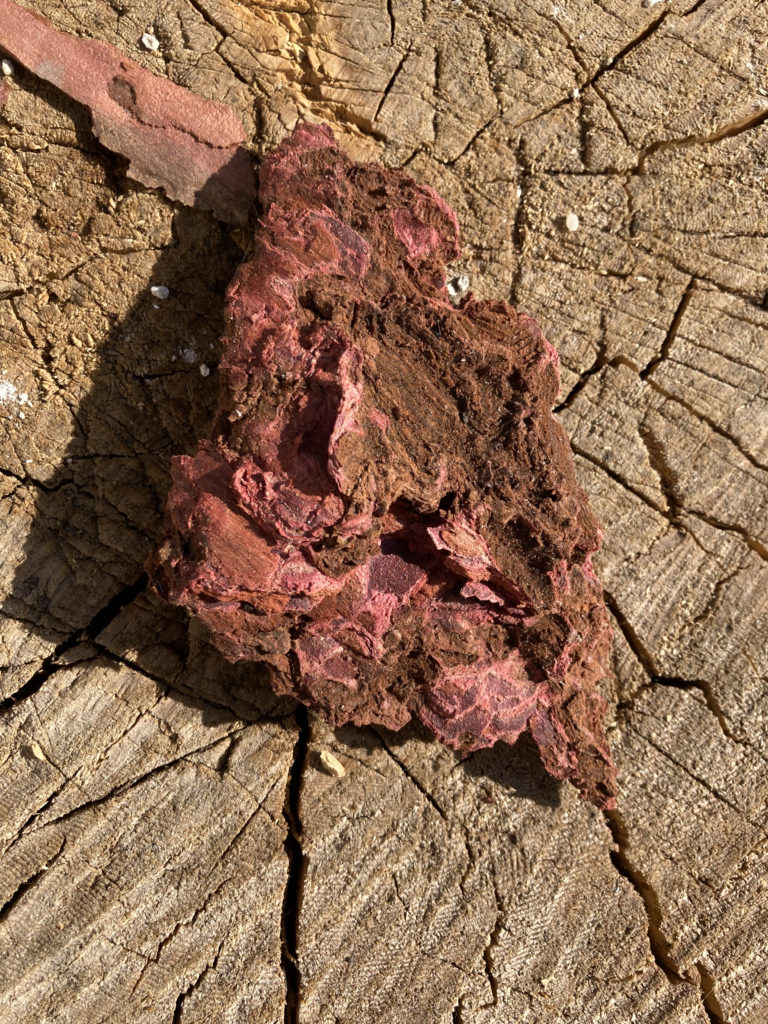 Generally, obtaining a sweater (for example) involved:
a trip by car to the high street store of choice
a short (or long!) browse through the store until the desired sweater is found
a return trip home to unpack the shopping bag and admire the new garment
immediate gratification and a temporary blissful feeling
Outsourced movement in 1 wool sweater:
the tending of sheep or goats
the shearing of sheep or goats
the transportation of the wool to the processing plant
the cleaning and carding of the wool (often mechanized)
the transportation of the wool to the spinning mill
the spinning of the fibres into wool (often mechanized)
the dyeing of the yarn (often mechanized)
the transportation of the wool to weaving mill/knitting studio
the weaving or knitting of the yarn (often mechanized)
the transportation of the finished piece to a warehouse
the transportation of all finished pieces to the store
Outsourced joy in obtaining sweater
the companionship gained from looking after animals and connection to the countryside
the joy gained from handling freshly shorn wool
the fun involved in spinning wool into yarn
the awe-inspiring dyeing process with natural foraged materials
the relaxation and calm in knitting your very own sweater
the joy gained from sharing your dye process/spinning knowledge/knitting patterns with others
the healing power of being in creative flow
the value of patience – of having to wait for something special to come to life instead of instant gratification
the joy in acceptance – your finished item may not turn out as you hoped but you accept its beauty anyway
the deep sense of fulfilment and empowerment from following through on something difficult, making mistakes but not giving up, accomplishing and creating
Are you beginning to see where I am going with this? I am not saying there isn't a need for high street stores – for sure they can be practical and necessary. Nor am I saying that everyone needs to start homesteading and making all their own clothes. What I am suggesting is a societal paradigm shift in the way we value what we have. Yes, I still buy my knickers in the supermarket – but as I inspect the stitching, I imagine the lady (or guy) who sewed them, what their life must be like – if they have a family, and how many people were involved in getting from organic cotton field to my hands.
---
Interview with Fibre Artist Gabriella Weatherhead
I would like to end this article with an interview I did with a Hungarian fibre artist by the name of Gabriella Weatherhead. I have known Gabriella for a long time and asked if I could talk to her about the striking pieces of clothing she creates using natural plants. Her words resonate with me so deeply, her deep appreciation and respect for nature, and the beauty born out of her creative flow is truly inspiring. Hope you enjoy the interview as much as I did.
Bare Soled Girl: Could you give me a little background on yourself and how you fell into the world of designing and making these beautiful pieces?
Gabriella: So, a little bit about myself then. I am Hungarian, born in Transylvania in Romania and have been living in Northern Ireland for the last 23 years. For a long time, I have been interested in growing plants, permaculture, organic, natural innovative ways of gardening which respect the whole ecosystem, as well as medicinal herbs, and making my own plant-based skincare and medicine.
My main job is in translation but due to the pandemic and lockdowns of 2020, work has dwindled and suddenly I had lots of free time to explore more in-depth about natural dyeing and herbalism. One day I came upon an article in a gardening magazine about plant-based dyes, which was something I wanted to try for some time and it turned out to be the springboard towards a whole new experience and learning, discovering very enriching and varied methods of not only dyeing fabrics with plants but also botanical printing (also known as eco-printing) which means to print the living plants permanently onto the fabric.
Natural dyeing is a very old process, cloth was dyed all over the world with plant dyes up until the 19th century when synthetic dyes were first produced. Yet the complex colours you get from plant pigments are so much richer, alive somehow, and are a world away from the uniform colours available in mass-produced clothing.
I discovered a niche world with some amazing people doing amazing things with plants and fabrics, there is a revival movement happening in this field around the world. I started experimenting, learning from books and online workshops with some master-dyers and from some very talented textile artists. Natural dyes only work with natural fabrics, such as wool, silk, cotton, hemp, linen, etc. I discovered beautiful handwoven silks and linen, the small companies who sell these fabrics work closely with communities around the world where these traditions are still alive, in order to preserve them and bring them to a wider audience.
So, initially, I dyed and eco-printed scarves, canvas bags and t-shirts and it was a natural progression to want to expand my repertoire into making clothes because I loved the results and wanted to see these fabrics made into something wearable and the only way to do that was to make them myself. So, I learned to sew. Which opened the door to a new world of creativity for me.
Suddenly I could make a unique looking garment from fabrics I designed, something you would never find in a high street shop. I could make something I would like to wear, my own style, and it made me feel good, empowered somehow, and I'm brimming with new ideas all the time now.
My inspiration for the designs with botanical printing comes from the plants growing around me, in my garden or in the countryside, as each season unfolds. Hence the name for my label, Leaf Alkemy, because it is a kind of alchemy, the transformation of a living plant into a print on fabric you can wear. I love this transience, nothing is available all year round, things come and go, it's a lifecycle.
BSG: How do you look at clothing coming from high street brands?
Gabriella: Clothing coming from high street brands don't really inspire me, but obviously there is a need and practical use for them. I always struggled to find clothes that really "spoke" to me, I like things that have a story behind them.
There are many ethical and environmental issues surrounding the industry, but it's a very broad subject to address here. Most likely we will always buy some items from the high street because it's not possible or feasible to make everything yourself. But when it comes to items of clothing which represent your taste and style, I find the choices rather bland and uniform. And these days, if I see something I like, I can say to myself, well, I can make that!
While I prefer to use my own fabric designs for items I make for my label, I'm not averse to buying commercially available printed fabrics to make original, lovely things with, because there is such a wealth of choice out there of beautiful fabrics, with an ecologically sustainable footprint
BSG: What efforts are involved and if the joy output equals the effort and movement inputs?!
Gabriella: There's no denying that there is quite a bit of work involved in making clothes this way. I move a lot! Especially when you hand dye and eco-print the fabric, because it is difficult to work with very large pieces of fabric in one go in a home studio setting, I often tend to dye and print each piece of a garment individually and sew it afterwards. It can take me a week sometimes for one garment. Overall, natural dyeing is time consuming, you have to be very patient. I often see in my head what the finished piece should look like, but I have to follow patiently each step, in order to get there. And then the results can be entirely different than what I expected, which is something I quite like, you have to be open and accept the results with joy, because you're not in as much control as the industrial world has taught us to be and nature has its own way. I love the surprise element involved in each project, unwrapping a bundle of fabric to reveal its magic. But there's no question, the rewards are absolutely worth the effort put in. The feeling you get when you see the results is indescribable! And you learn from each project, newer ideas and techniques pop up, it's almost an inexhaustible resource of creativity.
BSG: How do you feel your work relates to a more conscious way of living?
Gabriella: Firstly, it teaches me to slow down and just be sometimes, and observe the natural world, even more, the plants I work with are seasonal and there is a temptation to want something you like, to be available all year round. I call it the supermarket mentality, where we can find all kinds of fruit and veg year-round. Well, nature doesn't work like this, and therein lies the beauty of natural things. You have to tune in to nature's cycles and rhythm, respect the environment and the plants by not over-harvesting them.
You learn to preserve plants, by drying or freezing them for the winter months. I'm also starting to cultivate my own dye plants, but it takes up to 3 years before you can harvest them.
The second aspect is that everything I make is handmade, it's a very tactile experience and also very satisfying to see something take shape from a thought to a finished product, using plant-based materials, your hands and some basic equipment. I was always drawn to making things myself if I can rather than buying ready-made things, but this process took it even further. And I also like to reuse old bits of clothes to make new things from them. I actually have a little project in mind, to make a vintage style handbag from an old skirt which has some sentimental value for me, and in this way, it will live longer and have a different use, and not end up in the landfill. Ultimately, I believe that clothes made in this slow way, with their unique colours and styles, are more likely to be treasured and worn for longer and not discarded as readily as things bought from the high street brands.
To acquire one of Gabriella's timeless pieces, please head to her Leaf Alkemy website here.
She ships worldwide (free within the UK).