Terral Fox never intended to sell sandals. He was just looking for his own perfect pair of sandals, and so started to make his own. But when his wife suggested he try selling them on Etsy, he decided to give it a shot. And low and behold, 2020 marks their tenth year in business! How inspiring!
They are focused mainly on quality minimal sports sandals, but also have some closed-toe styles, one of which I review here – the forager black. They handmake their shoes themselves in small batches in Utah. Unshoes kindly offered me these shoes in exchange for a review. However, the opinions in this review are my own.
Unshoes Description:
Like our original sandal design, the Unshoes Forager is based on ancient footwear with contemporary design elements. This moccasin inspired shoe is designed as a highly versatile shoe that can perform in a wide variety of situations. It features a 4mm rubber sole with our star-design tread and an, approximately, 8mm total stack height. It is made of suede and is very flexible and molds to the unique shape of each foot. These shoes are extremely soft, supple, and lightweight which make them some of the most comfortable and minimal shoes out there!

As always, our shoes are flexible, zero-drop, and have a foot-shaped toe box, and made in the USA. The leather has a short break-in period, so it is ok if they are a little snug when you first put them on. Leather is an extremely flexible and pliable material and will relax and stretch some with wear.
Unboxing:
I was very excited to receive these for two reasons:
They are my first moccasin style shoe.
They are the first transatlantic barefoot shoes I have tried and reviewed!
On unboxing, I liked the smooth black suede appearance and wide toebox, and I noticed the removable cushy insole to reveal a suede midsole.
Specs:
Model: Forager
Colour: Black with black stitching
Choices: Three colours: black suede with black or grey stitching, grey suede or brown oil-tanned leather
Materials: Suede leather, rubber sole, suede midsole and foam insole
Sizes: 33-45 in equivalent European Sizes
Stack height: 8mm
Weight: 175g per shoe (on size 8.5 US)
Tested on: Bare Soled Girl, EU size 39, slim leg and ankle, low instep, medium to wide toe box, Egyptian toe-box shape
Barefoot Brief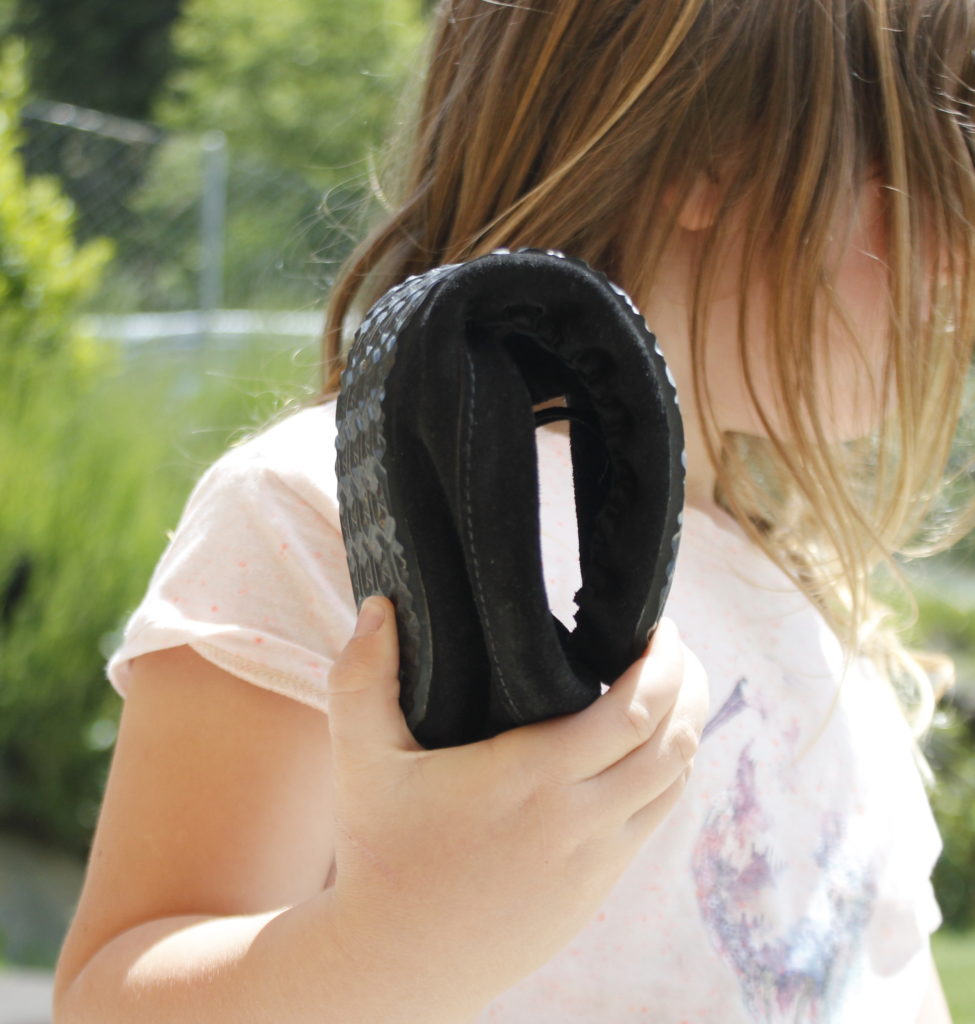 Zero Drop: Do they have a totally flat sole? YES. There is absolutely no heel whatsoever.
Toebox Space: Do they have plenty of space for toes to wriggle? YES. They can even be worn with toe spacers, and are endorsed by Correct Toes company!
Stack height: Is the distance from foot to ground small?YES. It can be if the insole is removed. There is a total stack height of 8mm with the included insole, however, this can be removed to reduce the distance from foot to ground to just 4mm.
Arch/Cushioning Test: Are they free from supports/cushioning? YES. Again they can be if the insole is removed. The included insole is fairly cushioned and 4mm in width.
Ground Feel: Is there a decent ground feel?YES. With just 1mm of suede and 3mm outsole between you and the ground, I would say yes. With the included insole, not so much.
Lightweight: Are they lightweight?YES. They are lightweight at 175g per shoe.
Materials:
The uppers are black suede, with moccasin-style stitching all along the toe area, which seems strong and finished well. There are two different colour choices for this stitching – black or grey. The elastic lacing goes around the whole circumference of the ankle and is tightened by a sliding buckle at the instep. I played with moving the buckle to one side, but I think it looks best in the centre. I also played with taking the buckle off and simply tying the lace, but I think the buckle highlights the lacing better. There is also the option of flipping down the tongue if wished. So a little bit of customization here.
There is a removable foam insole which is cushy and soft, providing lots of comfort. Personally, I am undecided on this insole. I enjoy the bouncy softness under my feet (it reminds me of the old days of Sketchers trainers, but without the arch supports and cramped toe box!), however, I don't like that it is synthetic in an otherwise natural material shoe. If you prefer more ground feel, taking out the insole reveals the suede midsole, which is also comfortable, but not cushioned.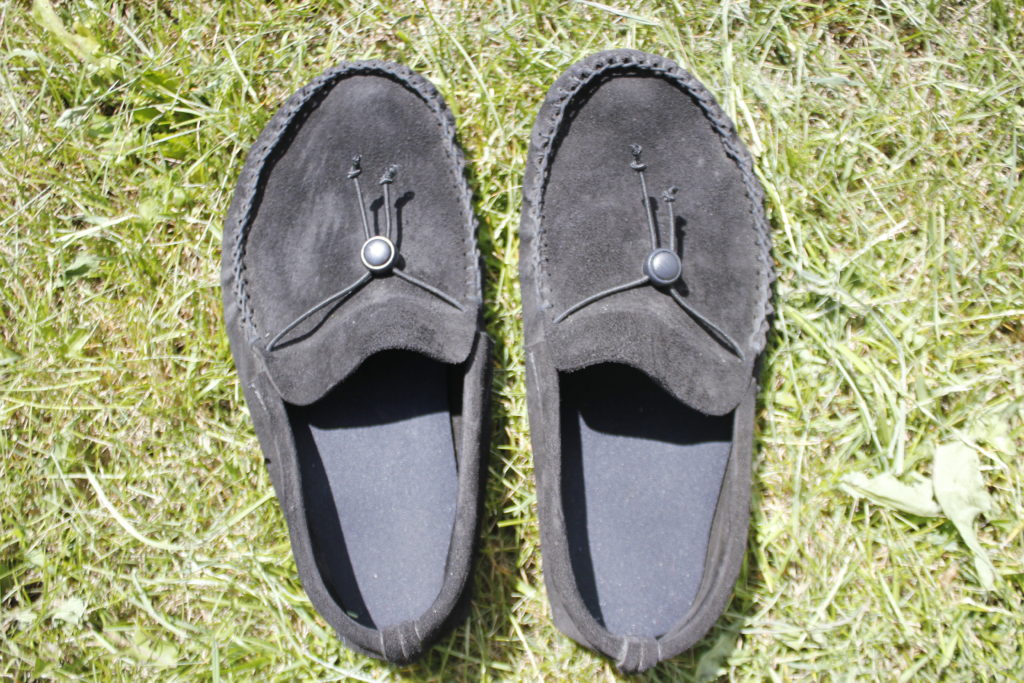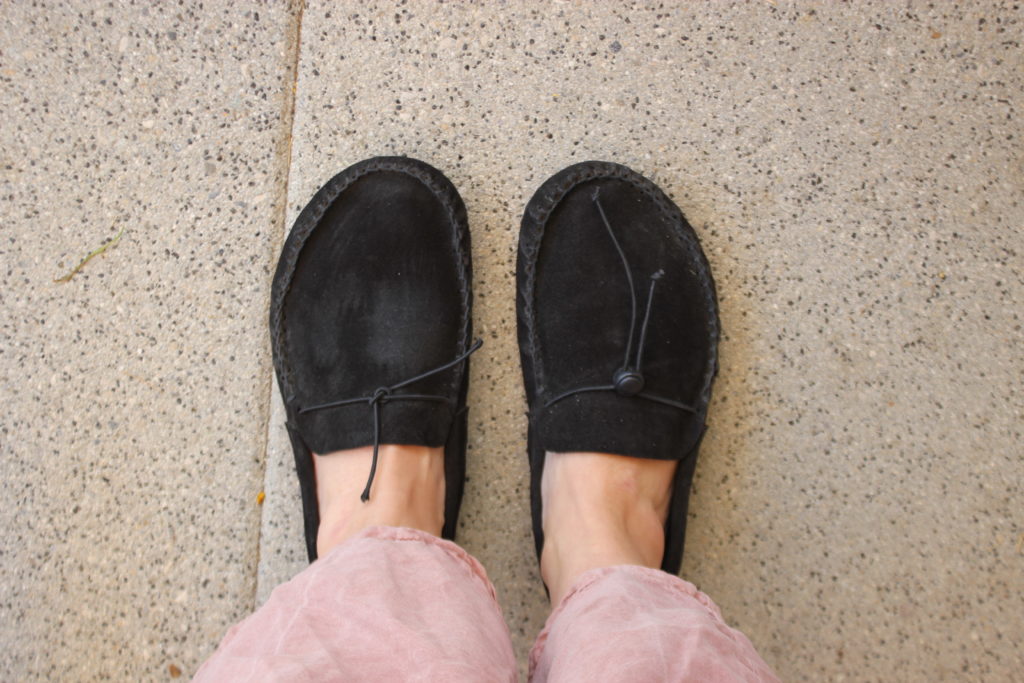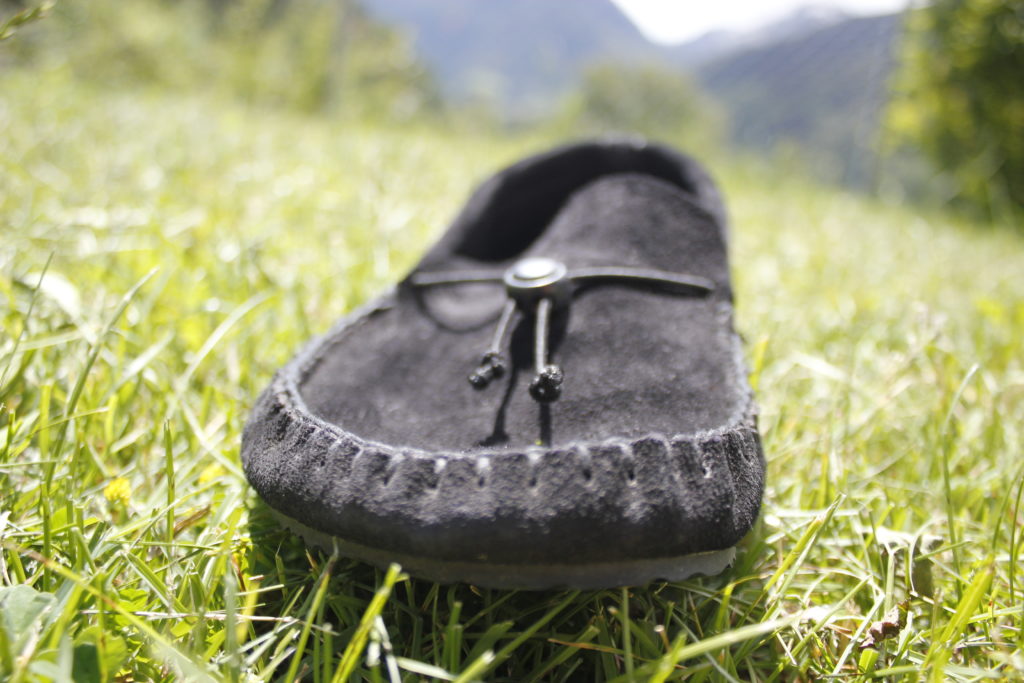 Sole:
The Forager uses the same sole options as most of Unshoes' sandals which has a 'star' pattern. The rubber looks and feels like a vibram type of sole, and offers decent grip and durability. It is quite versatile in that it is smooth enough for asphalt, but grippy enough for a walk in the woods. It is also relatively thin at 4mm.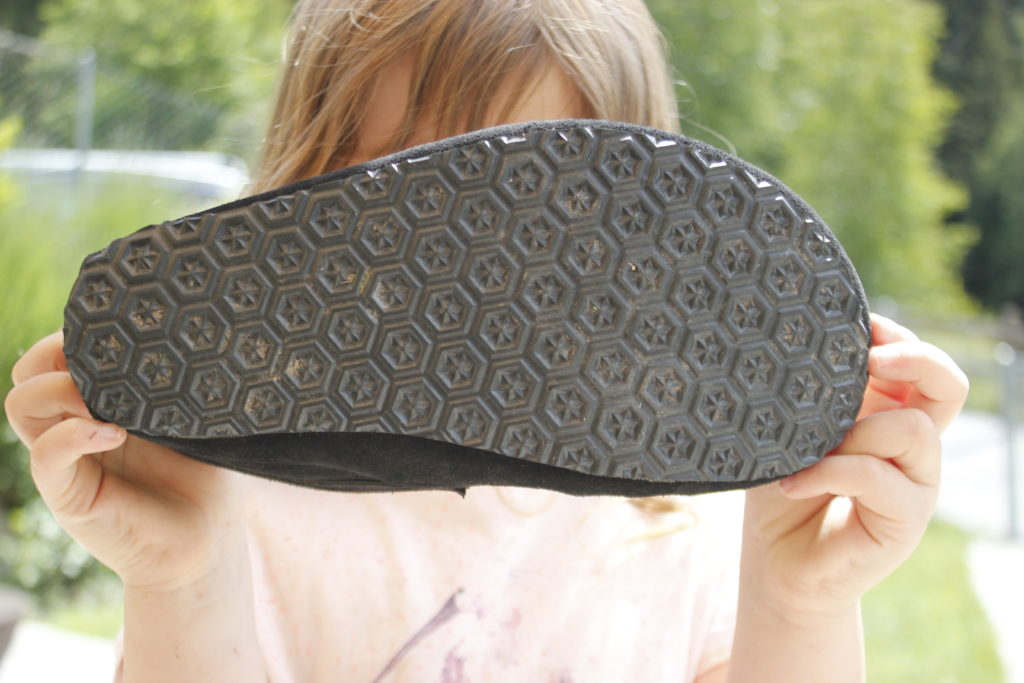 Sizing:
Sizing was simple enough, with a chart detailing the various sizes, but in U.S. sizes. The sizing chart refers to your foot length, rather than the inside length of the shoe, so no need to add any length on top. My feet are 24.3cm so I went for a women's 8.5 (24.6cm foot length), which was perfect. I feel the smaller option of women's 8 (24.1 cm) may have been a little less spacious, however, I am aware that suede stretches, so for those of you that like a more snug fit, you could possibly round down rather than up as I did. They will work well for low volume feet as the elastic fastener goes across the instep. A higher volume foot can release the fastener to get the desired space.
They fit my Egyptian type foot well, as they have a more rounded toe box, however, more square foot types such as the roman foot type may find them a little too rounded for smaller toes. On the contrary, the fact that they have a spacious toe box may in fact allow them to accommodate all foot types, this is something you will have to see for yourself.
Sustainability
Handmade in the U.S.
Family Business
Sustainable Practices in production
Use reclaimed products where possible, such as the labels on the Terra Vida
Vegan Sandal Options
Manufacture in small batches so minimal waste
Minimal packaging
Style
I would class these as a cross between a mocassin, loafer and a boat shoe. They are great for casual wear, jeans, leggings and floaty dresses. I will class them as a four-season shoe, but with a few caveats. I think the foam insole may be a little sweaty in the height of summer, and they may be a little chilly on cold winter mornings. Most people are also aware that suede doesn't work so well in the rain because the surface of suede is hydrophilic and will attract moisture into the leather. So I will treat them with a waterproofing spray, but also ultimately avoid wearing them on rainy days.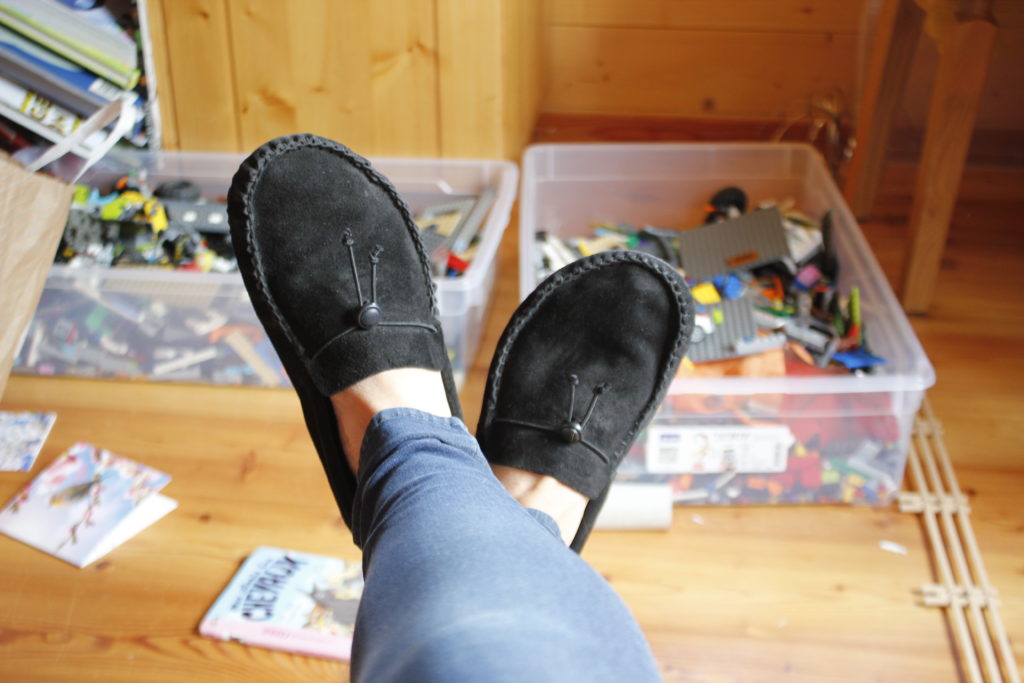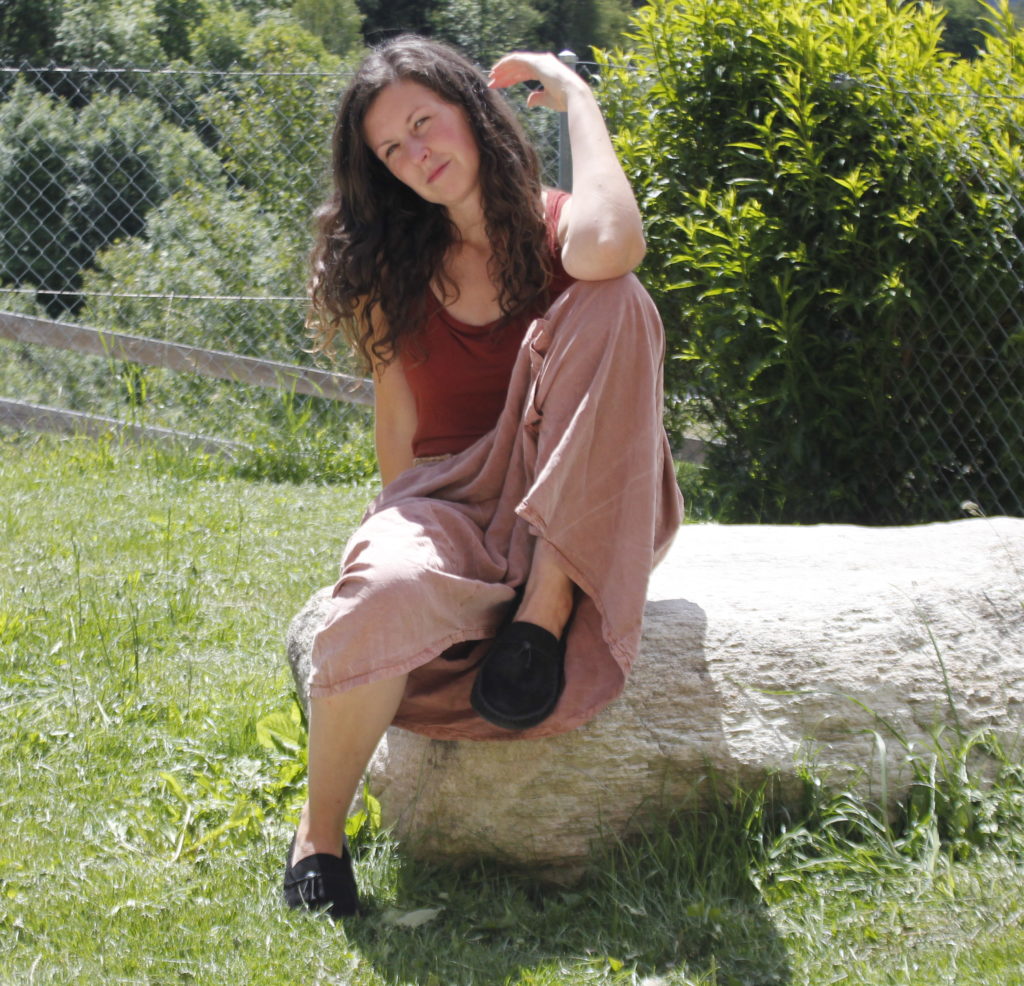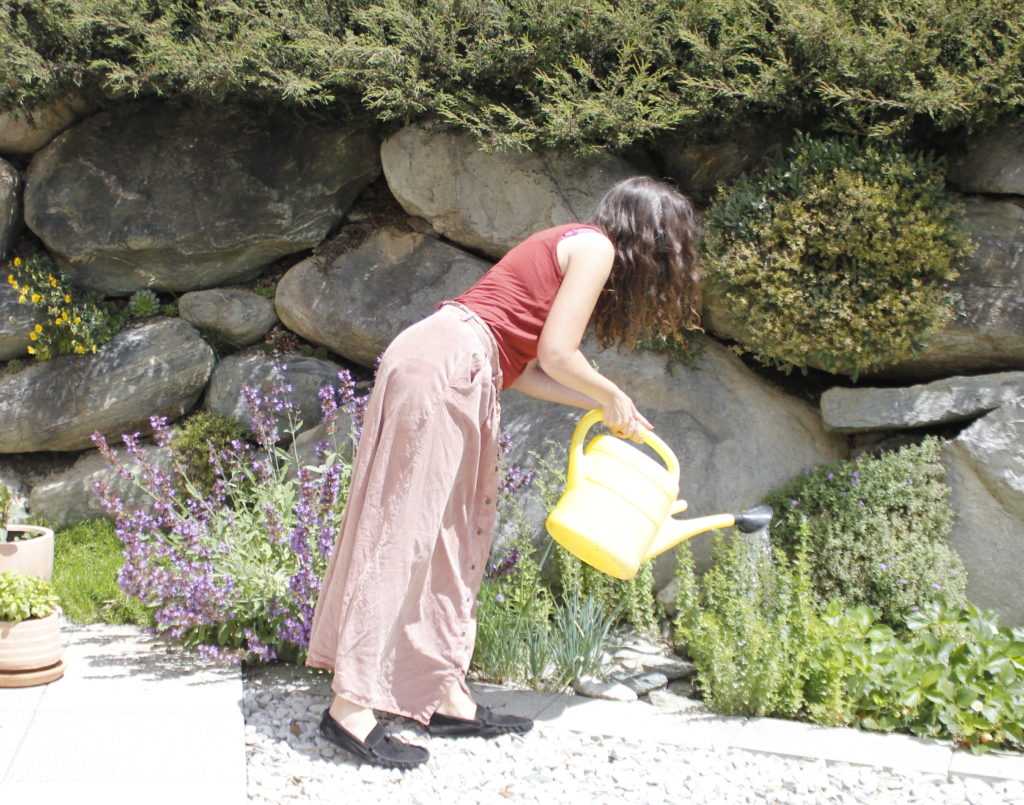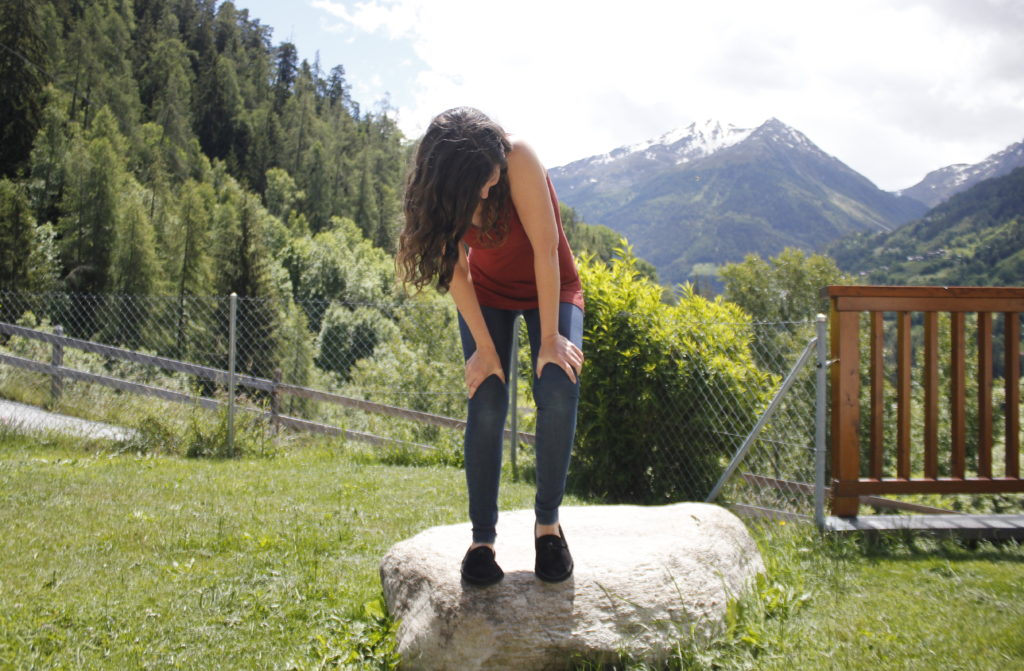 Comfort
Comfortable is probably the one word I would use to summarise the Foragers. They are the house shoes I didn't think I needed, perfect for running errands, meeting friends for a coffee, or even a light hike. They are easy and quick to put on and take off. They have a wonderfully wide toe box, so for anyone looking for a shoe that accommodates toe spacers, this may be it. If you have narrow feet, this might be a bit too wide for you. I have low volume feet, but the lacing system allows me to get a good fit at the instep area. I did find the heel rim (where the lacing passes through) very uncomfortable at the beginning, but three things helped:
I loosened the lacing as I had it much too tight.
I walked around in them for a few days to loosen up the suede.
I massaged the suede in this area to soften it up.
They are perfectly comfortable now and the 'breaking in' process didn't take more than a few days in reality.
Conclusion
I like various shoes for various reasons. When I want comfort, I reach for these. When it is a fresh day outside (too cool for sandals, too warm for boots), I reach for these. When I am leaving the house in a hurry, I reach for these! I would be lying if I said they are the most stylish shoes I own, but they are certainly a casual comfortable style that I appreciate owning and wearing none the less.
Buy Here for $86 plus shipping.