A sunny sneaker to cheer up any outfit.
How should I introduce Muki?
I could tell you about how two mammies on a family outing decided that they would love to create their own barefoot shoe brand. I could tell you about their highly ethical and sustainable production and business practices. I could tell you about the amazing choice of fabrics they use. Or I could just tell you about their aesthetically beautiful barefoot friendly shoes and let you listen to my interview with them here to learn more! Yes, let's focus on the shoes. So without further ado, I present to you the Sol sneaker.
Muki (Instagram & Website) Description:
Spring is here – the new Mukishoes collection is now live on our website.
Creating the new models took us on a long, yet rewarding journey that saw us exploring completely new and unexpected ideas as well as concepts we had longed to experiment with since the beginning.
Today you can finally meet our new creations: Sol, Ramus, Aqua and Storm
All of these vegan models feature our new cork tag and are made of either organic, recycled or upcycled cotton. You may also find a unique, hand-drawn print inside of some of your new Mukishoes – be sure to look out for it! Each shoe is handcrafted with natural materials and ecologically dyed, slight differences in colours and finishing are possible.
Unboxing: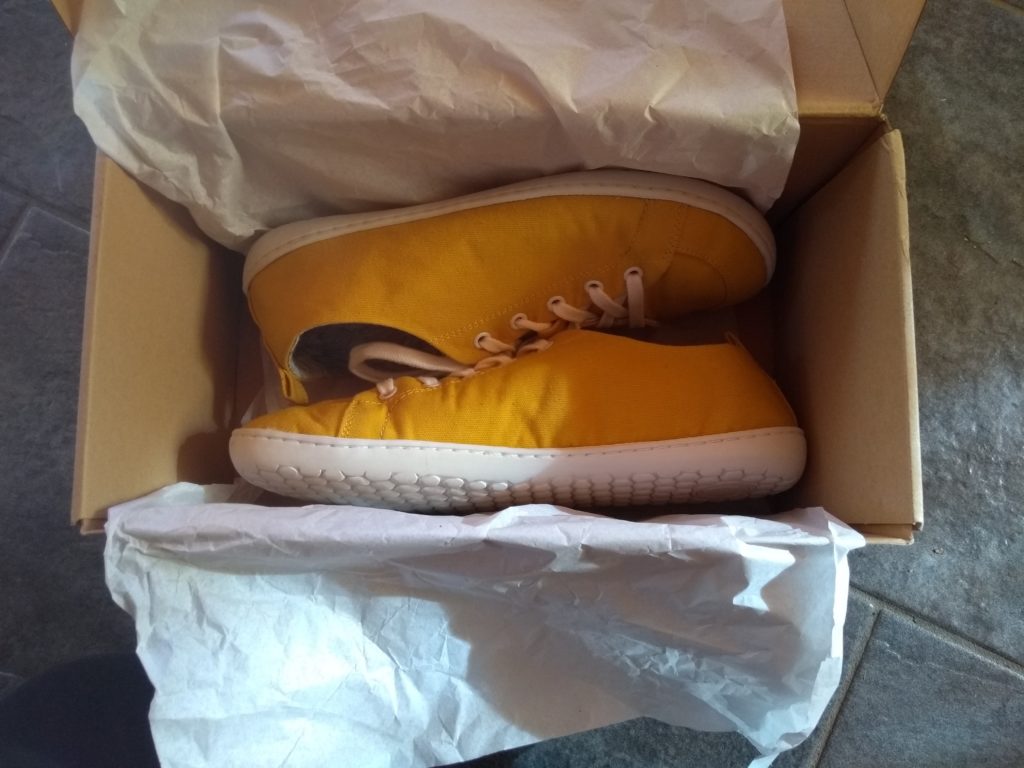 As some of you know I had the opportunity to visit Muki headquarters in Porto a few months back. I have to be honest and say I was drooling over all the styles but was absolutely chuffed when Madlen offered me these for review. (check out the short video I took at Muki HQ, when Madlen introduced her new styles for Spring.
I had visions in my mind of how utterly cool they were going to look with my skinny jeans and also with dresses. I have struggled to find a barefoot sneaker that looks delicate enough to pair with a flowery summery dress, but these crayon box yellow sneakers were going to provide the sun the flowers needed! The first thing I did was to send a photo of them to three conventional footwear wearers, aka, my sisters and I got three thumbs up, so a good start!https://www.youtube-nocookie.com/embed/t_ek0Ra28og?rel=0&autoplay=0&showinfo=0
Specs:
Model: Sol
Colour: Sunlight Yellow
Materials: Upper: organic cotton
Inner lining: original printed organic cotton
Laces: cotton
Sole: recycled and synthetic rubber
Sizes: 36-46
Stack height: 4mm
Tested on: Bare Soled Girl, EU size 39, slim leg and ankle, low instep, medium to wide toe box, Egyptian toe-box shape
Weight: 165g per shoe (size 39)
Barefoot Brief
Flexibility: Can I do a one-handed roll and twist with this shoe? YES. They pass the test with flying colours.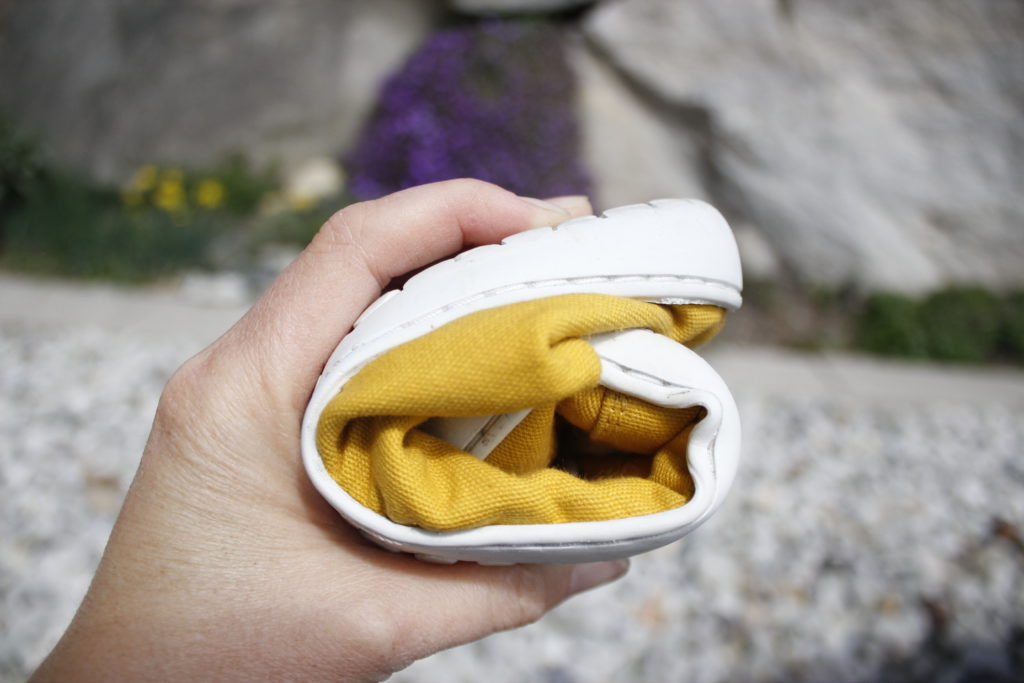 Zero Drop: Do they have a totally flat sole? YES. There is absolutely no heel in this sneaker.
Toebox Space: Do they have plenty of space for toes to wriggle? YES. The caveat here is my foot is medium-wide, therefore they may not suit very wide feet.
Stack height: Is the distance from foot to ground small? YES. There is 4mm between my feet and the ground which I would consider excellent for a barefoot shoe.
Arch/Cushioning Test: Are they free from supports/cushioning? YES. They have no supports or cushioning at the insole of any kind.
Ground Feel: Is there a decent ground feel? YES. Since there is not much between you and the ground, there is a great ground feel in this sneaker.
Lightweight: Are they lightweight? YES, they are very lightweight at 165g per shoe (on a size 39)
Materials:
Sol's uppers are made from a deep yellow coloured organic cotton, grown in Tunisia, and woven in the North of Portugal. The vibrant colour is also GOTS certified, so free from any harmful residues. And here's a little tidbit – their cotton is woven on old looms from the beginning of the 20th century. Modern looms usually do not weave with so many strings, so it is tightly woven yet breathable. The inner lining features an original and stunning hand-drawn design by one of the founders (Marta) on organic cotton. Laces are also cotton, and finally, the sole is made from recycled rubber.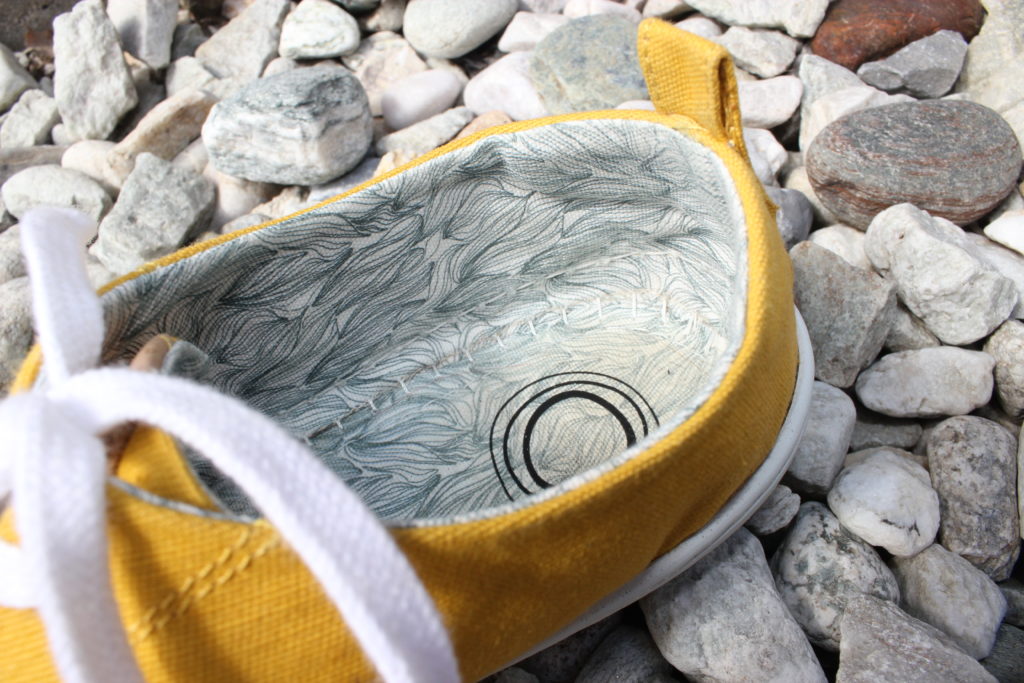 Sole: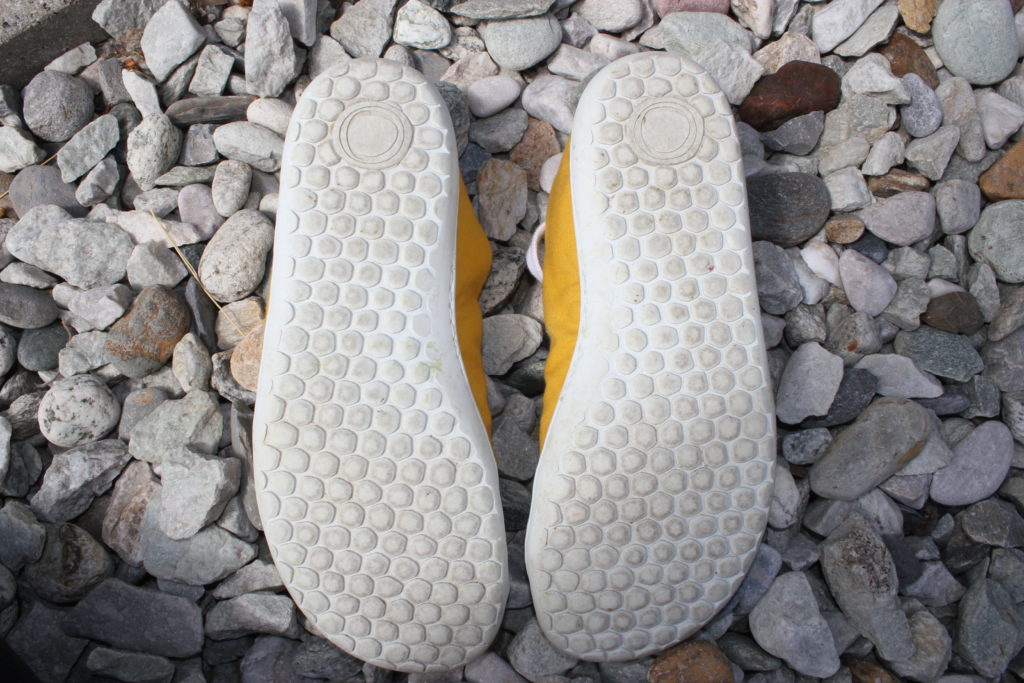 All Muki soles are made in Portugal. It is a combination of 70% recycled rubber, and 30% synthetic rubber. It is thin, light and flexible. I would say it is a harder sole than say that of Groundies, in the sense that there's not much give when I dig my nail in. It has a distinct hexagonal pattern with a mini logo towards the heel, a nice touch. Lastly, its thickness is only 3.5 mm.
Sizing:
Sizing is pretty straight forward with Muki with two methods for picking your size. The first is a size chart (see below) that lists insole length (that being the size of the insole, not the final size of the shoe). They recommend adding 0.5cm to 1.5cm to your measurement in order to find your actual shoe size. My feet are 24.3cm in length, so by rights, I could've gone for EU 40, but I went for an EU 39, and they are perfect, although I will note that I haven't been wearing them with socks. The second method is convenient if you don't have a measuring tape or ruler to hand, it is a fit kit pdf that you can print and place your foot on to give direct sizing information.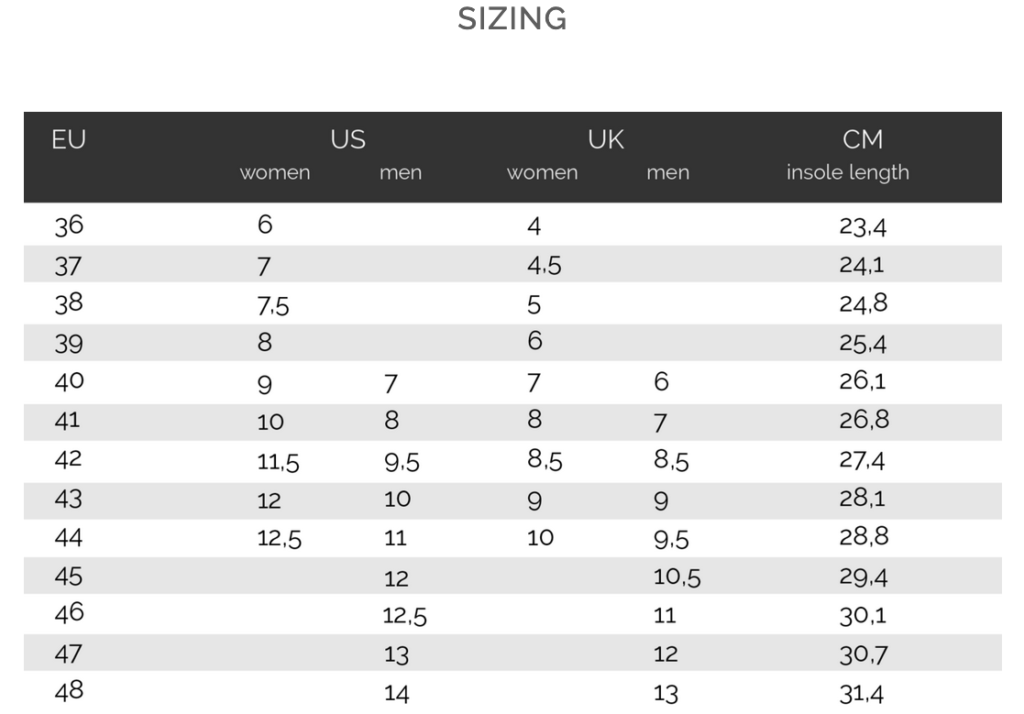 I have a low instep but these work fine with a bit of lace tightening. They are definitely not the widest shoe I have tried but accommodate my medium-wide feet perfectly. They are a little rounder at the toe box than some other brands, which I feel is good for Roman feet and Egyptian feet (like mine). Just as an aside, there a whole host of toe-box shapes. Figuring out yours might keep you busy for a few minutes!!

Sustainability
Made entirely in the EU
Locally dyed fabrics with GOTS certified pigments.
Factory less than an hour from HQ
Vegan Options
It is essential to them that their shoes are resistant, versatile and long-lasting
Sustainable Fabrics:
🌼 Hemp: They use hemp which has been woven by a small family mill in Transylvania, Romania.
🌼 Organic Cotton: woven in Northern Portuga
l🌼 Burel: felted wool from the Portuguese mountains of Serra da Estrela, where the sheep are pastured freely
🌼 Leather: vegetable-tanned leather, REACH certified with no harmful toxins for humans nor the environment
🌼 Cork: Portugal is the biggest cork producer worldwide. In contrary to what many people think, extracting cork doesn't involve cutting down any trees. The cork is the bark of the tree which can be taken off every ten years. So it is a completely renewable material with great properties and can be a great vegan alternative to leather.
🌼 Linen: from Germany
🌼 Upcycled Cotton: A name Muki gave to the fabric used in the models Aqua and Storm, which is sourced from the textile industry's leftover materials. Big brands frequently order more than necessary and rolls with more than 3 flaws are ditched! To give them a new life, they upcycle these beautiful and high-quality fabrics. However, due to their relative scarcity, the quantities of these models are limited.
Style
I would class these as casual sneakers. They are incredibly versatile, I think mainly owing to their fabulous colour. You can jazz up a very simple outfit of white trousers and a black t-shirt with them. Even a simple black pair of leggings and a top becomes trendy and stylish with these little sunshine shoes!
I have so far worn with them with skinny jeans, bootcut jeans, leggings, dresses, and even my white culottes!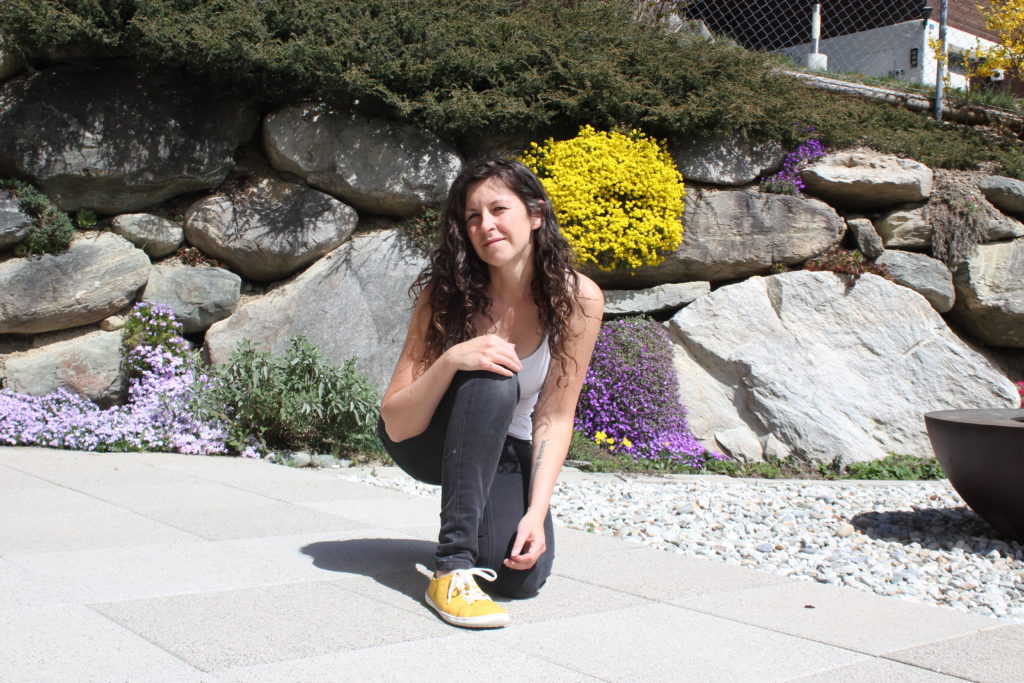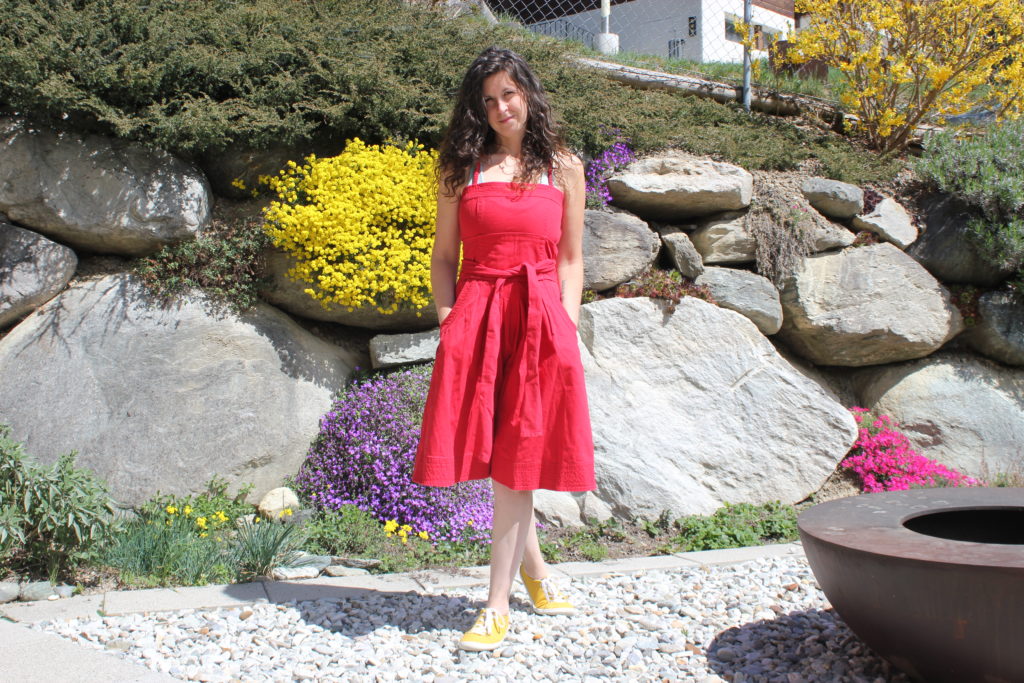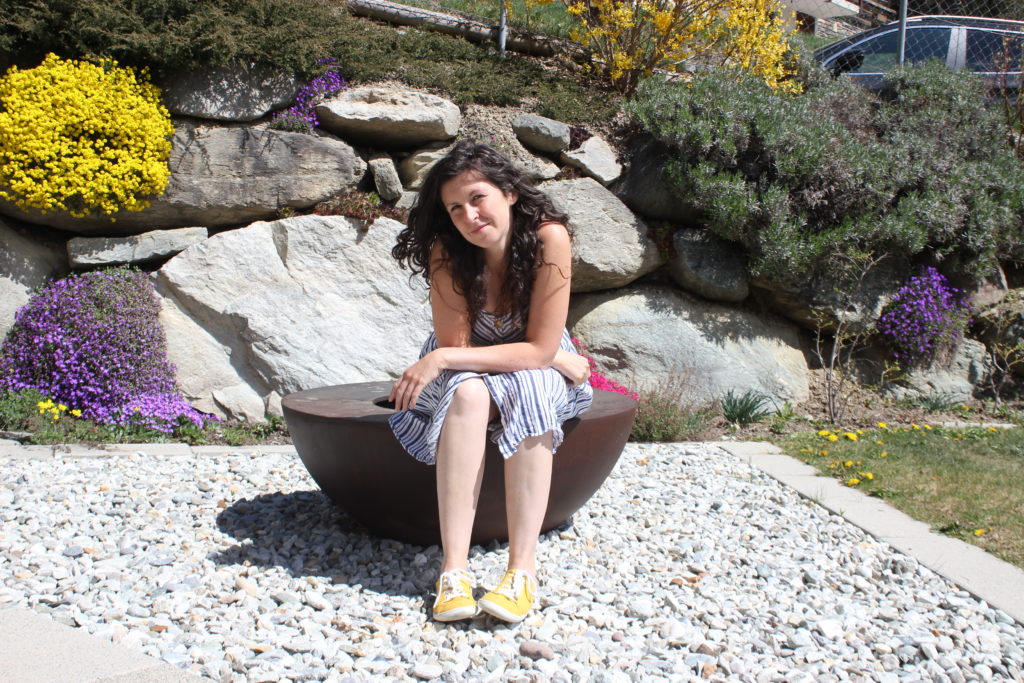 Comfort
My Sols are comfortable, even more so now that the pull tab at the back has 'broken in'. Where the tab met the shoe was a little stiff at the beginning but after a couple of wears, they are perfect now. Madlen told me that sometimes it just takes a little kneading or to wear socks the first few times to soften that area. The low down lacing system means they hug the foot beautifully, so they feel very secure (but not tight!) to my feet.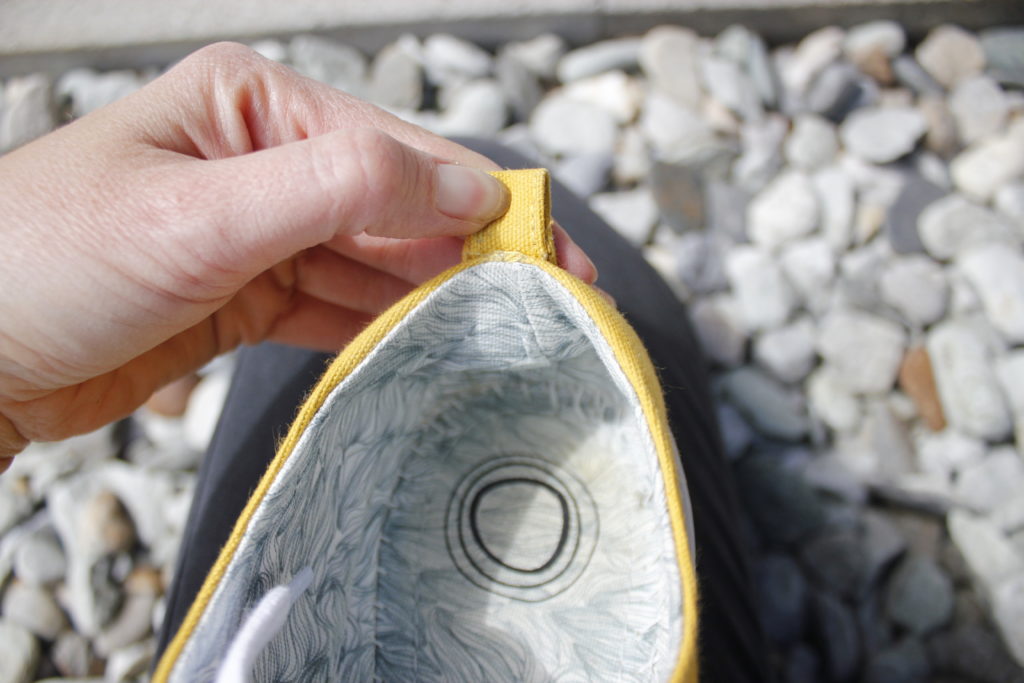 Conclusion
I love my little 'sunshine shoes' as I call them. They cheer up any outfit. They cheer me up just looking down at them. My little girl is very envious of them and all I ask of Muki is that they bring out the kids sizes soon, so my daughter and I can be the sunshine girls!!! I highly recommend any shoe from such lovely people as the Muki duo, who genuinely care about people's movement ability ….and the planet, instead of just their own pockets.
The Sol sneaker, a great style from a great brand.
Buy Here for €95 with a flat rate of €9.50 shipping within Europe (delivery between 5-8 business days) plus 14-day return.