Beda Barefoot is a 'produce on demand' shoe company from the Czech Republic. Once an order is placed, the shoes are placed in production with a manufacturing time of 5-10 days. I find this a really neat and sustainable idea, as I imagine brands must have stacks of unsold shoes in their warehouses. I was delighted when they offered me a pair of Daniel boots to review, however as always, the views expressed are my own.
Video Summary
Website Description
Translated from Czech: All-leather winter boots, membrane for higher durability and fur for maximum warmth extra light shoes, completely flexible ideal toe shape, optimal even for wide legs tightening to 2 straps with velcro, provided with reflective elements for visibility in the dark, sitting on average legs, model slightly narrowed in the middle part (instep, ankle), on high insteps and very chubby legs and heel, we recommend models 0001 to 3 Velcro softer in the heel (only slightly reinforced, not reinforced or with a heel) removable insert, without anatomical shaping.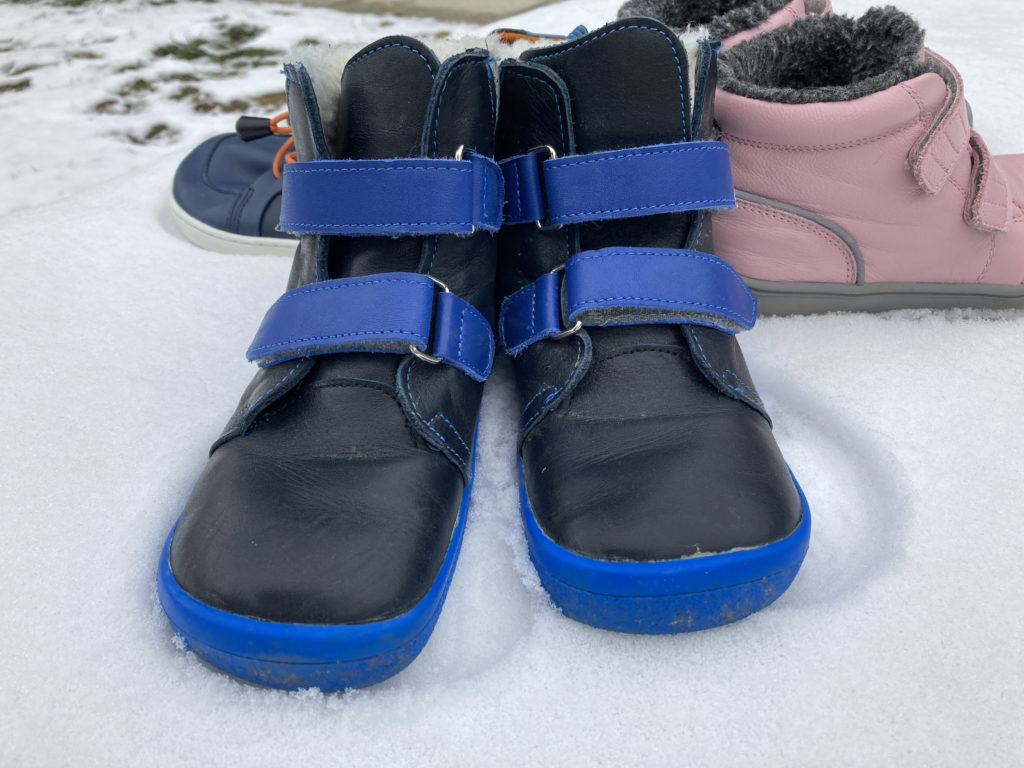 Unboxing
Do I give my first impressions or my sons? Or both!!!
We had a big snow that week and I was happy to see such a cosy-looking pair of boots arrive for him, as he was living in his Bundgaard plush-lined wellies every day! Ben loved their appearance and liked how straight forward they were to put on/take off. He isn't a fan of laces.
Specs
Model: Daniel
Colour: Navy with blue soles
Materials: Upper: Leather
Inner lining: Synthetic Fur
Sole: Thermoplastic Rubber
Fastener: Velcro
Sizes: 27-35
Stack height: 5mm sole + 1.5mm insole = 6.5mm total distance ground to foot
Toe-Box Shape: Greek (will work well for kids whose 2nd/3rd toe is longest)
Tested on: Ben, currently measuring 18.5cm, slim leg, and ankle, low instep, medium to wide toe box, Egyptian toe-box shape (his toes slope downwards from big toe to baby toe)
Weight: 175g per boot
Barefoot Brief
Flexibility: Can I do a one-handed roll and twist with this shoe? YES. These are incredibly flexible.
Zero Drop: Do they have a totally flat sole? YES. There is absolutely no heel whatsoever. And the insole only adds 1.5mm to the stack height so 6mm between your feet and the ground.
Toebox Space: Do they have plenty of space for toes to wriggle? YES. There is ample space for toes, even for kids whose 2nd/3rd toes are longer. For Ben with a sloping toe-box, they are also perfect.
Stack height: Is the distance from foot to ground small? YES. Stack height is just 6.5mm, consisting of a 5mm outsole and 1.5mm insole.
Arch/Cushioning Test: Are they free from supports/cushioning? YES. There is no cushioning of any kind in these shoes of any kind. They are extremely flat.
Ground Feel: Is there a decent ground feel? YES. There is abundant ground feel in these since they are so flexible and flat with 'give' in the soles.
Lightweight: Are they lightweight? YES. They are lightweight at 175g per boot.
Materials
Uppers are soft supple navy leather with velcro fastening. The lining is a warm synthetic plush with a removable plush insole. So far his feet don't seem to be sweating in the synthetic lining – no odors, no dampness, so that's a good sign. There is an innovative reflective strip around the ankle of the boot, should your child be out and about in the evening. The tongue isn't gusseted, so complete water resistance cannot be assured, however after using a waterproofing spray, Ben has splashed in puddles and walked through slushy snow without any dampness. The tongue does miss the little attachment strap to the velcro to hold it in place (see below comparison with Belenka at the tongue). I did worry that the tongue would move around a lot, but once Ben has the velcro snug on his foot there hasn't been any problems so far.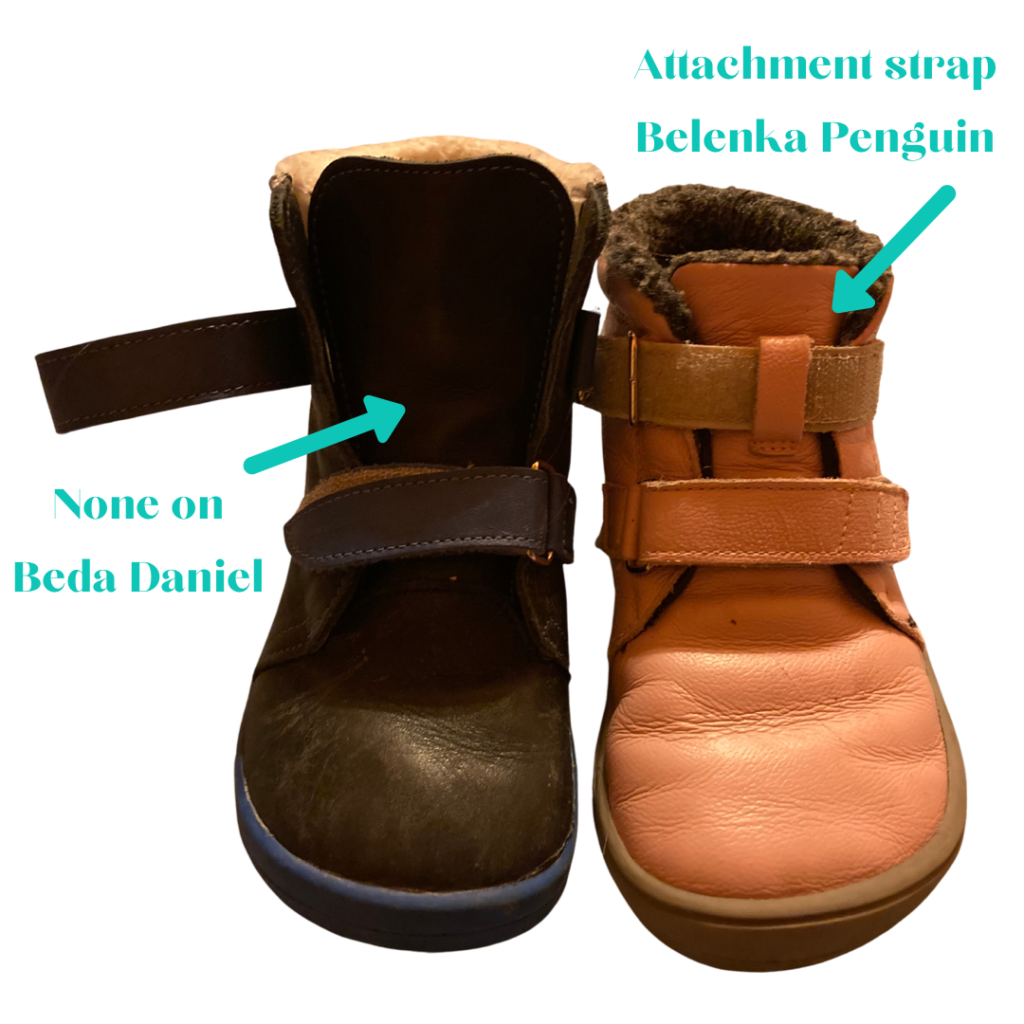 Sole
The grippy blue rubber sole is 'walled' around the boot and is highest at the heel, offering increased protection from scuffing at this point. It is not particularly indented with lugs however does offer excellent grip in rain and snow. It is at the same time completely flexible, with a height of only 5mm. It is made from thermoplastic rubber. I became curious: what exactly is this?
So thermoplastic rubber or TPR as it's called has "characteristics of both rubber and plastic. This form of synthetic rubber can melt into a liquid when heated and, much like water, it becomes a solid when cooled. TPR soles are useful for handling slips on surfaces that are slippery and slick. TPR soles are also typically utilized on shoes that have the purpose of taking part in outdoor activities. They are suited for the production of waterproof TPR shoes. TPR also has a rather rough texture in comparison to the common rubber sole yet it remains lightweight." This information can be found here.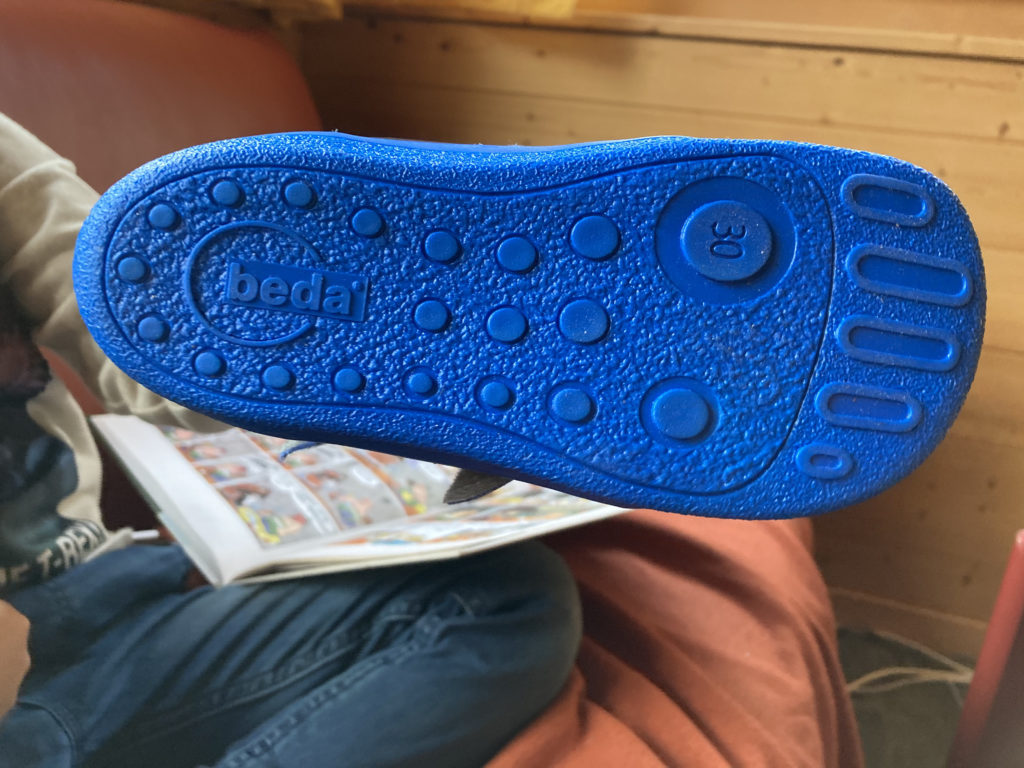 Sizing
We went for a size 30 as his feet measure 18.5cm. The length of size 30 is 19.2 cm so these gave Ben 7mm, not a huge amount. In hindsight, I think a 31 would have been better with thick socks in terms of life span for Ben's feet. The table below shows the maximum length and width that your child should have to fit into that particular size. Ben has a low-volume foot but these will definitely cater for a higher volume foot also due to the large adjustable velcro strap. In saying all this, he wears them without the added plush insole as with it, he says his feet definitely have less room, so you might want to take this into account if you're going to leave them in. Ben has a medium-wide toe-box, but you might also want to size up for super wide feet.

Sustainability
Using EU suppliers only
Shoes made in Czech Republic
Style
Ben is an 8-year-old active child who lives in trackies or jeans with stretch. These don't appear too bulky looking on his slim legs and feet, are lightweight and he calls them 'cool'! What more do I say!!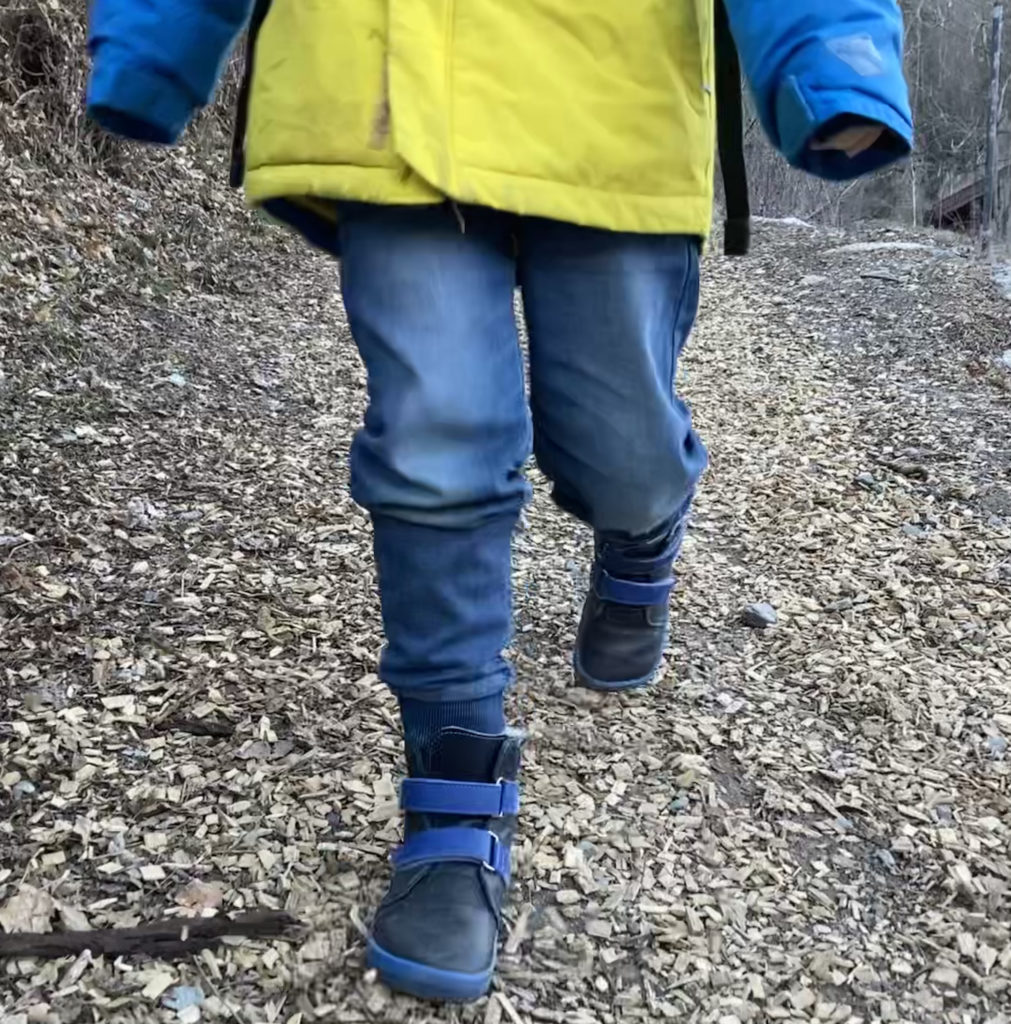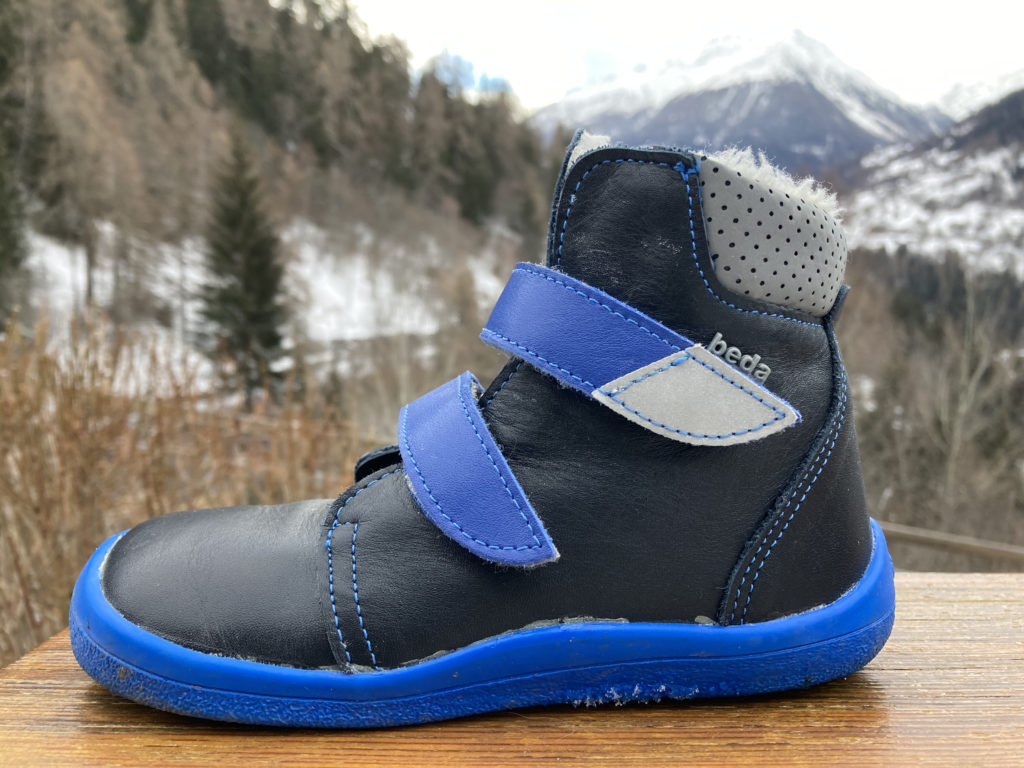 Comfort
Ben reaches for these a lot, and loves how cozy they are, even without the insole. They keep his feet toasty in the schoolyard, and are quick and easy off and off. And as I said above, his feet seem to be able to breathe even though the plush is synthetic.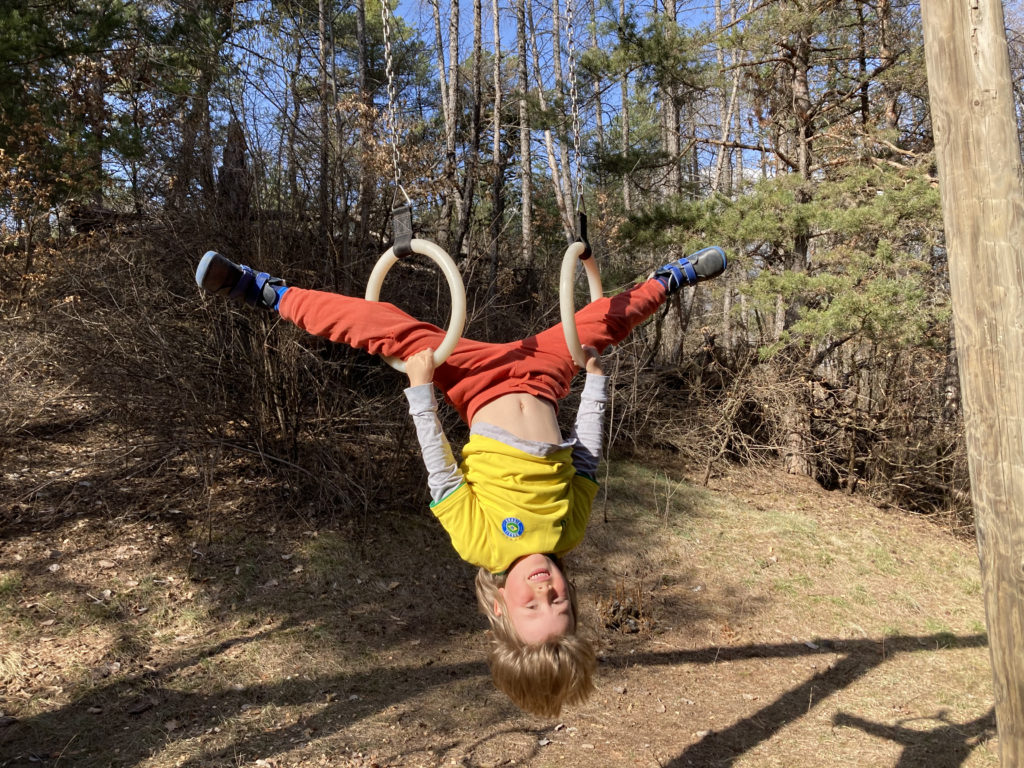 Conclusion
I am impressed with Beda Barefoot. They remind me of the Belenka winter Penguin boot for kids. They are decently priced and well-made. I look forward to seeing their Spring/Summer styles. They sell through various resellers and recommend my readers to order from here for €60.35 plus shipping.