North Yorkshire (UK) based shoe designers Freet are synonymous with high-quality shoes with ultimate barefoot characteristics. They are a small company with admirable business practices. I was delighted when they agreed to send me a pair of hiking shoes to review. In saying that, the views expressed are my own.
Video Summary
Website Description:
A rugged outdoor leather shoe with waterproof lining, suitable for town and country, whatever the weather.
Elgon has a good level of water resistance from the treated leather and waterproof, breathable lining. The tongue is sewn-in to ensure good water resistance throughout this area. A lovely soft leather lining around the collar completes a beautiful premium outdoor shoe.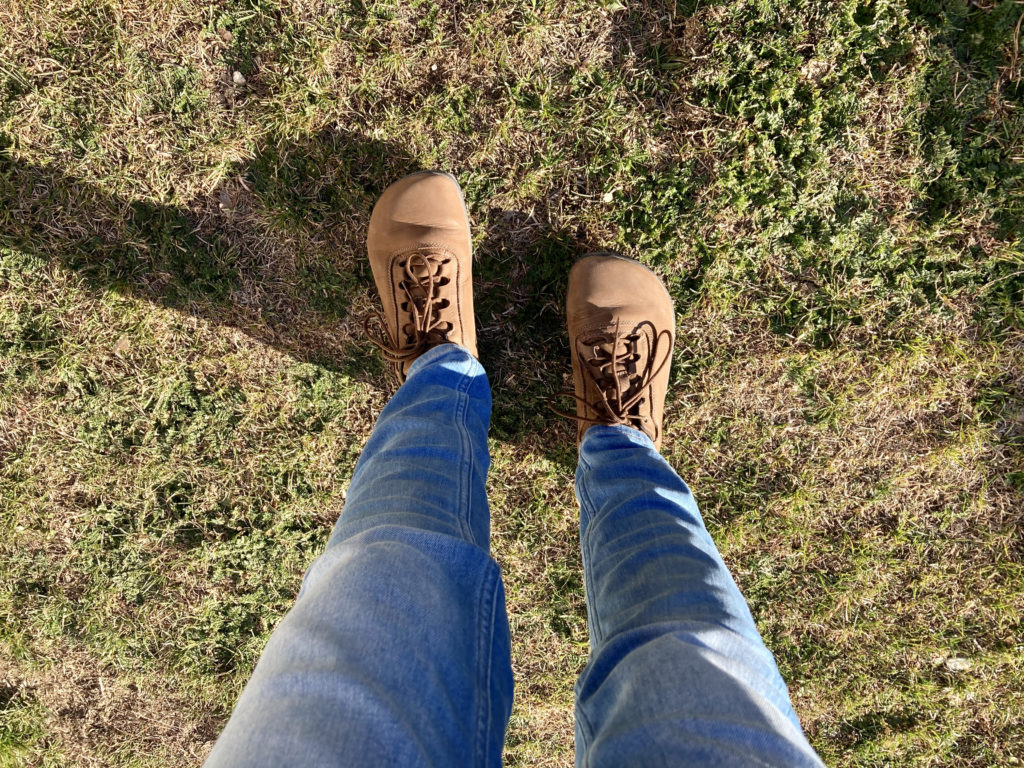 Unboxing:
The first impressions were of the quality full-grain leather, and the craftsmanship of the shoe. I will say that I initially found the style a little masculine, however I think it depends what they are worn with.
Specs:
Model: Elgon
Colour: Tan Brown
Choices: 2 colours, tan brown and black
Materials:
Uppers: Full-grain leather
Inner lining: Canvas
Lacing: Cotton
Sole: Multigrip
Sizes: 37-48
Stack height: 7mm with Ortholite insole; 4mm without insole
Toe-Box Shape: Sloping from the big toe
Tested on: Bare Soled Girl, EU size 39, slim leg and ankle, low instep, medium to wide toe box, sloping toe-box shape
Weight: 235g per shoe (size 40)
Barefoot Brief
Do they have a totally flat sole? YES. Completely flat. Even though the rubber soles wrap a little higher at the middle and back end of the shoe, this has no bearing on the actual height from heel to the toebox.

Do they have plenty of space for toes to wriggle?
YES. They have toebox space in abundance.


Flexibility: Can I do a one-handed roll and twist with this shoe?
YES. They pass the test with flying colours.

Is the distance from foot to ground small with a decent ground feel?
YES. There is 7mm between my feet and the ground which I would consider great for a barefoot shoe. This style strikes a good balance between durability and ground feel. Whilst you won't notice every pebble underfoot in this shoe, as you might with a thinner, less hardwearing sole, you'll still feel a fair amount.

Are they free from supports/cushioning?
YES. They have no supports or cushioning at the insole of any kind.

Are they lightweight?
YES, they are pretty lightweight for an autumn/winter/spring shoe at 235g per shoe (on a size 39).
Materials
Uppers are full-grain leather.
I had to research this type of leather and was pleasantly surprised. Full-grain leather refers to the full, unadulterated hide in its natural form. Whereas, top-grain leather goes through a process of alteration to sand away any impurities and imperfections that may be visible on the top layer of the cowhide. It has been lightly sanded, buffed and waterproofed to create a slightly suede appearance and a very pleasant feeling shoe. The tongue is gusseted (sewn in), adding to its waterproofing abilities.
The lining is a waterproof breathable membrane. The removable insole is an ortholite 2.5/3mm added to increase shock absorption if needed. Hand clean this premium full-grain leather with a little lukewarm water and a cloth. Air dry. It states to treat with a 'nubuck' conditioner/waterproofer spray or cream suitable for good leather uppers/liners.
Sole
The sole is a multi-grip all-round performance outsole for light trail and pavement grip & durability with a connectMax EVA 2mm midsole for excellent ground connectivity when worn without the insole. It isn't the grippiest sole on ice, but not the worst either, so best suited to an autumn/spring hike. It gently undulates around the shoe, and is a little higher to the middle and back, without creating any change to the actual stack height. This helps with waterproofing ability too.
Sizing
The website states that on average people still go one EU size larger than their 'average' shoe size. I am usually a 39 so went for a 40, and to be honest, I find the shoe a little too roomy, not in length but in general. The heel is quite wide, the tongue creases a lot on my low volume foot and my toes have ample space. I think in general the shoe would fit a wider heel/higher volume foot. In saying this I can still wear these with a thick sock, but they do feel a little loose around the heel.
The length and width of the insole of this shoe is as below.
From their website: "Remember the shoe has good volume in the forefoot so the actual comfortable width of this shoe will be a few mm greater than this 'flat' measurement. Fit is personal, but most people will prefer to have at least 4 or 5mm spare room in front of your largest toe(s)."
Europe/Rest of World Sizing (metric mms):
Size 37/233mm length, 92mm width, Size 38/240mm length, 94mm width, Size 39/246mm length, 96mm width, Size 40/252mm length, 99mm width, Size 41/258mm length, 101mm width, Size 42/264mm length, 103mm width, Size 43/270mm length, 105mm width, Size 44/276mm length, 107mm width, Size 45/283mm length, 109mm width, Size 46/291mm length, 110mm width, Size 47/300mm length, 112mm width, Size 48/307mm length, 114mm width
USA Sizing (Inches):
Size 37 (USA w6.5)/9 1/4 inch length, 3 5/8 inches width, Size 38(USA w7)/9 1/2 inch length, 3 3/4 inch width, Size 39 (USA w8)/9 3/4 inch length, 96mm 3 3/4 inch width, Size 40 (USA w8.5)/10 inch length, 3 7/8 inch width, Size 41 (USA w9.5)/10 1/4 inch length, 3 7/8 inch width, Size 42 (USA mUSA 8.5)/10 3/8 inch length, 3 7/7 inch width, Size 43 (USA m9.5)/10 5/8 inch length, 4 inch width, Size 44 (USA m10.5)/10 7/8 length, 4 inch width, Size 45 (USA m11.5)/11 1/8 inch length, 4 1/8 inch width, Size 46 (USA m12)/11 1/2 inch length, 4 1/8 inch width, Size 47 (USA m13)/11 7/8 inch length, 4 1/4 inch width, Size 48 (USA m14)/12 1/8 inch length, 4 1/2 inch width
Length and width measurements taken as follows: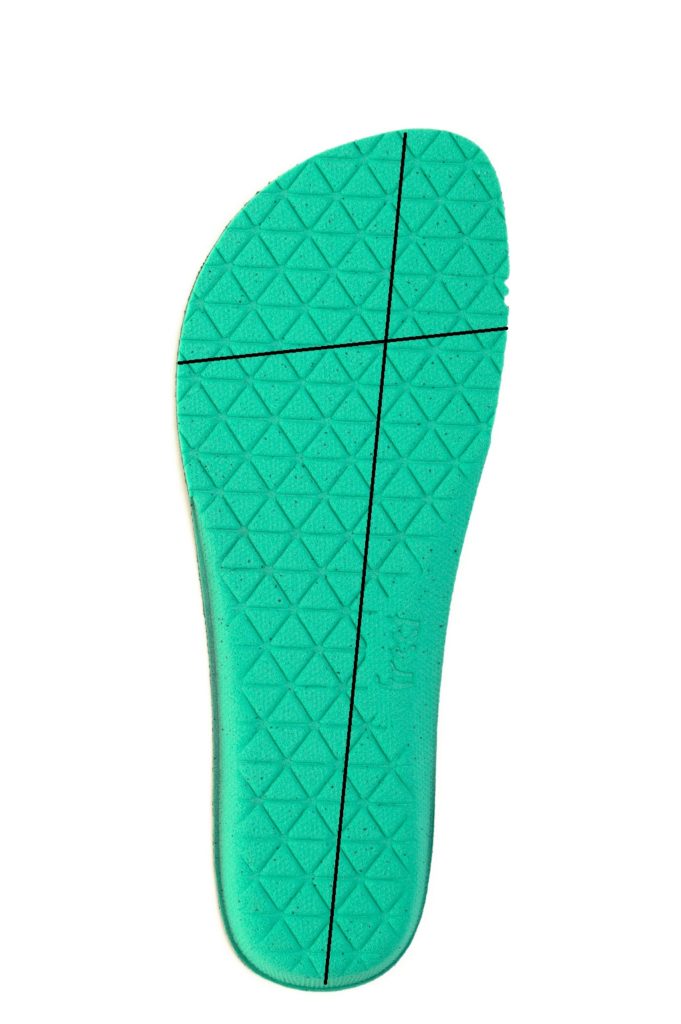 Sustainability
They design and develop all our products in the UK and work very closely with their Chinese manufacturing partner with whom they have worked with for ten years.
They adhere to EU requirements on safety and environment issues with regard to materials used and working conditions.
They continue to research and develop environmentally-kind materials such as the CoffeeMesh material they recycle from waste coffee grinds.
They support Sea Shepherd, Woodland Trust, CLAN Cancer Support and Salvation Army charities, as well as Shoe Aid, which provides footwear to those without and educates to help reduce landfill. All their slight 'seconds' or returns are repaired/refurbished where possible and sent directly to ShoeAid.
Style
These suit athletic clothing/skinny jeans. They are certainly not a shoe to wear with a feminine flowy dress. They are smart but in a more masculine way. I wear them mainly with jeans when I am out for a gentle hike in the forest.
Comfort
These are very pleasant shoes to wear in terms of comfort. The inner membrane is gently padded to offer some softness as well as around the upper heel. This ensures absolutely no breaking in ankle scuffs. Even without the gentle padding, there would be no issue here as the leather is ultra-smooth and soft. Because the tongue is quite wide, I can feel it creased up a little over my instep, but it is so soft that it doesn't pose any discomfort. All in all, a highly comfortable shoe from Freet.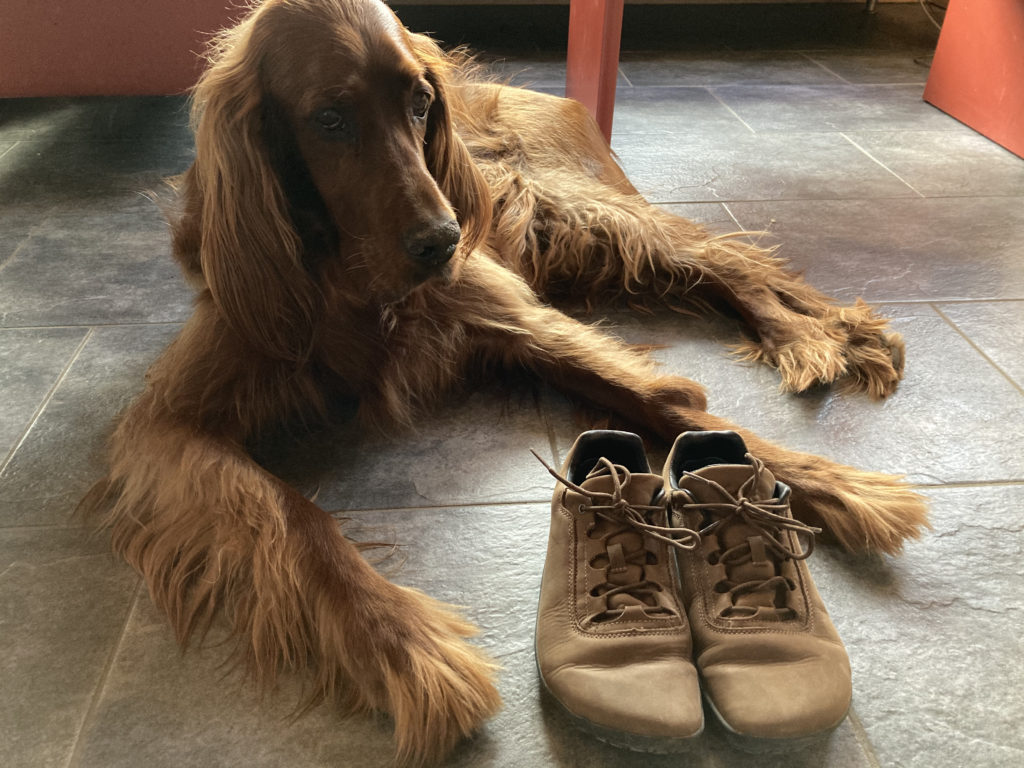 Conclusion
I like Freet.
I like their customer service, they are easygoing and friendly. I love the quality and build of the Elgon, but it is in general a little wide (forefoot and heel) for my foot shape. For those of you with a wider heel and a higher volume foot (or instep), this is a great alternative to a hiking boot.
Buy here for £90 pounds sterling with shipping.
If you enjoyed this post please check out my other reviews!